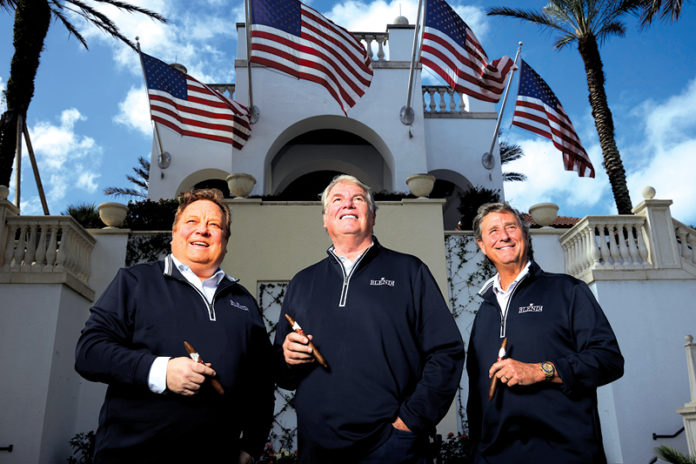 Build it and they will come. That's the business plan many retailers start out with and later come to regret when they realize it's not as easy as it sounds. Being a retailer is one thing, but being successful in tobacco retail is another. As a tobacconist, you're working with many obstacles and limitations—local taxes, regulations, supply chain issues and other issues make it extremely difficult to operate and maintain a profitable business.
For the team behind Blend Bar with Davidoff Cigars, building the business was one of many steps along the way to success. Mark Holden, Corey Johnston and Kim Arbuckle are three entrepreneurs with a shared vision—they didn't want to open just another store; they wanted to create a retail business that ran and operated like a corporation. That shift in mentality completely set Blend Bar on a different course. It meant they had to view anyone that walked into their stores as guests rather than a customer making a transaction. It meant the entire experience their guests had in stores needed to be on another level, unlike anything available to them in the area. It meant they needed employees that would be passionate about their jobs and hold themselves accountable, and in turn, Blend Bar would have to provide its staff with the proper training.
As much as the goal of any business is to make money and a profit year over year, at Blend Bar with Davidoff Cigars, the goal is to provide an exceptional experience to patrons and invest just as much money and time into expanding on the original vision as each partner expected to get out of it in the future. Blend Bar with Davidoff Cigars' story is a "how to" for the tobacconist looking to scale up without cutting corners. From how to take a concept to market to hiring and conditioning customers to spend more on high-end products, every retailer will learn something from Blend Bar with Davidoff Cigars' meteoric ascension as one of the world's most recognized retailers.
Dream Team
In the early 1990s, Corey Johnston was just your typical college graduate trying to figure out what to do with his life. It was with the launch of Cigar Aficionado that Johnston's professional future began to take shape. It was after the 1992 launch of the popular cigar magazine when Jim Beam launched its small batch collection that included Booker's, Baker's, Knob Creek and Basil Hayden, and the growing popularity of bourbon and cigars inspired Johnston to launch his own wholesale business that sold cigars to country clubs and steakhouses in the Indianapolis market. Johnston would take carts of cigars out to the Indianapolis Motor Speedway and different golf events like those hosted by the PGA.
After some time, Johnston started to work for a liquor and wine distributor that had a cigar division. Working here taught Johnston a lot about distribution and also gave him some exposure to the spirits market, something that would pave the way to his future retail and hospitality business. In 2000, Johnston made another career move—he started to work for Davidoff, a position he held up until 2006. Johnston went on to open his own lounge, Indy Cigar Bar, a business that served as the precursor to something even bigger years down the line.
During his travels, Johnston met Mark Holden, who was also an avid cigar smoker. The two men bonded over Zino Platinum cigars and over the course of many conversations that toyed with the idea of a joint venture that Holden could potentially invest in. Johnston and Holden came up with countless potential names for this new business and went through the process of formulating a business plan after conducing some research.
The two business entrepreneurs knew they wanted to create something next level, something that would be an entirely new experience for cigar enthusiasts in and around Indianapolis. Kim Arbuckle had been a lifelong friend of Holden and had his own audio/video business that did installations and designed high-end systems around the world for different retailers. Johnston and Holden wanted their new cigar lounge to have high-end video and audio capabilities and reached out to Arbuckle to help them make it happen. Not only did Arbuckle help the two men design an impressive audio and video setup for this new business, but he also ended up becoming the third partner in this new venture.
When coming up with the new concept for a cigar-centric bar or lounge in Indianapolis, Holden thought about other establishments similar to the one they were thinking of opening that he had visited as a customer. "I always felt like that there was an opportunity to carve out a niche within the industry for high-end aficionados and people that enjoyed luxury," Holden explains. "I can remember in Indianapolis going into Ruth's Chris or some other high-end places and being able to have a nice dinner and go into the bar and have a nice cigar cocktail. Well, that all got regulated out. There was a void created by legislation for high-end cigar smokers. That was kind of the genesis of the idea: why don't we become the high-end steakhouse cigar bar?"
The creation of Blend Bar taught the three men more than any MBA degree ever could about how to take a business idea from launch to final product. Holden had great success in the transportation industry but didn't know much about cigars other than that he enjoyed smoking them. Holden's lack of knowledge, however, was easily overcome by Johnston, who excelled at not only cigars but in hospitality and service.
"When I was a customer, he told me a lot about cigars, not because he was looking for an investor—I was just a customer. But he was very passionate about it. He taught me a lot about smoking, about different blends, the shapes, sizes, different manufacturers. I started smoking cigars in college, and so I've smoked cigars now for probably 40 years, but I've never had anybody spend the time with me as a customer, educating me about cigars and bourbons and cocktails like Corey. And so I felt there may be an opportunity here, if Corey was interested. I had a day job and did not have an interest in being involved in operations, but I felt like Corey was the premier operator," Holden explains.
All of the research the trio did confirmed most of their ideas and they shook hands in 2012. Six months after coming to a consensus over what they wanted this new business to be, Blend Bar opened a mile down the road from Johnston's Indy Cigar Bar. Even as this new establishment opened, there was a lot that had to be figured out, including what regulations they would have to deal and comply with and how they would handle this new establishment co-existing with Johnston's other bar and lounge. The partnership was established, and the three men came to the conclusion that Indy Cigar Bar had to be bought out from Johnston so that the sole focus of the group of partners could be on Blend Bar. After Indy Cigar Bar was closed, the "concept" became a reality. After its first year in business, Blend Bar ended up doing about two and half times more in sales than Indy Cigar Bar had done just a mile away. This served as proof that the concept was indeed a good business idea that others in the area believed in.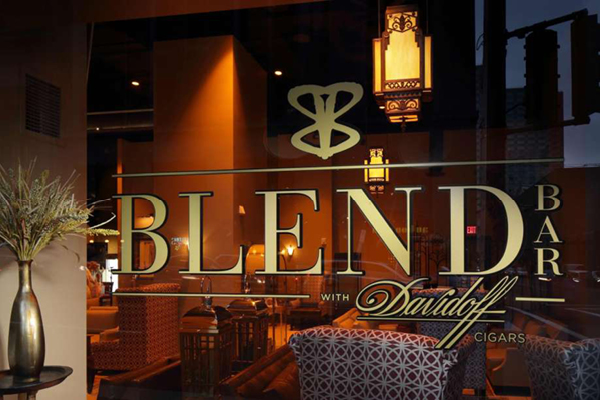 Expanding the Vision
This is where Blend's story deviates from that of many other tobacco retail establishments. The three men didn't want Blend just to be a cigar lounge or even a bar—they wanted Blend to become a corporation.
"We had expansion on our minds even before we opened Indianapolis, but we wanted to test our concept in Indy before we expanded," Holden explains. "We had a clean sheet of paper and we said, 'OK, what do we think we need to be successful with this type of a concept?' It involved design, air handling equipment … all the way down to fabrics, design of furniture, the design of the bar, the humidor.