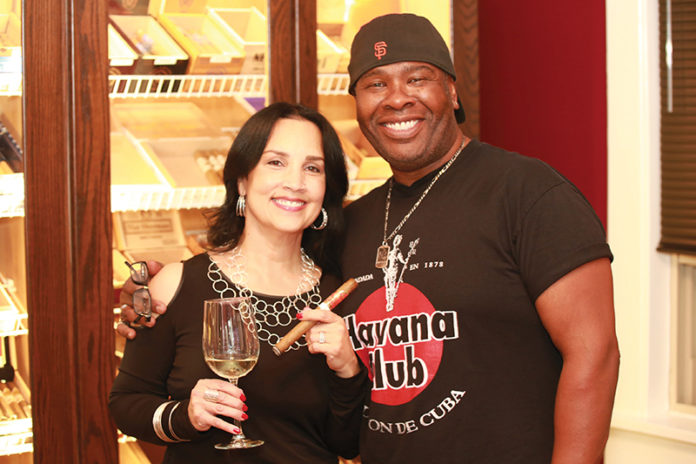 Today's most successful premium cigar retailers offer their customers a lot more than a good selection of cigars at reasonable prices. In an age when customers can easily make their cigar purchases online from the comfort of their homes, premium cigar retailers are in a fight for their relevancy and, ultimately, their survival. While selling cigars might be the primary focus of their businesses, smart premium cigar retailers are giving their customers far more than their favorite smokes—they're providing experiences that motivate their customers to come back and enjoy their stores more often.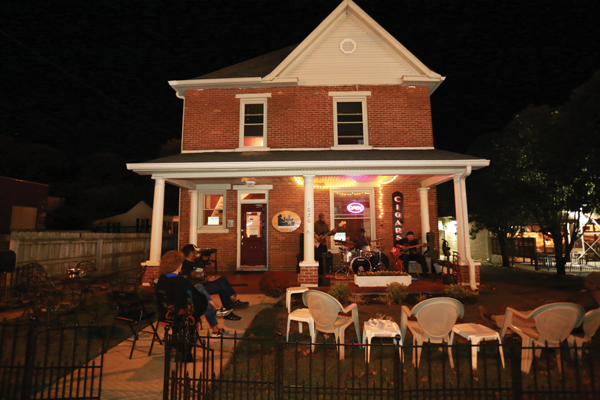 One such premium cigar business that offers more to its customers than just fine cigars is Battleground South Cigar Lounge in Columbia, Tennessee. The brainchild of Julian and Megan Griffin, Battleground South Cigar Lounge offers a combination of premium cigars; a superb selection of rare and small-batch bourbons, whiskies, rums, scotches, wines and other spirits; as well as a steady schedule of entertainment, including jazz and blues performers, all in one location—a house that was built in 1885 in the heart of Columbia's Arts District.
"Our business model combines a love for cigars and spirits with music and a number of different entertainment options," Julian comments. "We have become the epicenter for not only the cigar connoisseur but also for entertainment for cigar connoisseurs. You can't go to a music center and smoke cigars and listen to jazz, blues or country music, but you can do all of that here at Battleground South Cigar Lounge."
Intimate Sophistication
Because Battleground South Cigar Lounge is housed in, well, a house, the business doesn't feature a huge bar or a large walk-in humidor. Such features would just seem out of place inside the house. Instead, the Griffins decided to pair the store's decor with the atmosphere that the Victorian era home offered to create a unique ambience in which guests could feel at home and enjoy sophisticated relaxation.
"It is very ornate and has an old feel, so we decided to give Battleground South Cigar Lounge a speakeasy type of environment," Julian explains. "Originally, I wanted to put a huge bar in the place, but my wife said no, it wouldn't feel right inside the house setting. So we set up a home bar with a fantastic selection of whiskies, rums, scotches, bourbons, wines and other spirits. For the cigars, we built custom cabinets instead of a walk-in humidor. The home bar and the cabinet humidors just add to Battleground South Cigar Lounge's home away from home feel that encourages our customers to relax and enjoy the experience."
While Battleground South Cigar Lounge might lack the huge bar and walk-in humidor that other cigar bars might offer, it does give its customers a vast selection of premium cigars and spirits. Julian estimates that Battleground South Cigar Lounge carries approximately 150 different premium cigar brands. Cigars made by Perdomo Cigars and Espinosa Cigars are regular bestsellers at Battleground South Cigar Lounge.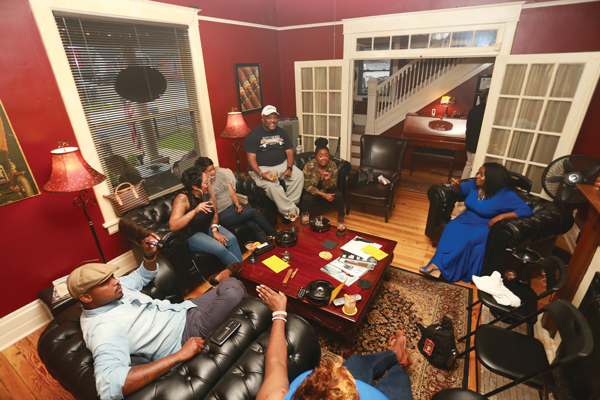 "I love the cigars both companies make," Julian explains. "I have been on the Perdomo factory tour a couple of times, and I have learned a lot each time I've been on the tour. Probably 80 percent of the cigars we sell are boutique brands. Boutique cigars are more successful for me because I spend a lot more time studying them and learning what makes them different from the mainstream brands. I think the boutique companies take more of a chance with the cigars they make because they're not blending for the masses; they're blending for the few. As a retailer who is excited about boutique cigars, I take that chance as well."
Julian adopts a similar approach to the selection of spirits and other alcoholic beverages he and Megan offer at Battleground South Cigar Lounge. They like to present to their customers rare and limited edition small-batch products that might only be found in the Nashville area at Battleground South Cigar Lounge.
"We have a huge selection of different bourbons, whiskies and rums that you can't find in most other places," Julian says. "We travel to different distilleries across the country and have formed relationships with people in the liquor business, and we have been able to taste different things that a normal bar wouldn't have. A customer can come up to the bar and they haven't heard of any of the products we have, and that's an opportunity to educate them and add to their experience of being here—we get the little tasting glasses out and take them through a journey on something that they have never had before."
Offering customers cigars and spirits that might not be widely available at similar businesses is where Battleground South Cigar Lounge truly shines because it gives the Griffins and their staff a chance to shine in front of their customers by sharing unique experiences and educating them about the cigars they're smoking and the rare libations they're drinking. If the exclusivity of Battleground South Cigar Lounge's offerings initially brings customers into the business, the experience they enjoy while there brings them back.
"We strive for customer service and satisfaction," Julian explains. "We strive for employee education. There are some really good shops in the Nashville market, so we have to make sure we are on top of our game when it comes to customer service and education. The best way we shine in that area is to make sure our business is as clean and comfortable as it can be. I am always trying to view my business from the eyes of a new customer, and I encourage my employees to do the same thing. And we offer our customers our expertise when it comes to helping them select their cigar and the drink to pair with it. That's what brings the customers back to Battleground South Cigar Lounge again and again."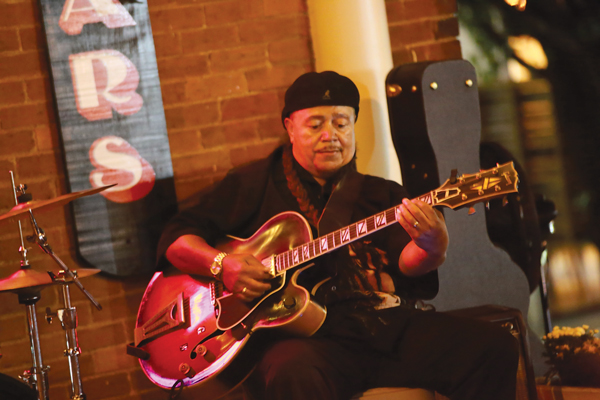 Local Recognition
The business model that Battleground South Cigar Lounge is based on has garnered the store a legion of customers and fans who have taken to social media to sing Battleground South Cigar Lounge's praises. No matter if they come to Battleground South Cigar Lounge for cigars, premium spirits, entertainment or a combination of all three, the lounge's customers are vocal supporters of the business, so much so that Battleground South Cigar Lounge was nominated for the Nashville Business Journal's Small Business of the Year award for 2019. Of the 450 businesses nominated, 22 became finalists, including Battleground South Cigar Lounge. While their store did not win the Small Business of the Year award, the Griffins are proud that it has won so much esteem from the local community.
"While I'm a little disappointed that we didn't win the award, I'm honored that we were considered for it," Julian remarks. "We were told that our business would never be successful, and considering the relentless attack on tobacco, I'm proud that Battleground South Cigar Lounge made the list of finalists, and it shows how a small business like ours can become a recognized contributor to the community. We have a great reputation in Nashville, and we're looking forward to moving it forward."
Plans for moving forward with Battleground South Cigar Lounge are already in the works. Having proven their concept works with Battleground South Cigar Lounge, the Griffins are now working diligently to open another lounge with a comfortable, more modern feel closer to downtown Nashville.
"We are building a viable business model," Julian concludes. "This home model concept works because it's just like you and I smoking and drinking in our own house, and people like that. For cigars, spirits and entertainment, it turns out there really is no place like home."
This story first appeared in the January/February 2020 issue of Tobacco Business magazine. Members of the tobacco industry are eligible for a complimentary subscription to our magazine. Click here for details.
– Story by Stephen A. Ross, editor-in-chief of Tobacco Business Magazine.