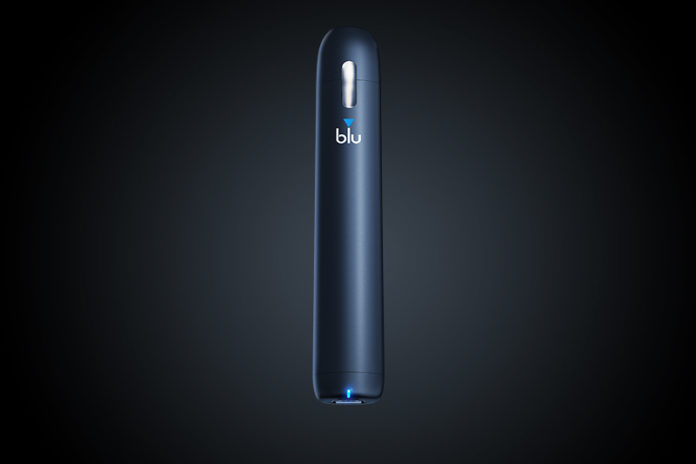 A new electronic vaping product is coming to retailers thanks to blu. The popular electronic vaping and cigarette brand has revealed the latest device to join its product portfolio–myblu. This new e-vapor device will provide adult smokers with a new vaping experience and takes on the void blu feels adult smokers have been looking to fill–a strong performing device in a sleek, compact closed system with none of the typical hassles.
This new product is designed to include the attributes consumers have come to know and prefer from blu, including its easy to use features. myblu merges innovation, power and performance to bring new, cutting-edge features to life and also has the following features:
* An ergonomic design that fits comfortably in the palm of your hand
* New pod technology with pre-filled liquidpods
* Easier-than-ever "click-and-go" usability
* Long-lasting and fast 20 minute USB recharge for extended use anywhere, anytime
* The myCARE guarantee – blu's first lifetime device warranty
To celebrate the launch of myblu, blu is also introducing an expansive flavor range of 11 flavors in pre-filled Liquidpods. These new flavors include: Classic Tobacco, Carolina Bold, Gold Leaf, Magnificent Menthol, Polar Mint, Cherry Crush, Vivid Vanilla, Blueberry, Blue Ice, Mango Apricot, and Green Apple. The 11 flavors come in three different nicotine levels including 2.4 percent, 1.2 percent and nicotine free. These new flavors will be available to purchase exclusively from blu's website. The company's best-selling flavors including Gold Leaf, Magnificent Menthol, Polar Mint, Cherry Crush and Vivid Vanilla will also be offered for retail sale in a 2.4 nicotine percentage.
"Our constant quest for innovation and improvement has been a long-time tenant of the blu brand, and we are kicking off 2018 strong with our first-ever product for the growing Pod segment here in the U.S. We believe myblu is truly the introduction of a next-generation standard in electronic vaping products for the industry," said Wayne Jones, senior vice president sales operations at Fontem US, Inc. "Having received continued positive feedback from consumers and selling out of product pre-orders faster than ever before, we are confident that myblu will truly add a game-changing e-vapor device to the current market lineup, answering smokers' call with product that will transform the way consumers view and experience vaping today."
You can purchase the myblu Starter Kits, which includes the myblu device, one USB charging cable, and one liquid pod in the Gold Leaf flavor, for $19.99. The myblu Liquidpods, which includes two pods, will be available for $8.99.
For distribution and sales inquiries, visit itgbrands.com. For more information on blu, visit blu.com/en/US.