Size Doesn't Matter
Though Amendola Family Cigar Company is small in size, neither Amendola nor Monaco embraces the boutique mentality. "Boutique" is a term Amendola has never been a fan of, he admits, and it isn't a term he often applies to his own brand and business. The term "boutique" oftentimes refers to something small and specialized, but he has come to view it as a small business with limited production.
"I never set out to be a boutique business, nor do I want to stay a small, boutique brand," Amendola says.
For his part, Monaco doesn't focus as much on the label as he does the end goal: customer experience and impression. "I could really care less as to what 'label' we are branded within the industry," he says. "Some say 'small-batch,' some say 'boutique.' I say we are 'Amendola.' Just as long as every person that lights up our cigars enjoys their experience, appreciates our hard work and craft, and respects the brand, we're happy. If you think big, you won't stay small forever."
The size of the company doesn't shield them from the many challenges all cigar businesses face. Amendola and Monaco have maneuvered around obstacles by focusing on budgets, sacrifices and not taking on more than they can handle. Amendola gives a lot of credit to his business partner, Monaco, for taking on the responsibility of their brand's budget and money management.
"Over the years, we have both invested our savings and gave everything we had into our company," says Amendola. "Chris has done an exceptional job of making the finances work for us."
Being 100 percent self-funded and not having outside investors was important to both businessmen, who always want to be in full control of their brand. It does have its drawbacks, especially when it comes to increasing production. This doesn't worry Monaco too much, however, as he firmly believes that slow and steady wins the race.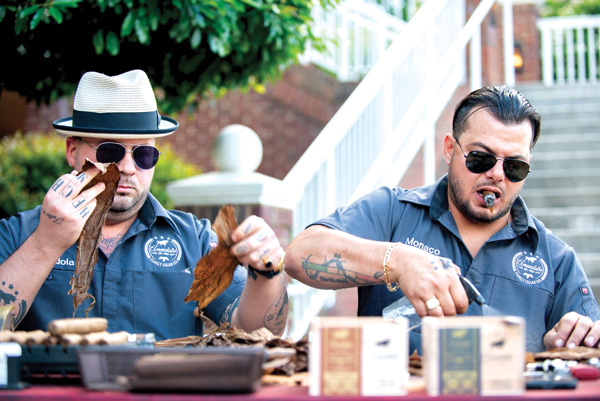 "I am lucky to have found the right partner in Jeff, who built a solid foundation for us to start with," he says. "From the jump, he was open-minded and trusted in the vision I had for the brand's future. He agreed to all the new ideas I brought to the table and changes I felt were necessary for us to reach our full potential. This made me extremely confident in moving forward together as a team. No questions asked, he trusted me to take the ball and run with it, and for that I am grateful."
Working together and leveraging each other's strengths is a major part of Amendola Family Cigar Company's growth strategy. Amendola schedules the majority of the company's rolling events and handles the procurement of raw tobacco needed for those events as well as anything else related to tobacco. Monaco oversees matters that relate to the business's finances, sales, logistics, marketing and branding. They both share in certain responsibilities, including blend development, factory and retail relations, and the company's overall day-to-day operations.
The two have developed a great working and personal relationship over the years and consider one another to be family rather than co-workers. "We lean on each other's strengths and are happy for each other's successes," says Monaco. "At the end of the day, it doesn't matter who does what, or who gets credit for what, just as long as it gets done. That's all either of us really care about. Jeff knows what he's good at, I know what I'm good at, and we both trust in each other to do what we need to do to make the brand as successful as possible."
So how do Amendola and Monaco define success? It's not based on comparing their brand to what others are doing or by what the so-called "industry standard" is. Success for Amendola Family Cigar Company is all measured by forward progress. As long as the brand and company are moving forward rather than sliding backward, things are going as they should. Success also hinges on the feedback that is received from customers.
"The customers and retail partners that have supported us from day one are the people that we care about. We want to be a brand they can believe in and root for. We embody the underdog status, and it actually motivates us more. We do everything in our power to be accessible to both our retail partners and customers and invite all feedback, whether it be positive or negative. Bottom line—we like to keep our finger on the pulse," says Monaco.
Even though their brand is relatively new, Amendola is grateful for the growth and success it has experienced so far. "We are nowhere near where we want to be, but we are 100 percent moving in the right direction," he says.
Although the COVID-19 pandemic caused problems for many businesses in 2020, it created a different problem for Amendola Family Cigar Company: increased demand. The company had three and sometimes even four times the typical production runs last year to keep up with increased demand. To help with fulfillment, Amendola Family Cigar Company has managed to secure a distribution and fulfillment deal with Illusione Cigars. None of these things would have been possible—or necessary—if Amendola and Monaco's company wasn't experiencing success as a result of their hard work.
"We have seen a lot of success, and growth is still in process," says Amendola. "This business is a marathon and not a sprint. We are not in this for fame or immediate success. Building a brand takes time, and you have to be passionate about it. Whether it is an inch, a foot or a mile, we continue to move forward."
Authentically Italian
Things are only looking up for Amendola Family Cigar Company. While they may be the new brand in most humidors, they aren't letting their newness hold them back, and they hope other retailers will give their cigars a chance. They are already working with several of the industry's best cigar factories, including Aganorsa and La Zona; they have access to some of the best tobacco available on the market, and they also have unique experience that sets their brand and cigars apart from other brands. Amendola was a former tobacco retailer, giving him a very unique understanding of consumers and their smoking preferences. He also is an experienced cigar roller, a skill set that's rare among many brand owners and one that has enabled him to create blends that leave a lasting impression on cigar enthusiasts.
Amendola Family Cigar Company is also an authentic brand. While many brands attempt to tap into a heritage outside of their own, Amendola and Monaco have chosen to make their brand and its blends fit their Italian-American heritage instead. "A lot of Americans in this business start a brand and they make it Spanish- or Cuban-style. We don't," he says proudly. "We pay homage to the islands and the people that created the cigar as we know it today, but we stay true to who we are when it comes to branding. We're not Cuban or Latino; we are Italian."
Both Amendola and Monaco view Amendola Family Cigar Company as a legacy business, meaning it's one that they intend to be around for many years to come. There's still a lot both businessmen want to do with the brand, but they are also grateful for what they've accomplished so far. To the world, the company may appear to be small and boutique, but to Amendola and Monaco, Amendola Family Cigar Company's future is as big and bright as they can imagine it to be.
This story first appeared in the November/December 2021 issue of Tobacco Business magazine. Members of the tobacco industry are eligible for a complimentary subscription to our magazine. Click here for details.
– Story by Antoine Reid, senior editor and digital director for Tobacco Business Magazine. You can follow him on Instagram @editor.reid.