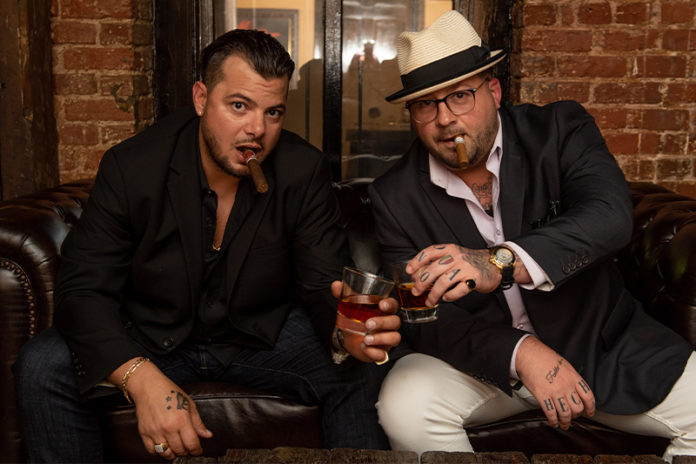 There's a verse in the Bible's Ecclesiastes 4:9 that reads, "Two are better than one because they have a good reward for their labor." That verse speaks volumes to Amendola Family Cigar Company, a brand that has experienced tremendous growth with two dynamic entrepreneurs at its helm.
Jeffrey Amendola was a police officer in Durham, North Carolina, before he was a cigar brand owner. Amendola resigned as a special victim's unit (SVU) detective and opened his own retail store, lounge and factory in Durham called Bull City Cigar Co.
"I was basically a full-time cop and a full-time entrepreneur trying to build a name for myself in the cigar community," he explains. "My earliest experience with cigars was when I discovered a cigar factory in the Bronx, New York, as a late teen. I used to love watching them make cigars, and it piqued my interest about what the cigar culture was like. I didn't become a full-on cigar smoker until I was about 24 years old, 15 years ago."
In 2011, Amendola's cigar business was more experiential than it was about a specific brand. He learned how to handroll cigars so that he could make his own cigars and build an event around it. It didn't take long for Amendola to realize that he needed to take his business to the next level and create his own brand, something he could put his name on and that he felt passionate about.
That's where his business partner, Chris Monaco, came in. Monaco was living in New York City and working as a blue-collar elevator and escalator mechanic within the city's five different boroughs. He was a drummer in a metal band, and, in his words, was "living the dream." Life, however, started to change and slow down a bit once he started a family and his daughter was born. At that point, Monaco began to spend time in a local cigar lounge where he indulged in his curiosity about tobacco. It took about two years of learning and time spent in the lounge for him to realize that he wanted to get into the cigar business himself. How exactly he'd do that, however, wasn't clear to him at the time.
"I found myself constantly researching manufacturers: how they grew tobacco, how they sourced tobacco, the fermentation process and all the stories behind each cigar," he says. "I was getting fully engulfed in it and developing a passion for it. I always knew that I would eventually get involved [in it] someday; I just didn't know when and how. I also knew that it had to be at the right time and with the right person. I didn't want to do it alone. The cigar community is just that: a community and a culture. I wanted to take my journey into the business with the right person."
As fate would have it, Amendola was looking for someone that could help him take his brand to the next level, and after the two aspiring entrepreneurs met in 2019, they found that they clicked on many levels. Monaco was sure that he could bring some value to the brand Amendola was setting out to create. He'd take on some of the marketing and design aspects of what would come to be known as Amendola Family Cigar Company. He'd also leverage the relationships he'd developed with retailers over the years to give the brand and its product lines some shelf space.
"The ultimate goal for me at the time was to help get exposure and grow the business so we could take it to the next level," Monaco explains. "Jeff had a solid local presence but was looking to break out. This is where I came in and felt I could help the most. I knew between my skill set and his that success would be inevitable. There was no plan B."
Amendola adds, "The expectations were always to make a great premium cigar and get them into as many consumer hands as possible. We wanted to be a staple brand in every cigar store and lounge across the U.S. and world market."
When Amendola and Monaco began to work together, it didn't take long for them to begin to see results. Their story shows others that although a company may be small in terms of the number of employees, big things can happen by partnering with the right professionals and businesses to build a brand.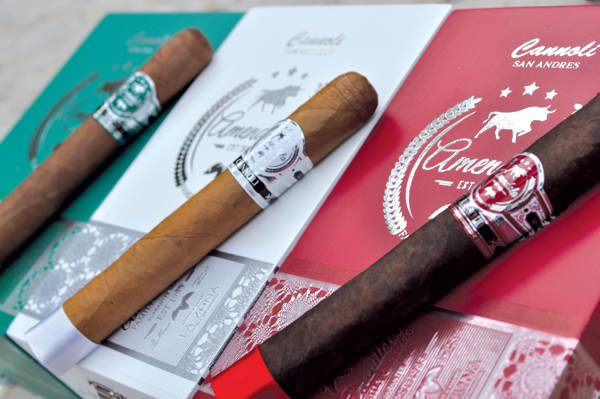 A Little Rispetto
Amendola and Monaco set out to create a brand that was true to them and also one that was built using their skills and knowledge. To do this, they worked in their heritage to the brand. Amendola Family Cigar Company, while based on cigars, is a celebration of Italian culture. The Italian influence can easily be seen in the brand's design, marketing and even the cigar names. Even the business's motto is Italian: "Onore, rispetto, lealta," which translates to "Honor, respect, loyalty."
"We just do us; we don't pay attention to what other brands are doing or hop on the newest trend or gimmick," Monaco says. "We stay true to who we are, we are confident in the product we are putting out into the market, and we believe that it's only a matter of time that the cigar community recognizes it. I believe that those who already support us recognize that we are genuine, passionate about what we do and respect what the brand represents. What you see is what you get with no B.S.."
During 2020, much of the company's branding and marketing went through a major reboot, taking advantage of the slowdown that was brought on by the COVID-19 pandemic to prepare for growth as things improved. "We wanted to put something on the shelves that popped, stood out and separated us from the herd," says Monaco. "This is why we've spent the time during COVID redesigning and rebranding all of our products. We also market ourselves as ourselves; we don't try to make up stories or be someone that we're not. We stay true to who we are. We are a first-generation cigar brand. No one gave this to us, and we wear that like a badge of honor. It's all about family over here at Amendola Family Cigar Company. Our supporters know that they are a part of that family when they light up one of our smokes."
What sets Amendola Family Cigar Company apart from other brands in the market goes beyond its Italian background. With a background in retail, Amendola chooses to do things differently to make it easier for retailers and consumers to get into the brand. Rather than have multiple sizes of each cigar, each Amendola blend is offered in just one size. Blending to size is a way Amendola and Monaco have kept their brand and marketing simple. It's also prevented retailers from being overwhelmed by the company's offerings.
"It makes it easier for the retailer to make space for our product, and sometimes less is more," Amendola explains. "Instead of having three to four sizes of the same blend, we just make the best cigar we can in that one size."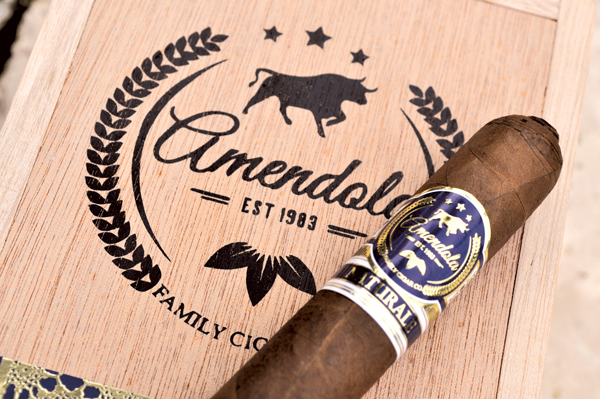 Amendola Family Cigar Company's core blends, which are made by Aganorsa Leaf, are all presented in 20-count boxes as Toro vitolas. Cremoso features an Ecuadorian Connecticut Shade wrapper and Nicaraguan binder and filler. Naturale has a Nicaraguan Habano wrapper and Nicaraguan binder and filler tobaccos. This particular cigar has a special significance to Amendola as its blend and style of rolling were the first kind of cigar he learned to roll. It also is very similar to the first cigar Amendola released into the market. Maturo features a maduro Corojo '99 wrapper and Nicaraguan binder and filler tobaccos.
Amendola's Signature Series is made by La Zona Factory, which is located in Esteli, Nicaragua. Speciale is a Toro cigar with an oscuro maduro wrapper while Padrino is a Belicoso cigar with a Connecticut Broadleaf wrapper. The Signature Series Cannoli is also made by La Zona Factory. All of these cigars have an undisclosed blend and are presented in a Corona vitola. The San Andres Signature Series Cannoli is also box-pressed. This, for Monaco, is a special cigar because it was the first to really gain market traction following his partnership with Amendola.
"I remember sitting on the couch in my man cave with Jeff until about 4 a.m. or 5 a.m. We went through a bottle of bourbon, and out of nowhere [came] the name 'cannoli.' From that day forward, the Cannoli was born, and for this reason I would say the original box-pressed Red Cannoli will always hold a special place in my heart," shares Monaco.
Finally, Amendola Family Cigar Company has a sweet, infused cigar called Dessert, which is popular with many of its customers. This cigar is presented as a Lonsdale vitola and is dipped in sugar and aged and infused with hazelnut.
Finding and deciding which factories to work with was also key in how Amendola and Monaco scaled their brand. Much of the selection process was trial and error, Amendola explains. They worked with a few factories before they found the right ones to move forward with. Much like Amendola and Monaco, the factory partners were the right fit when Amendola and Monaco felt they wanted the brands to succeed and were willing to work with them to take their blends and quality control to the next level. During the entire search for factory partners, both businessmen were willing to continue searching until they found someone that met their standards. Building and maintaining strong relationships has been a focus since the start of Amendola Family Cigar Company and will remain so as Amendola and Monaco continue to scale their business.