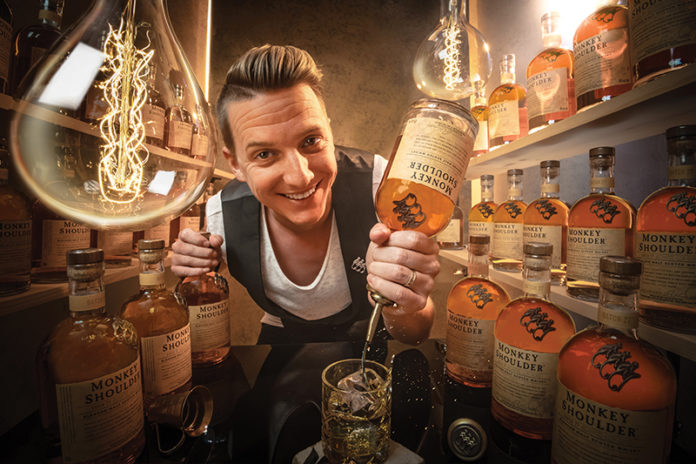 Meet Monkey Shoulder, the world's first triple-malt scotch. Its name refers to a temporary ailment named "monkey shoulder" that was suffered by maltmen after long, grueling hours of turning barley by hand to make scotch whiskey. While the scotch-making process has drastically improved since those bygone days, Monkey Shoulder's name pays homage to the rich history behind this unique new spirit.
"We love to invite everyone to try Monkey Shoulder, not only whiskey aficionados," says Sebastien Derbomez, Monkey Shoulder's U.S. ambassador. "It is a whiskey made by an award-winning family that has been making whiskey for more than 125 years. It's excellent neat, or you can have it on the rocks. We're trying to get more people into the category and more people drinking cocktails with whiskey in them that uses Monkey Shoulder."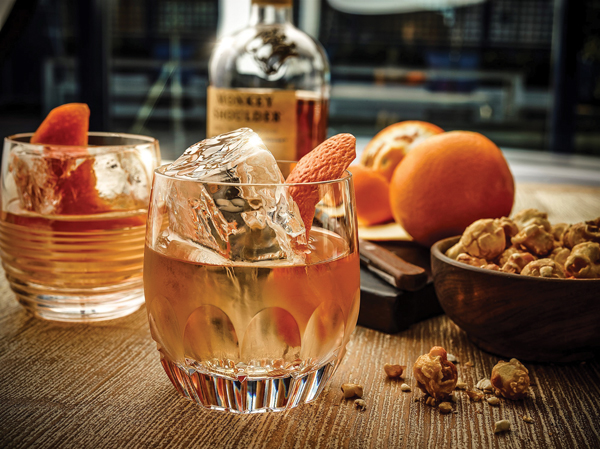 A Whiskey for a New Generation
Derbomez explains that the makers of Monkey Shoulder, William Grant & Sons, markets this spirit as being the face of scotch whiskey for a new generation of drinkers. For retailers looking for more luxury merchandise, Derbomez says that Monkey Shoulder is a great addition to any store shelf due to its premium quality and affordable price.
"It's an affordable blend of single malt," explains Derbomez, who notes that the company plays off of the name in packaging and marketing the product. "We've got this one packaging where the bottle is sitting in the middle of a cage and the cage's bars look forced open."
Monkey Shoulder is one of 20,000 products carried by The Party Source, located in northern Kentucky. In addition to a wide range of spirits, The Party Source is a Davidoff-appointed merchant and has a large walk-in humidor. Nick Douglas, director of purchasing at The Party Source, chimed in on his store's experience with Monkey Shoulder, which has been a staple in his store.
"Monkey Shoulder is actually fantastic. It's a very well-rounded whiskey. I think one of the reasons it's a staple here is because it's such a great whiskey for the price. We're selling it between $32 and $35. If people are looking for an inexpensive type of scotch that's going to be easy drinking, Monkey Shoulder is a good way to go," commented Douglas.
A Whiskey for Connoisseurs
Monkey Shoulder's packaging isn't the only thing that makes it a popular product. Its taste has won several big awards in recent years, including a Gold award at the 2011 International Wine & Spirit Competition and Double Gold at the 2013 San Francisco World Spirit Awards. Monkey Shoulder is 86 proof, has an ABV of 43 percent, and typically retails for $30 to $32 per 750 ml. This scotch whiskey has delicate floral notes with zesty citrus orange and soft, fresh fruit aromas. Monkey Shoulder has a sweet and rich vanilla taste with hints of brown sugar, creamy toffee, cinnamon and nutmeg.
The spirit's overall smooth and lingering sweetness also makes it well-suited for scotch-based cocktails, says Derbomez. "The beauty of Monkey Shoulder is that because of its flavor profile it's very versatile," he explains. "We love to play in the world of cocktails and you'd be surprised that Monkey Shoulder makes shockingly good cocktails. It's very driven with spices like cinnamon and vanilla, which come from the aging process. I haven't found anyone yet during all the samplings and tastings I've done through my time with the brand that have turned around and said they don't like it. It's really approachable."
A Whiskey for Cigar Pairings
Monkey Shoulder has become a favorite among mixologists and those who consider themselves single-malt purists. Along with it being a versatile drink, it also pairs well with cigars. Derbomez was a bartender and bar manager in Australia before working with Monkey Shoulder. In his bar, patrons were offered a cocktail menu that also paired the different drink options with a selection of premium cigars, a marketing tip he suggests to retailers who are also looking to leverage the two popular categories against one another in their stores. Monkey Shoulder goes great with many Robustos, according to Derbomez, who also named Partagas Serie D No. 4 as his favorite cigar to smoke while drinking this premium scotch whiskey.
Douglas also had some suggestions for retailers interested in cross promoting Monkey Shoulder with premium cigars. "Monkey Shoulder would be an excellent cigar malt for a couple of reasons. It's not in your face or so smoky that it's going to overpower a cigar. I think you could smoke a Connecticut with it, as long as it is a rather flavorful Connecticut. The sweetness you get from Monkey Shoulder would work great with it. I also think maybe a nice Habano would pair well with it. You'll have the smooth sweetness of the whiskey pairing and blending with the pepper notes of the Habano cigar."
When asked for a more specific pairing recommendation, Douglas suggested smoking Ventura Cigar Company's Sage Advice, one of the cigars in its Archetype series.
– Story by Antoine Reid
This story first appeared in the May/June 2017 issue of Tobacco Business magazine. Members of the tobacco industry are eligible for a complimentary subscription to our magazine. Click here for details.