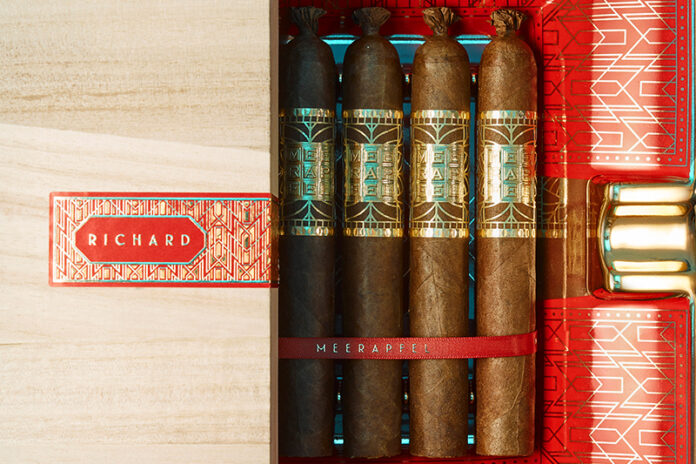 The Meerapfel family has long been known for growing highly sought after Cameroon wrappers. Now it's ready to enter into a new chapter in its business with the launch of its first line of Meerapfel-branded premium cigars.
The first premium cigar release will honor Richard Meerapfel. The "Richard" Master Blend will be presented in ornamented caskets containing 10 Double Robusto flagtail cigars measuring 5 3/4 x 52. This release will then be followed by what it refers to as being "UberTraditional" vitolas: Corona Gorda (5 1/2 x 46), Lancero (7 1/2 x 40), Robusto (4 7/8 x 50), Lonsdale (6 3/4 x 43), Churchill (7 x 47) & Pyramide (6 1/8 x 52). All of these vitolas will come packaged in 25-count chests.
The Meerapfel Richard Master Blend will be limited to just 613 chests released yearly per size and will only be available through specific partnered premium cigar retailers around the world.
According to the company, each Richard Master Blend cigar will have a suggested retail price of $86 per cigar.
For all the latest news from Meerapfel, visit meerapfelcigar.com.