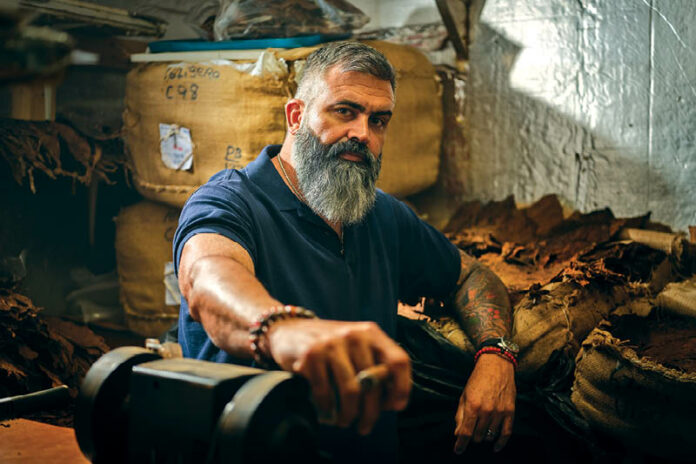 There are a lot of moving parts involved in cigar making. When it comes to cigars, people often conjure up images of a cigar blender working like a mad scientist to combine different tobaccos together into a satisfying blend that will hopefully go on to sell well in retail and earn high ratings. That, however, is only part of the story.
In truth, cigar making is a complicated process of trial and error. There are a lot of moving parts, countless individuals working with the tobacco in different stages, and countless samples and blends being created and smoked that never see the light of day. This is how all cigars are brought to market, including those produced by Drew Estate. Willy Herrera, Drew Estate's master blender, has been the man behind some of the company's most highly rated and sought after premium cigar selections, including the Herrera Esteli, Norteño, Undercrown Shade and Liga Privada, to name just a few. Herrera is the man at the center of Drew Estate's cigar blending operation, but he didn't always see himself as becoming such a prominent figure in the cigar making world.
Herrera has taken a very careful and considerate approach to his career. He's never been in a rush to achieve anything. In fact, he's put in years to learn what was necessary to become great at what he does. The biggest takeaway from Herrera's career in the cigar industry is that patience pays off and rushing the process is never the answer for those who are looking to create something memorable.
From Loans to Cigars
Herrera was born and raised in Miami, Florida. Growing up, you would often find Herrera taking part in any activity that took place outdoors. This included BMXing, boating, fishing and pretty much anything else that one could get into outside—except for hunting, which Herrera reveals he was never into. Even as an adult, Herrera's love for the outdoors remains strong.
As he grew up, Herrera was very much a dreamer, and he envisioned many different career paths for himself. At one point, Herrera wanted to become a firefighter. At another time, he wanted to get into law enforcement. Then there were the more "out there" professional desires that included zoology and architecture. Although he finally did earn his EMT certification, he ended up settling on a career in banking. He was in banking for about seven years before he got his first taste of what it was like working in the cigar industry.
Herrera's wife's mother and grandparents started a cigar factory called El Titan de Bronze in 1995. The factory was set up in Little Havana, which is a neighborhood within Miami that is known for its strong cigar culture. When El Titan de Bronze first opened, Herrera would help with it in whatever way he could. This typically involved Herrera working behind the scenes or picking up and dropping off things as needed. Herrera didn't work in the factory until his wife's grandfather got sick, leaving a void in the factory. Herrera stepped up at that time, taking on even more of a role within the factory and its store, including overseeing its opening and closing and making sure things ran smoothly each day.
"I took a week off from work, and I worked there—that was my first real taste of working in the cigar industry," Herrera states. "Because we manufactured, we had a little factory as well as a retail side because we had a display case where we sold what we made. I kind of got a taste of the whole cigar world that week."
Although he was new to working in the cigar industry at this time, Herrera was more than a little familiar with cigars prior to working at El Titan de Bronze. He had been smoking cigars since he was a young adult, he reveals. Though he can't remember exactly what his first cigar was, he does recall the overall experience as being "fantastic." He also recalls being around cigars early on in life, often seeing an uncle smoking a cigar when he visited with his aunt. His uncle almost always had a cigar in his mouth and lit up wherever he went. Whether it was inside the house, outside the house or while lying in bed, cigars were a fixture with his uncle, who influenced Herrera's positive view of cigar culture.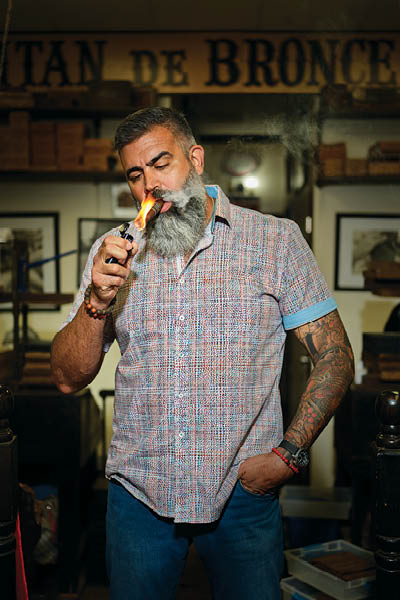 "That smell and that aroma in that house was something captivating to me," Herrera says. "We had these cafeterias that we called 'little markets' around the different neighborhoods. You'd go up to the window to buy your Cuban coffee, or your pastries or your Cuban bread, and you'd pay for it there on the counter, and you'd keep going on the sidewalk. Well, on those counters they also had these jars [of] what we'd call fumas or short filler bundles that would cost 25-35 cents. The older men in the neighborhood would get their coffee and their cigars, and it was incredible to see how it could bring strangers together." When he grew up, Herrera liked smoking cigars, how they tasted and, most importantly, what they represented: the way people connect with one another over great cigars.
After a week of working at El Titan de Bronze, Herrera decided that he wanted to work there on a full-time basis. He quit his banking job and decided to learn as much as he could about cigars and how they were made. He was able to carry over some of the lessons he learned from the banking world into his new job within the cigar industry. This included keeping a good record of customer details and the need to always be organized and detail oriented—which he had learned while working as a loan processor. Also, he knew the importance of maintaining a high level of customer service, something that he admits to being very nitpicky about to this day.
"That was the key thing," he says. "At the bank where I worked, the customer or the member was always right. Customer service came first, and that's another thing that carried over into the cigar industry when I started working in the factory with the family. You get people from all walks of life with all kinds of issues because you're dealing with a product made by hand, and it's a natural product. You're going to have problems from time to time, so you need to know how to deal with the concerns or issues that may arise from a particular cigar that didn't burn right or was tight or something."
When he went into the cigar business on a full-time basis, Herrera's main focus was learning as much as he could about the industry and the product he was working with. He didn't have a mentor or someone who took him under their wing and showed him all there was to know and do when it came to cigars. Instead, he learned everything he needed to know while working the job. At the start of his time at El Titan de Bronze, the factory had two rollers and was only making two cigars. These cigars were not what he enjoyed smoking, so while working in the factory, he'd smoke cigars made elsewhere, much to the chagrin of his wife's grandfather.
"My wife's grandfather took a little bit of offense that I never smoked any of our cigars," he says. "We had that conversation a few times. I didn't know what tobacco was what, or the difference between Dominican or Nicaraguan tobacco, or the different binders—I had no clue! I just knew what I liked to smoke. I said, 'OK, let me grab some of these tobaccos purely based on the smell and how they smelled individually, and I will give it to one of the rollers and have them create something for me.' Well, that went on for a little while until two weeks later they were like, 'Hey, man, we need to slow down with all these experiments that you have been doing because we're running out of time and we're not finishing what we need to do.' Rollers got paid by how many cigars they rolled in a day, so by me having them create all these different blends, by 3 o'clock they weren't finished with their 100-125 cigars. They had to either stay later or they had to come in earlier the next day to finish what they didn't finish the day before. It quickly became a problem, and that's when I was like, 'OK, I gotta learn how to make a cigar.'"
Herrera's cigar making education began with him standing behind one of El Titan de Bronze's rollers and observing how they would grab tobacco, create a bunch and put it into a cigar mold. After observing this process, he'd try it himself, and occasionally one of the rollers would pass by and correct his technique. They would give him tips and feedback, and he would work on perfecting his technique. This went on for some time, and he gives credit to them for teaching him how to make a cigar.
"Everything was pretty much learned on my own and out of necessity to grow the family business," he explains.