Industrial Cigar Co. has two lounges: a public lounge where anyone and everyone is welcome and another that is accessible only to the store's members. Industrial Cigar Co. is also home to the world's first Atabey-branded cigar lounge, a private, exclusive lounge that is only accessible by those with a membership that starts at just $49 per month and comes with a personal locker space that's connected to the store's humidor. One thing that remains consistent in all the lounge areas is that regardless of what lounge area customers are in, they are treated like they are part of the Industrial Cigar Co. family and part of something special. Offering a consistently high level of customer service and meeting the expectations of each person that interacts with its business is the foundation of the business that the Frakes family strived to create and build.
Brandon advises other retailers looking to build a loyal customer base to ask a lot of questions of their current customers. "Always be asking your customers the ways you can get better because people will quietly sit in the corner and wish you did something, but without asking, you will see silent resentment build up. Just ask, 'Hey, what's important to you?' It takes effort to ask this question, but all of our best ideas—the vast majority of them—weren't our ideas. We just bring other people's ideas to life."
Creating a strong brand awareness is tied directly to how well a retailer can also develop or create an experience that gets customers talking about your business, Brandon explains. Exceeding expectations is the best way retailers can build brand awareness for their stores. Also, business owners need to know how to best use their time. Know your strengths and your weaknesses. Create partnerships and hire help in those areas where you're weak, and spend the majority of your time focusing on delivering an exceptional experience however best you can. Building a loyal customer base also requires diehard consistency. Retailers should focus on connecting with everyone who enters their stores and lounges. Customers are what keeps a business's lights on, and not consistently delivering and exceeding expectations will be what makes or breaks any retailer.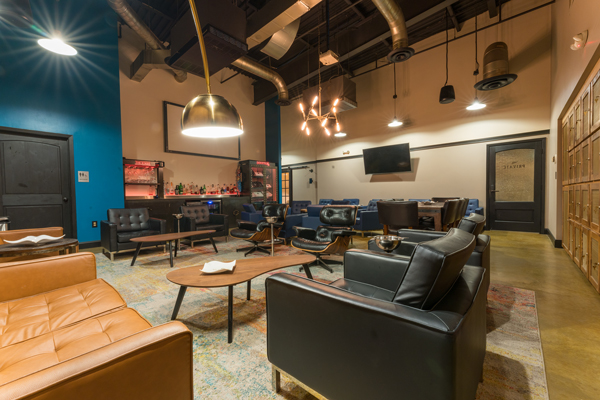 Technological Edge
The Frakes family has faced many challenges on their road to entrepreneurship but none as challenging as the COVID-19 pandemic. In March 2020, they were told that their business would have to shut down due to the pandemic. Rather than shut it down completely, the Frakes came together and pivoted their entire business model, determined not to let anything threaten the lounge and the business they had started. First, they created samplers they called "CRS" (cigars ready to smoke) for their customers to purchase that would help get them through the quarantine. There were both three-day and five-day packs as well as a larger two-week assortment. These quarantine sampler packs became a popular offering during the months of the pandemic.
Another innovation that came out during the pandemic was the launch of an e-commerce store. In the span of just 72 hours, Industrial Cigar Co. went from having no online store to having a complete e-commerce website that featured the store's top 150 SKUs. Brandon enlisted the help of his other business, Go Local Group, which provides businesses with marketing and branding services, to help build Industrial Cigar Co.'s e-commerce website in breakneck time. Now, that website is a staple of Industrial's business as well as some of the other services Industrial Cigar Co. developed and rolled out during the pandemic that continue to be utilized today. It also taught Brandon and his family the importance of being agile and pivoting when necessary to keep the business from suffering.
"There was this buzz of things happening, and just this overall pivot that was so cool," says Brandon. "Once you started seeing these businesses falling off, you just realized they weren't creative enough. They didn't have the drive. They couldn't pivot. They weren't agile. All you had to do was just be agile and be smart."
Technology plays a massive role in Industrial Cigar Co.' and the Frakes family isn't afraid to use it to improve the overall experience of their customers. "Your level of technology is going to determine the level of your customer base," Brandon says. "If your lounge is going to be a place that rings up sales on a calculator, then that's the type of customer that you're going to have—not saying that it's better or worse. We live in a world that's interconnected and technologically driven. That doesn't mean you need to develop an app for your users, but that if you let it, technology can work for you, and it's going to pay off for you."
If used correctly by retailers, technology can and should create a connection between the store and its customers. By using the latest air purification, humidification and point-of-sale systems, customers will continually know that they are getting the best in terms of customer service and product quality from a retailer. Social media is another digital tool retailers can use to connect with their customers regularly and also to distinguish themselves from competing businesses. Industrial Cigar Co. is active on Instagram, a platform that allows the Frakes family to provide an accurate and personalized snapshot of their business and its values. It also allows the store's staff to go outside of the store's physical walls and to develop deep and meaningful relationships with customers near and far.
When Patience Pays Off
There's a final lesson other tobacconists can learn from the Frakes family: Patience pays off. It took six years to build the first Industrial Cigar Co. because they realized early on that there was no value or advantage in rushing the process. The Frakes family chose to take their time in developing their business, and instead of jumping in, they traveled to cigar-producing countries and visited tobacco fields and cigar factories instead.
"Our family does not have a history of being super patient," says Brandon. "We wanted to learn it before we got into it. This helped us be disciplined and understand the industry. It was absolutely 110 percent the way to go."
The Frakes have learned that in order to build a successful tobacco business, one must first build strong connections within their business—with their customers, with manufacturing partners, and with the culture and lifestyle as well. Strong connections will make people feel as if they are part of not only a store's culture but also of a family, and that bond will help build an environment that's welcoming and accepting of all.
This story first appeared in the May/June 2021 issue of Tobacco Business magazine. Members of the tobacco industry are eligible for a complimentary subscription to our magazine. Click here for details.
– Story by Antoine Reid, senior editor and digital director for Tobacco Business Magazine. You can follow him on Instagram @editor.reid.