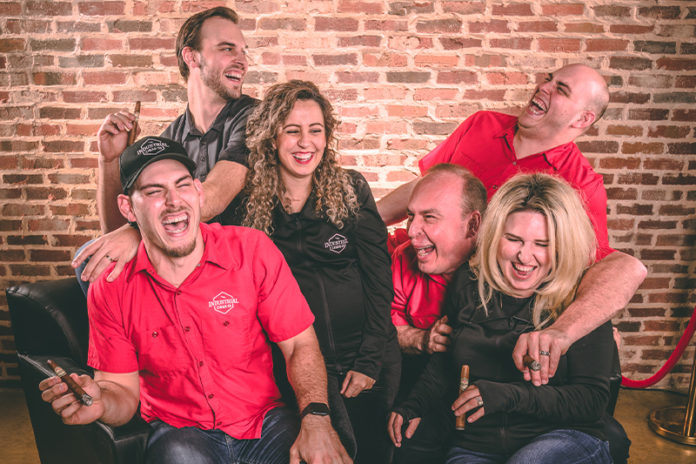 Industrial Cigar Co., located in Frisco, Texas, has become a destination for many cigar enthusiasts since it first opened in 2017. Owned and operated by the Frakes family, Industrial Cigar Co. is home to two lounges and an eclectic collection of cigars that includes both boutique and more well-known brands. The Frakes family has long bonded over a shared love of cigars, and several years ago, the family invested that love into a business. Having seen the connections and relationships that cigars could create between people, the Frakes family felt inspired to start a business that would bring people together through a shared love and passion for cigars.
For the Frakes family, being good tobacconists is a combination of several factors. First, a good tobacconist must care about their customers. Tobacconists must have a desire to create an experience and learn about the tobacco culture, and they also must understand that they carry a responsibility of having a team that they trust. Tobacco retailers have to be ready and willing to fight for their businesses. Over the years, the Frakes family has learned several more lessons about being tobacconists, such as the importance of space in terms of scaling a business. No lesson, however, is as important as understanding the need to create a unique experience for customers and a retailer's role in bringing a community together.
The Catalyst
Industrial Cigar Co. is a full-on family affair. The logo for the business incorporates a hexagon, with each corner representing six different members of the Frakes family. Two of those points represent twin brothers Andrew and Nathan, and another represents Brandon, one of Industrial Cigar Co.'s owners. Brandon and his brothers have looked up to their father and idolized him since they were children. While growing up, Brandon remembers his father being very strict and disciplined—he didn't drink or partake in many vices, but he did have a weakness for cigars, something Brandon refers to as a chink in their father's armor. When Brandon was 18, he visited a cigar lounge and purchased his first cigar as a legal adult, a Playboy by Don Diego. Brandon brought this cigar back home with him and also bought two additional ones that he shared with his younger brothers to smoke together and emulate what they had spent their time seeing their father do throughout their childhood.
"We fell in love with smoking cigars because we thought we were cool as ever," says Brandon. Little did I know, this was really the kickoff point of cigar smoking becoming more and more frequent. Any opportunity I had, I would pick up three cigars: two for my brothers and one for myself, and it was always a Playboy by Don Diego. That was really the start of our love of cigars, which ran parallel to my dad enjoying cigars and us enjoying them also, secretly praying to God that we wouldn't get caught along the way."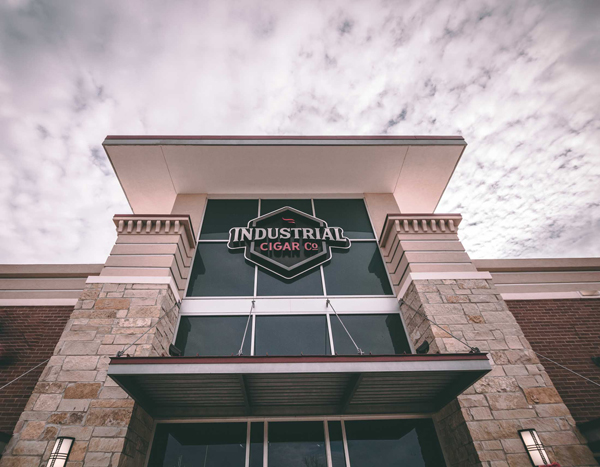 With cigars now a regular catalyst for how Brandon and his family bonded and came together, they also found themselves spending a lot of time smoking in different cigar lounges. One of Brandon's brothers was a professional golfer while the other was a collegiate track and field athlete, giving the family the opportunity and a reason to travel around the country and experience different lounges. As they visited these cigar stores and lounges and developed a deeper connection and understanding of the cigar business, they began to talk about what it would be like to own and run their own cigar lounge. At each lounge, they made an effort to talk to the owner and also to any cigar reps that were present, and each conversation they had made them fall more in love with the idea of becoming lounge owners.
The arc of wanting to open a cigar lounge and actually making it happen was a process that Brandon refers to as being humbling. As they started to go through the process, the family encountered many unexpected obstacles and roadblocks. Brandon describes Frisco as being very family orientated, meaning that building and opening a cigar lounge in the city was easier said than done. The Frakes family quickly became very familiar with the many regulations and ordinances that stood in the way of them opening a lounge within the city.
Their establishment was going to have to have two separate AC units. They were going to have to invest in a good HVAC system to ensure their lounge always had clean air. There were even construction challenges that required the help of an experienced general contractor. The Frakes family didn't let any of these challenges stop them, however. They did what was necessary and even tried to look for opportunities to get the community invested in their establishment before it was open.
"Every Wednesday, we would do hardhat tours," says Brandon. "This was almost by accident. We had a neighbor that had a sign that read 'Coming Soon—Open February 2.' What I learned from them is that you never say when you think you're going to be open until you actually open. So we started doing these tours. We'd have people in the area asking, 'When are you going to be open?' I said, 'Well, I don't know. Show up on Wednesday. We've got cigars for you, you can come in, and we'll do a tour. Bring your friends!' And so we started doing these tours, and it was cool because we allowed our soon-to-be members, customers and regulars to literally mark their names and write their names on the studs behind the wall. We got to make them part of the process. It just allowed us to be a steward for what their future experience would be."
During these hardhat tours, the Frakes used these unique opportunities to get to know their members and get their feedback on everything from the store's potential membership program and its perks to what the lounge would actually look like. This enabled the Frakes family to build a cigar lounge that had mass appeal long before it officially opened its doors to the public. Before Industrial Cigar Co.'s soft opening in September 2017, the store had a wait list for its membership program and a good idea of what the community was looking for from their new business: a lounge with a strong cigar culture built into it.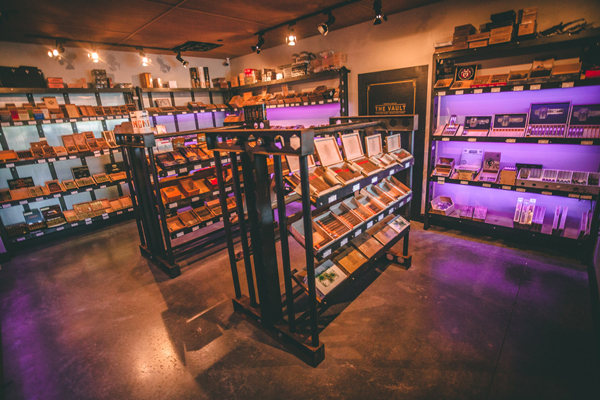 Staying Connected
A trip to Nicaragua in 2014 inspired the name for the Frakes' cigar lounge and store, Industrial Cigar Co. While in Nicaragua, the family visited the Joya de Nicaragua factory, an experience that left a positive impression on each of them. When the family returned to their home in Frisco and began looking at locations for their lounge, they came across a location within an industrial park. Thinking back to their visit to Joya de Nicaragua's factory, which they felt had a strong industrial vibe to it, the name not only fit the location of their future lounge but also the feeling they wanted their patrons to have the moment they stepped through their lounge's doors.
"As a cigar lounge, you can either have a Cuban theme or that of a den with a super-rich leather type of feel," says Brandon. "There isn't anything in between, but Industrial Cigars was something different. It was fresh. It was modern but still classic at that. Yeah, let's take off."
Ensuring that Industrial Cigar Co. was different from other lounges and businesses in the area was important to the Frakes family as they built their business. From early on, Industrial Cigar Co. has been able to attract some of what it considers to be the best customers in and around Frisco. Some of the store's customer base travels hours from other areas of Texas, including northern Dallas and Fort Worth, just to experience and be a part of Industrial's cigar culture. That appealing cigar culture is attributed to the lounge's team and staff that regularly connect, discuss issues and provide feedback to improve the store's business.
"Every Monday we connect as a team, and our whole mission is to be 100 percent real with each other. "It's in those moments where you might think you were doing pretty good until you realize you dropped the ball here, here and here," Brandon explains. "Just having that accountability of the team and of yourself to realize, "We are not providing the best cigar experience possible. We need to make alterations." Internally, our shared purpose is rock solid, and it is guarded and defended like a group of Vikings. We can't drop this standard."
Staying connected with the staff and lounge's customers is how the Frakes family continues to build Industrial Cigar Co. It was fellow retailer and Crux Cigars founder Jeff Haugen that offered the Frakes family the advice that when running a cigar lounge, the store's owners should see the lounge as belonging to the customers—the owners simply run it on behalf of the customers. The family understands that getting people into the lounge's doors is all about providing them with an opportunity and a memorable experience they can't get anywhere else.