Collaborations outside of the tobacco industry are also of interest to Andrews and STG. For example, back in 2018, STG partnered with Rabbit Hole Distillery to create Diesel Whiskey Row. At the time, Rabbit Hole Distillery was in a similar position as Diesel was—both were in a startup phase and doing things very differently from other similar brands in their respective industries. It was with this that the two companies found synergy and were able to create a fun, innovative premium cigar product. Finding companies that are innovative, exciting and disruptive is key for Andrews and provides a good basis for a mutually beneficial working relationship and collaboration. Profitability and being able to measure a collaboration based on its potential monetary value are just two indicators the company uses to evaluate any collaboration it takes part in.
"Justin knows that I'm less strict with collaborations than I would be with our own brands," explains Regis Broersma, who serves as president of North America Branded and Rest of World and is also an executive board member at STG. "But of course there are thresholds. We have some margin requirements. In order for us to put the salesforce behind, it cannot be 10 boxes; it needs to be at least at scale. In my mind, yes, I do like to make money with every collaboration, but the most important thing is the halo effect and interest [the collaboration] creates."
The halo effect Broersma speaks of is part of the collaboration process that Andrews explains benefits not just STG but the other partner as well. "For a lot of the brands that we've collaborated with outside of the category we've been able to expose them to a customer base that otherwise may not have been aware of their product and vice versa," adds Andrews.
One of the most recent collaborations that generated a lot of interest from retailers and consumers was the Bolivar Cofradia Lost & Found, a release that Andrews blended alongside Robert Caldwell of Caldwell Cigar Co. The cigar made its retail debut in March and received phenomenal feedback from the market. Another release that shined a light on STG and its collaborator was the Cohiba Serie M, the first Cohiba cigar ever made in the U.S. This cigar, made with the help of El Titan de Bronze, was also received very well by cigar enthusiasts. Warzone was a cigar that was blended with the help of Espinosa, and although it is limited in nature, it has had two different sizes released on the market with a third slated for release later this year. These releases all brought new attention to some of STG's portfolio of iconic cigar brands and highlighted some of the industry's best cigar makers and factories outside of STG.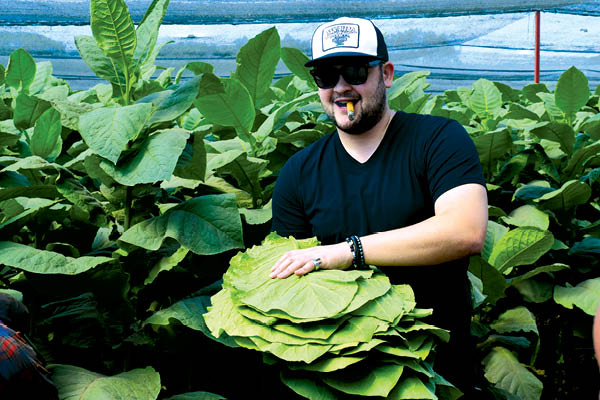 Experience Matters
General Cigar Company and Forged Cigar Company's sales reps and brand ambassadors are in stores and engaging with retailers and consumers on a daily basis. This strong presence in retail, as well as online with the heavy use of social media, allows the company to monitor and get feedback on its releases.
"We do a good job as a company of staying in tune with what's going on in the cigar world and also listening to feedback," says Andrews. "We get a lot of feedback constantly through various channels, and then we process that information. I think we do a good job of reacting to the demand and how flavor profiles change but also of leading the change and offering new products and things that otherwise aren't available."
Once feedback has been received, STG has both the size and skill to do something productive with it. With teams spread over the globe, feedback is used to improve different parts of the production process, from the blending team to the company's sales and marketing divisions.
"We're always disseminating information and collaborating within STG when it comes to the production of cigars," Andrews reveals.
There's also a larger goal of these collaborations that links to STG's goal of becoming the undisputed global leader of cigars: creating a memorable experience for cigar smokers. "When it comes to collaborations, everything goes back to the experience," Andrews says. "As a cigar smoker, there's never been a better time to be in this industry. There are so many good brands, so many good products, and everybody's doing a phenomenal job. The goal is to offer a different experience to the cigar smoker. There's an old saying I always reference: "A high tide raises all boats." We're in such a small category, and we compete and we fight for shelf space, but everybody's friends. As the category expands, and the more people that smoke cigars, the better it is for all of us. So if we can add to that by collaborating and creating a different experience, it's good for everyone involved."
To carry out a successful collaboration, good communication is a necessity. Early on in the collaboration, Andrews ensures STG and the outside partner are aligned by discussing what both companies want out of the collaboration. It's also important to identify the strengths of each company taking part in the collaboration. The goal is to ultimately create a great experience between STG and its partner and to pass that experience on to the cigar smoker with a final product.
For those considering a collaboration of any sort, Andrews has a very simple recommendation: Have a clear and concise objective of what you want to achieve. Once you have answered that key question, you and your collaborator should be able to find your synergies and easily align your efforts. Rather than becoming too fixated on the product itself, focus on what you want the end user's ultimate experience to be. Making the experience the target and point of fixation is the winning formula and what will make your collaboration unforgettable.
This story first appeared in the May/June 2022 issue of Tobacco Business magazine. Members of the tobacco industry are eligible for a complimentary subscription to our magazine. Click here for details.
– Photography courtesy of STG. Story by Antoine Reid, senior editor and digital director for Tobacco Business Magazine. You can follow him on Instagram @editor.reid.