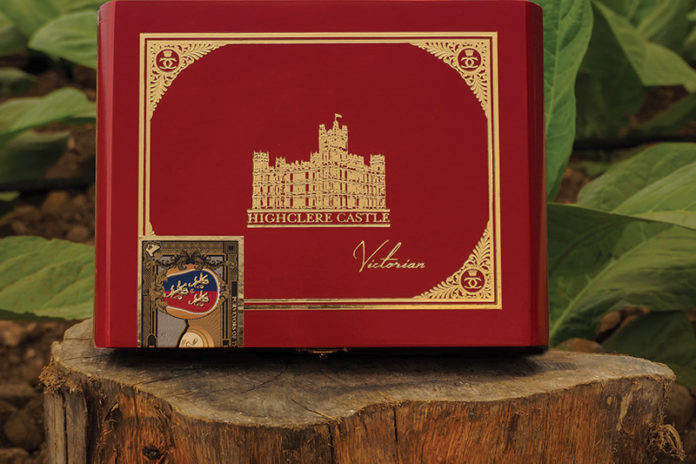 Back in 2017, Foundation Cigar Company released the original Highclere Castle Cigar. Now they are extending the brand with the addition or Highclere Castle Victorian, a cigar that will feature a maduro wrapper. The new blend will debut at the 2019 International Premium Cigar & Pipe Retailers Association (IPCPR) trade show and convention.
Highclere Cigar Company is a partnership between Highclere Castle, the recognizable backdrop of the award-winning television show Downton Abbey, and Nicholas Melillo of Foundation Cigar Company. The Highclere Castle Cigar is meant to echo the style of cigars enjoyed in the 19th century England. The castle's history goes back to 1862 where it was common for the men to retire to the library after dinner for a cigar and spirits [read more here].
The Highclere Castle Victorian is a full-bodied cigar whose blend consists of an Ecuadorian Habano wrapper, a Mata Fina binder and Nicaraguan fillers including Corojo and Criollo from Esteli, Jalapa and Ometepe. According to the company, the cigar has notes of nougat, cedar, cinnamon, and leather.
"This is some of the rarest and highest quality wrapper that I have been able to source, based on 20 years of building relationships with farmers and exceptional tobacco growers," says Melillo.
"Nick is arguably one of the most well-respected cigar blenders in the industry," comments Highclere Cigar co-founder, Adam von Gootkin. "Partnering with him to craft this masterpiece cigar speaks to his obsession with quality while embracing the rich history of enjoying cigars at Highclere Castle. His access to rare tobaccos and high-quality, by-hand, production capabilities has led to this historic, award-winning line of cigars that we are incredibly proud to offer to connoisseurs."
"Highclere House was transformed into the inspirational Victorian Castle, much loved today, during a time of confidence and exploration in the world. Cigars were smoked at home by leading statesmen, such the Prime Minister Lord Salisbury, a close friend of my great, great grandfather. In fact, Queen Victoria's, husband, Prince Albert, helped improve Anglo-French relations by smoking cigars with Napoleon III. Good food, good wine and the best cigars have been part of our weekends, entertaining friends and guests from around the world," added George Carnarvon, the current 8th Earl Carnarvon, owner of Highclere Castle and farmer of the 5,000-acre estate.
Highclere Castle Victorian will be available in five different sizes: Churchill (7 x 48), Toro (6 x 52), Corona (5 1/2 x 46), Robusto (5 x 50), and Petit Corona (5 x 42). All of the cigars will come in 20-count boxes.
For all the latest news from Highclere Castle Cigar, visit highclerecastlecigar.com.