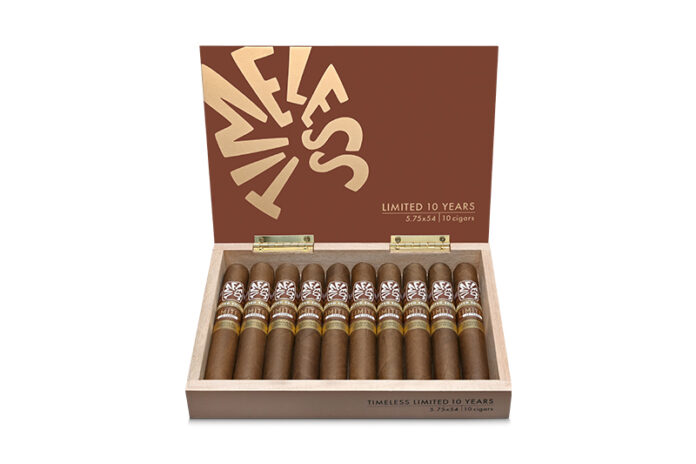 Ferio Tego is celebrating the 10th anniversary of its award-winning Timeless Collection, which launched in 2012, with a special commemorative limited edition release. The Timeless Ten Years will be offered in just one size, a Robusto Grande measuring 5 3/4 x 54 and will come in 10-count boxes. Only 2,500 boxes will be released.
"This limited release is our way of celebrating this ten-year milestone; a decade of quality and complexity," commented Michael Herklots, co-owner of Ferio Tego.
Timeless Ten Years will be made in the Dominican Republic with the help of Quesada Cigars. Along with the cigar's Nicaraguan and Dominican filler tobaccos, this special cigar is finished with a Dominican binder and what Ferio Tego is calling a "stunning" Dominican wrapper.
"Over the last ten years, the Timeless Collection has been a humidor essential for consumers and retailers alike. The Timeless Collection means a great deal to me. Timeless Prestige (Dominican) was the first blend and brand I created and brought to market under Nat Sherman International, and the subsequent brands and blends within the Timeless collection each have their own unique identity, story and personality. We are hyper focused on maintaining these sensational blends year after year. Consistency in core blends is the bedrock of the philosophy for Ferio Tego," says Herklots.