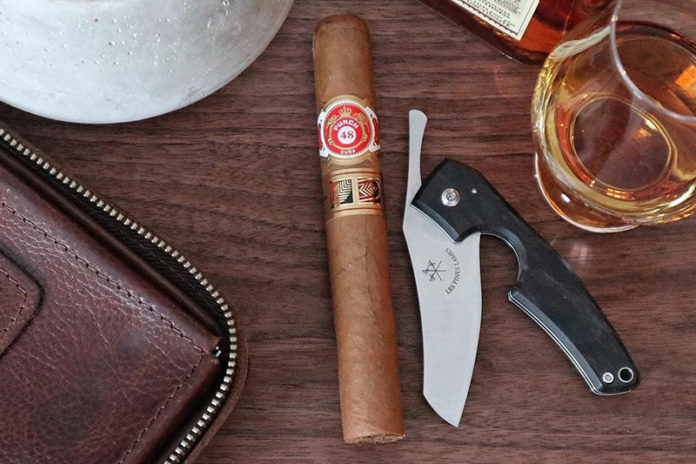 What are some items that you can't leave home without? Each person has a list of essential must-haves that they need in order to get through the day—a phone, wallet, purse, watch, special pen, keys, a favorite pair of sunglasses. If you're a cigar smoker, you may have even more must-have items, including a lighter or a cutter. These items comprise an industry called "everyday carry," (or EDC), and it's one that's growing as it serves as an extension of who we are as people and what we do on a daily basis. These EDC items allow us to be more productive and creative, they save us time and are convenient, and they also provide a way for us to express our individuality. EDC is not just a consumer movement; it's a new industry that Pierre Jourdan has built his business, Les Fines Lames, within.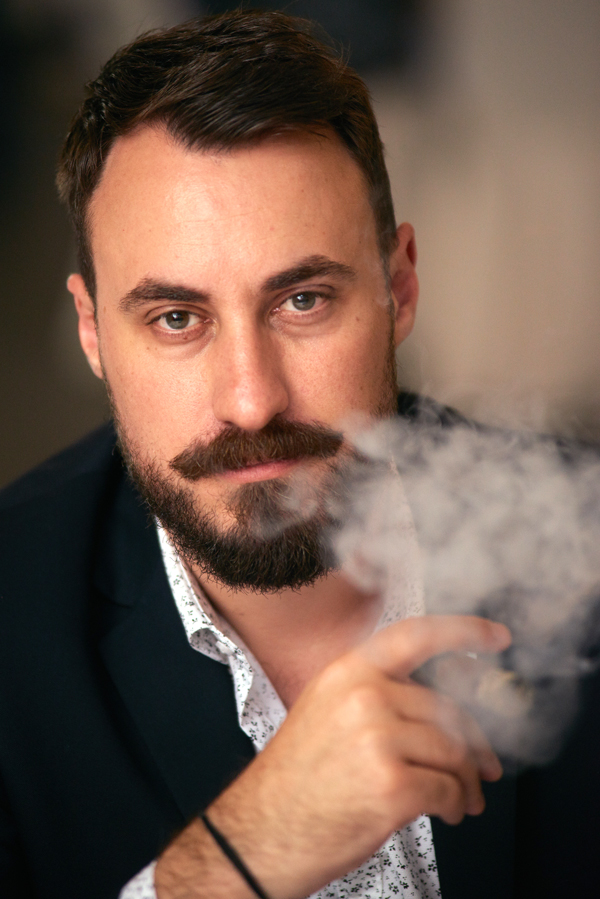 Before launching Les Fines Lames, Jourdan worked outside of the cigar and accessories industry. After earning a degree in computer science and a master's degree in journalism, he worked as a project manager for Orange S.A., a French telecommunication company. There, Jourdan's focus was managing a video game community through Europe's largest online gaming portal. At one time, Jourdan's department was responsible for launching a massive multiplayer online role-playing game to 800,000 subscribers. Jourdan led projects linked to the community-related aspects of the game, and his position gave him insights into online communities and digital engagement that he'd later use to help launch Les Fines Lames. After leaving Orange S.A. in 2007, Jourdan worked with his father to help manage their family's business. This helped him acquire basic entrepreneurial skills and gave him time to think about starting his own business. He ended up starting a social media consultancy business to help other companies strengthen their online strategy. The more Jourdan worked with social media, the clearer the strategy for launching his own cigar lifestyle brand became.
Jourdan attributes the idea for Les Fines Lames to his grandfather, who was a gardener at the Parc Borely, a public park located in Marseille, France. As a gardener, Jourdan's grandfather constantly carried a pocket knife to help him with his daily tasks, a habit that became a family tradition that was later passed down to Jourdan. When he was of an age where he could have a knife, someone gifted Jourdan a knife that he always carried with him.
Years later, Jourdan began smoking cigars and also carrying a lot of gear so he could fully enjoy taking part in the cigar lifestyle. Jourdan smoked his first cigar—a Romeo y Julieta—at a friend's wedding in 2008.
"I was completely oblivious to the pleasure tobacco could provide," he explains. "I had tried cigarettes maybe once or twice before, but I didn't like the taste. However, I very much appreciated this first cigar for its flavors—but also for the peaceful moment it allowed us to have on the fringe of the celebration."
During that same summer, Jourdan and that friend attended two other weddings at which cigars were part of the celebration. Later that year, Jourdan purchased his first three cigars while in Lyon, France, and started to enjoy smoking cigars regularly. He bought a small humidor that could hold up to 10 cigars, but he had to upgrade to a 300-capacity humidor by his 30th birthday. Cigars were more than just something to be enjoyed at weddings; they became his passion and a part of his lifestyle. Like most cigar smokers, Jourdan purchased his own lighter, cutter and a carrying case, which became part of his everyday carry collection. The desire to trim down what he had to carry on a daily basis led him down a path of innovation as he set out to combine a cutter and knife into one item.
Jourdan sketched out an idea but knew he'd need to work with an expert to help him make this dream a reality. Yann Bouten, a craftsman who had experience with knives and leather and was also former business partner from Bordeaux in the southeast of France, took Jourdan's sketches and helped refine them to the point where they could create a prototype and test it.

"I had found the perfect product to launch the crowdfunding campaign I was dreaming of," says Jourdan. "Beginning in January 2015, Yann and I spent six months designing, prototyping and testing. Meanwhile, I built a following of 5,000 on Instagram through my personal account, @steven_cigale, and created @lesfineslames when the product was ready. Back in the day, Instagram really was a blank canvas. We were quite instantly the biggest cigar accessory brand on Instagram."
Once Jourdan and Bouten were happy with the results, they registered their designs and brand and asked their online followers to support the venture through a crowdfunding campaign that launched in October 2015.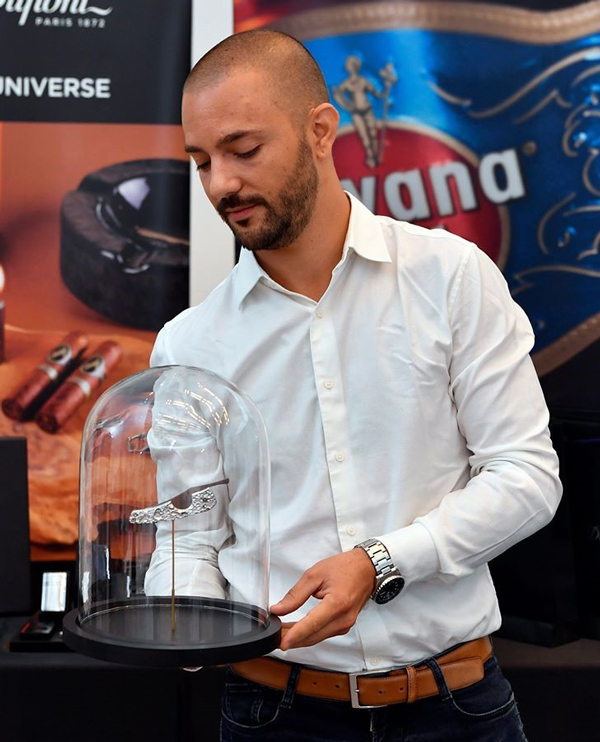 Expanding the Team
As time went on, Jourdan realized that in order to grow the brand, he needed the right team to help him do so. In 2018, Jourdan met Pablo Rodet, who at the time was looking for an already established company to buy or an international business to help develop alongside another professional. Like Jourdan, Rodet was an entrepreneur who had experience working with startups but eventually wanted to own and run his own business. Rodet had worked in the U.K. as a business analyst for a French bank. After graduating from university and spending a year working within the military sector, Rodet moved to North Africa in 2009 to work as an export manager, a position that gave him valuable experience working with international trade.
Rodet would go on to work in the premium fashion and jewelry industry in Marseille and Paris, and he became particularly skilled at business strategy and reorganization. Rodet had his own unique experience with cigars. His father owned a sailboat workshop business, and many of the participants would often be seen smoking cigars during the seminars. When he was 18 years of age, Rodet began working at a restaurant to help him pay for college. Customers would leave behind empty aluminum tubes that once contained premium cigars, and Rodet would collect them as he cleaned and prepared the tables for other customers. Later on, when he worked in airports at duty-free shops, cigars once again became part of his everyday routine.
"Cigars quickly became a part of my life, and learning about the different blends, origins and pairings was a fantastic path to follow as a hobby," says Rodet. "When Pierre explained the Les Fines Lames project to me and proved that he already did an amazing job with its social media and branding, it was the perfect match between two products that I adore: cigars and knives. Les Fines Lames was an international business and an exciting opportunity."
Rodet joined the Les Fines Lames team and began handling everything related to its sales strategy, including business analysis and international distribution. This allowed Jourdan to focus more on the creative side of the business—product design, communication and marketing. After the successful crowdfunding campaign, Jourdan hired Florent Sarlin to take care of the company's supply chain and quality-control issues. Jourdan plans to bring on two or three more employees by the end of 2020 to help Les Fines Lames become even more efficient and successful.
Production Quality
Just as a premium cigarmaker focuses on the production and handcrafted nature of their cigars, Jourdan knew the same would be important for Les Fines Lames' cigar knives. The company's products are made exclusively in France as a way to ensure and maintain high quality.