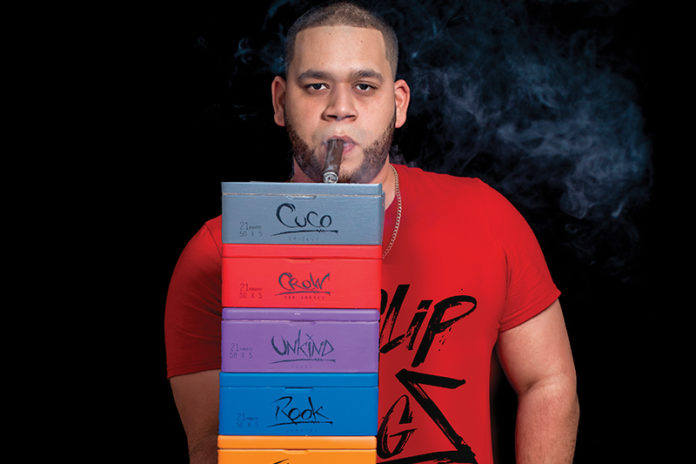 Everyone knows the arc of a bird's life—birds are born into the world not knowing much at all, but several weeks into their life, they become curious about life. That curiosity leads them to leave the nest and learn to fly. For some, learning to fly is easy. Others fail repeatedly before they finally take flight. Birds are not born to remain in the nest or to rely on their parents, much like humans. The story of a bird is a lot like that of Jonas Santana, owner of Blackbird Cigar Co. Santana doesn't come from a family with deep roots in tobacco or cigarmaking. He's a first-generation cigar brand owner that had to learn how to "fly" in the cigar industry pretty quickly in order to launch his business successfully.
Santana and his brother wanted to make a cigar brand that not only felt new and exciting but one that would appeal to a new generation of cigar smokers. Santana's own background is different from those of many cigar brand owners. He has a degree in marketing, and he loves music, particularly rap. Music, he says, is an outlet and way for him to deal with stress and express himself. Rapping provided Santana with a way to say what he wanted at any given moment while also having fun. This same attitude and feeling is what he's worked into his tobacco business, Blackbird Cigar Co., and its various bird-
inspired cigar lines.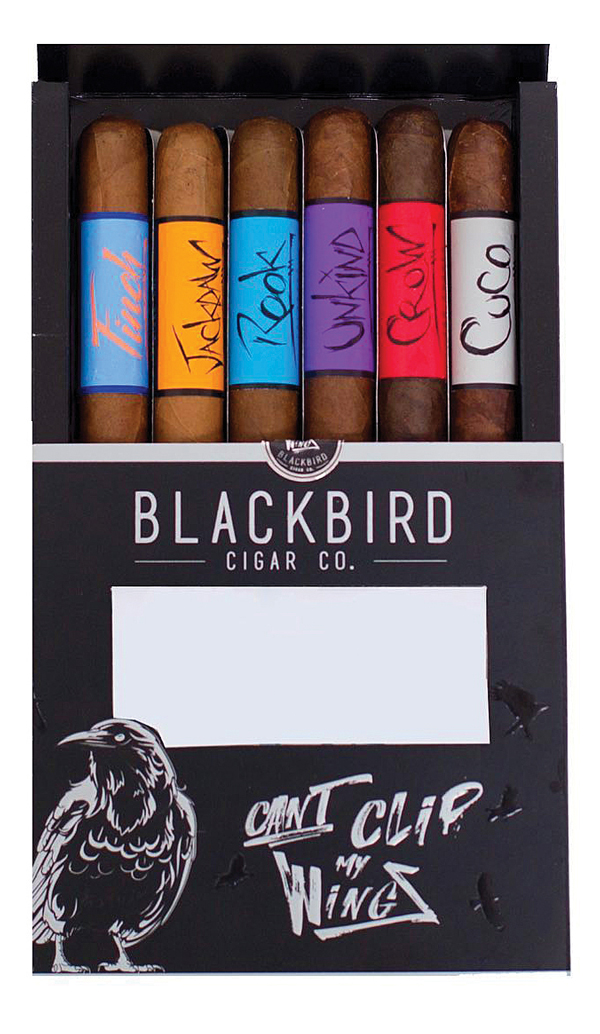 Taking Off
The first time Santana recalls ever seeing someone smoke cigars was when he was around 4 years old. At that age, he recalls seeing his great-grandmother smoking cigars every Sunday when his family visited her. A lot of time passed before cigars would once again become a prominent part of Santana's life. After he finished school, Santana received an offer to work in a cigar factory in the Dominican Republic. Santana found a mentor in the factory's master blender, who taught him about tobacco, blending and cigars. Every morning when Santana arrived at the factory for work, he'd get there early so he could spend time with a blender who would have him make cigars and smoke different tobaccos as a way of developing his palate. After two years, Santana was transferred into sales and he started to travel, exposing him to more of the business side of the cigar industry.
Traveling and meeting with different retailers opened his eyes to the vast world of cigars and the opportunity for someone to do something completely different in terms of branding and marketing. At first, Santana pitched the idea for a cigar brand to the company he was working for at the time. When they weren't as receptive to his idea of veering away from a traditional approach to cigar branding, Santana knew he could seize the opportunity and start a viable cigar business of his own.
"When I presented to the company that I was working for at that time, they just wanted to continue with their own ways of branding. After a year, I was brainstorming with my brother and partner about the idea that I had and how we could make it happen. We thought that we should give it a try. We knew it was a risk because of everything that was happening at that moment within the cigar industry, but we had the faith in God and the faith in ourselves to make something brilliant."
Santana had learned a few things about what was required to make a brand successful over the years from working in the factory and later with retailers through sales. "When you are branding, you must have a story, and it has to make sense. We also thought about colors because [we knew] if someone didn't remember the name of our cigars, they could remember the color of the band or box."
Santana and his brother knew they wanted their company and its cigars to penetrate the U.S. market early on and that the company's name and that of its cigars had to be easy to remember. Knowing the U.S. was going to be key to their business, they brainstormed ideas and asked themselves the question, "What is the symbol of the U.S.A.?" The eagle came to mind, and knowing that the majestic bird was the strongest, they then brainstormed and wanted to take that idea further. What was the smartest bird in the world? They did their research and found that the answer was the crow. Suddenly, they had a list of bird-related names that included "jackdaw" and "rook," two other species birds that, like the crow, had distinctively dark feathers. While these different bird names would later be used to name the different cigar lines, the dark-feathered theme led to the company's overall name, Blackbird Cigar Co.
Distinctive colors and bird names allowed Santana and his team to create a very unique cigar company that looked and felt new and fresh. There's Cuco, named for a very common bird found in the Dominican Republic that is gray and black. Cuco is the only Blackbird Cigar Co. product that features a Dominican binder and filler. Then there's Crow, a cigar whose branding is black and red, inspired by the bird's distinctive dark feathers and red eyes. Rook has a blue band, the same color as the cigar's namesake bird's feathers when sunlight hits them. Jackdow is named after the European crow and is the company's Connecticut cigar. Blackbird's team chose orange to represent this cigar in hopes that consumers will connect the lighter color to the same smoking experience they will get from a Connecticut cigar. Finch is a cigar that was created as an offshoot of the Jackdaw and made for those cigar smokers that are seeking a lighter, easier smoke but are not fans of Connecticut cigars. The one Blackbird cigar that isn't named after a bird is Unkind, inspired by unkindness, the name for a flock of ravens. Unkind presented the company with one of its first challenges because the original name, Raven, was already taken and used by a different company.
"When I had a call from the owner of the Raven brand, it was a great conversation until the lawyer called me," says Santana. "He was very 'unkind' with me. Thanks to that lawyer, Unkind has become our No. 1 cigar in sales. I appreciate him because I learned that even when everything looks amazing, you will always need to resolve last-minute problems."
To make it even easier for consumers to find the perfect Blackbird Cigar for their palate, Santana, his brother and their graphic designer friend chose to include the strength of each cigar directly onto the box art and the wrapper type on each band. Another observation Santana had made over the years during his interactions with cigar consumers was how at a certain point while smoking a cigar, the smoker would always have to remove the band. To make this process easier, the bird on the band is left slightly unglued so that it can easily be lifted and tugged to remove it from the cigar while other bands can easily be slipped off without damaging the cigar. When it came time to create these different blends Santana enlisted the help of his past mentor, who had since started his own factory. This blender had kept in touch with Santana over the years and brought up the idea of collaborating numerous times. To bring Blackbird and its various cigar lines to life, Santana knew his mentor had the production experience needed to create memorable blends while he himself had the sales experience necessary to sell and market those blends to cigar retailers and consumers.