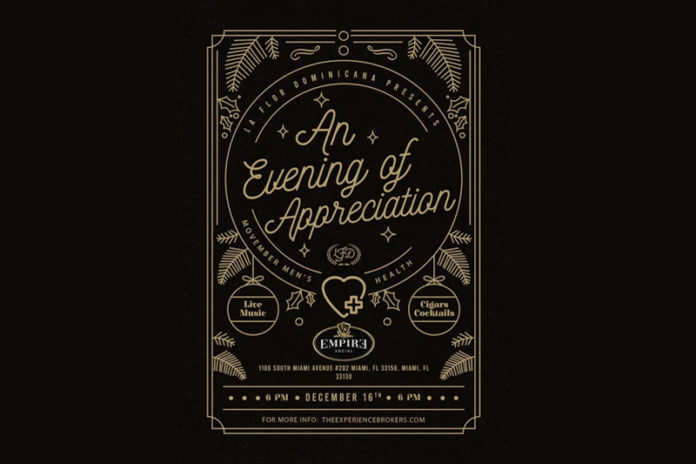 La Flor Dominicana is partnering with The Experience Brokers for the annual "An Evening of Appreciation." This charity event, created by Litto Daniel Gomez, son of La Flor Dominicana founders Litto and Ines Gomez, will benefit the men's health organization Movember Foundation.
An Evening of Appreciation will be an in-person premium cigar experience and celebrate hosted at the Empire Social Lounge in Miami, Florida, and will also include a live broadcast for those that want to take part remotely. This event was designed to give back and appreciate the struggles everyone faces during these challenging times while also focusing specifically on men's mental health. The funds raised through the event will go to those in needs while providing an experience for participants to enjoy. The evening will consist of live entertainment, premium craft cocktails, gourmet food and exclusive La Flor Dominicana cigar releases, with a portion of the proceeds going directly to the Movember Foundation. The exclusive cigar released will be a 6 1/2 x 60 Dominican Puro from the Litto Gomez Diez line and will feature a tobacco art mustache. The Litto Gomez "Mustache" will retail for $15 and will be available for sale exclusively through Empire Cigar Lounge beginning the evening of the event.
The hour-long live broadcast held during the event and will offer remote participants a chance to purchase the Litto Gomez "Mustache" as well as make a donation to the Movember Foundation. The broadcast will feature Litto Ganiel Gomez, vice president of sales Jonathan Carney, and other special guests.