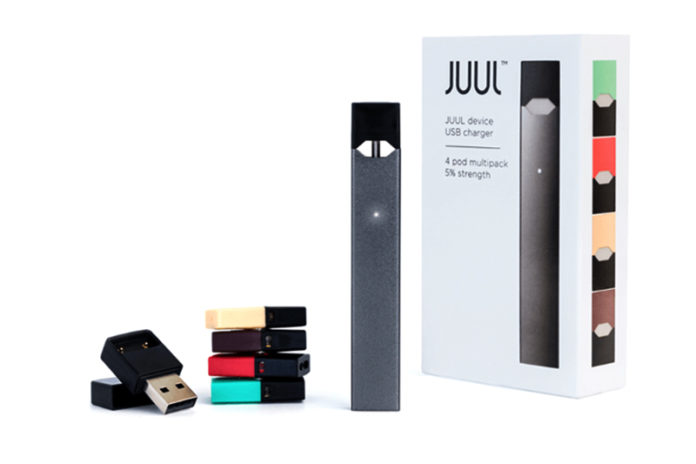 There's no denying the growing popularity of Juul, which is being touted as America's leading e-cigarette brand. In January 2018, the Winston-Salem Journal reported on the sales increase of Juul that put it as the frontrunner in the electronic cigarette product category in the states [read more here]. With popularity and attention of course comes criticism and opposition and Juul is no different.
Along with a surge in sales has come a surge in media attention, not all of it being positive. On April 4, The Wall Street Journal ran an editorial titled "Schools and Parents Fight a Juul E-Cigarette Epidemic", focusing on the "illicit" use of the popular e-cigarette device in middle and high schools across the U.S. The New York Times took it a step further in "The Juul is Too Cool", with writer Amos Barshad drawing attention to the growing popularity of Juul and how its popularity is tied to the favorable perception of vaping amongst teens. Then there's NBC News' recent story on how parents are concerned about their kids "juuling" and the health consequences it could have.
What gives? According to a growing number of media outlets, Juul has reached epidemic status and everyone should be concerned. Even FDA Commissioner Scott Gottlieb has become aware of the growing concerns over Juul, recently commenting at CNBC's Healthy Returns conference that the FDA is aware of Juul's popularity among teens and young adults and that the FDA would take enforcement action against companies that marketed to kids. Juul is the new "it" product for consumers that prefer e-cigarette products but it isn't the first e-cigarette product to capture the attention of adult smokers. There's Vuse, NJOY, MarkTen and Logic, all available in vape, tobacconists and convenience retailers. Juul, however, currently has a 55 percent market share compared to other products in its category, making it the source of ire and attacks.
In an opinion piece published in the Washington Examiner, writer Paul Blair calls the media's attacks on Juul and other vaping products "childish, even for tobacco control." Blair writes, "Instead of using the federal regulatory system to kill a product that can successfully help smokers quit their deadly habit, it could be used to bring new products to market that reduce the misuse of products like JUUL. If the government permitted it, those technologies could include devices that are disabled when they're brought onto high school property."
Is the media attacking Juul or is it attacking innovation? The FDA seems caught in the middle of this mounting battle as it begins to re-evaluate its approach to regulating nicotine level in combustible tobacco products like cigarettes and leveraging "safer" alternatives like vaping devices to give consumers alternative sources of nicotine delivery and help them quit tobacco products all together.
"Dooming to death tens of millions of smokers who want to quit by restricting their access to products like JUUL is antithetical to both common sense and public health," Blair writes. "This fear-mongering has real consequences because people begin to believe that e-cigarettes are as or more dangerous than cigarettes. Nothing could be further from the truth."
You can read Blair's full opinion piece here.