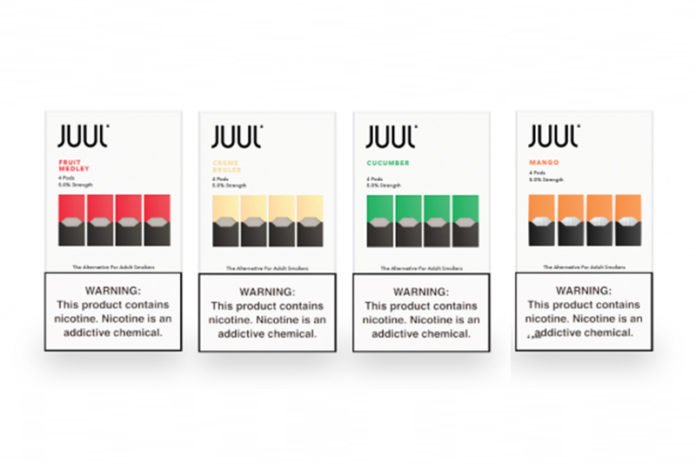 In September 2019, popular e-cigarette manufacturer JUUL Labs announced leadership changes as Kevin Burns stepped down from the CEO position and was replaced with an Altria-appointed tobacco executive, K.C. Crosthwaite [read more here]. Now the company is making more moves in hopes of improving its public image and mend its relationship with regulators.
In a press release, JUUL Labs announced that as the result of a company review, the company has decided to suspend the sale of all of its flavored production with the exception of tobacco and mint flavors. This means that the company's popular flavored pods including mango, creme, fruit and cucumber will no longer be available for sale anywhere in the U.S. These flavors were viewed as appealing to youth and is a pre-emptive move that the company is making to combat youth access and use of e-cigarettes.
"We must reset the vapor category by earning the trust of society and working cooperatively with regulators, policymakers, and stakeholders to combat underage use while providing an alternative to adult smokers," commented Crosthwaite in a press release.
While JUUL had previously pulled many of its flavors from the U.S. market in response to increased government scrutiny, this latest move now also removes these products from the age-verified controlled JUUL.com. This latest moves comes as the company has also suspended all broadcast, print and digital product advertising in the U.S., stopped supporting Proposition C in San Francisco, and ceased its lobbying efforts toward the Trump Administration's flavor guidance draft.
In the press release, JUUL went on to state that it believes in "the FDA's PMTA process and its 'appropriate for the protection of the public health' standard are the best ways to assess the role these products can play in helping adult smokers move away from combustible cigarettes while also being kept out of the hands of youth." JUUL is currently evaluating its products and plans to submit a premarket tobacco product application (PMTA) and is developing scientific evidence to support the use of flavored products. In addition, the company is coming up with strict measures to combat underage use so that adult smokers can continue to have access to these products and use them to move away from using combustible cigarettes.
For all the latest news from JUUL Labs, visit juul.com.