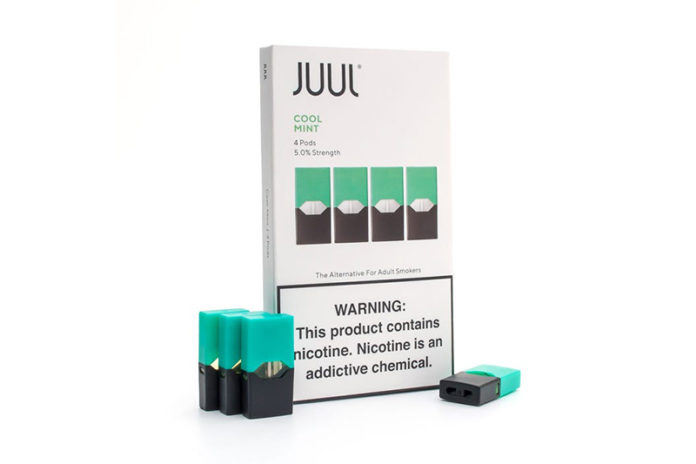 As the e-cigarette and vaping industry awaits the reveal of a national plan to handle flavored e-cigarette products, one company has opted to take action now rather than wait to see the final guidance. In a surprising move, JUUL Labs has announced that it will stop selling mint-flavored pods after new research showed how popular this flavor is among teenagers.
JUUL Labs discontinued the sale of some of its other flavored products back in October as it made moves to improve its public image and to appease regulators [read more here]. Some of the company's most popular flavored pod products including creme, cucumber and mango were pulled from the market and with mint now also off the market, the only flavored products left in JUUL's portfolio is menthol and tobacco flavors.
JUUL based its decision on a study conducted by theUniversity of Southern California (USC). In that study, USC found that half of the high school seniors it surveyed preferred JUUL's mint-flavored products. Sophomores also reported that they had a preference for mint-flavored products. In response, JUUL Labs CEO K.C. Crosthwaite called the results "unacceptable" and stated that the U.S. vapor industry needed to earn the trust of society by "working cooperatively with regulators, Attorney General, public health officials, and other stakeholders to combat underage use." Crosthwaite, a former Altria executive, also reaffirmed the company's intent to support the upcoming federal policy regarding flavored e-cigarette products.
Much of the vaping industry has been waiting in anticipation of the much hyped federal policy that will regulate flavored e-cigarette products. This policy, brought on by the vaping-related lung illness, is expected to impose a national ban on some flavored e-cigarette products. As of Nov. 7, 2019, the Centers for Disease Control and Prevention reported that 2,051 individuals had been diagnosed with the vaping-related lung illness and at least 39 deaths had been attributed to the mysterious epidemic.
While Health and Human Services Secretary Alex Azar stated plans to "clear the market of flavored e-cigarettes to reverse the deeply concerning epidemic of youth e-cigarette use" back in September, there have been various reports in recent weeks hinting that an all-out ban could be replaced by a plan that would heavily restrict where certain flavored e-cigarette products could be sold and could spare menthol and vape stores from the ban. Other reports have implied that the Trump Administration could pursue a higher sales age for e-cigarettes. Originally, federal guidance regarding flavored e-cigarette products were expected to be announced in October but those plans were never revealed. A national ban is expected to be announced any day now.
As the industry awaits the national guidance, many states and municipalities have already taken action and enacted temporary bans of flavored e-cigarette products. These bans have for the most part included mint and menthol products. These bans have also been challenged in court through various lawsuits.