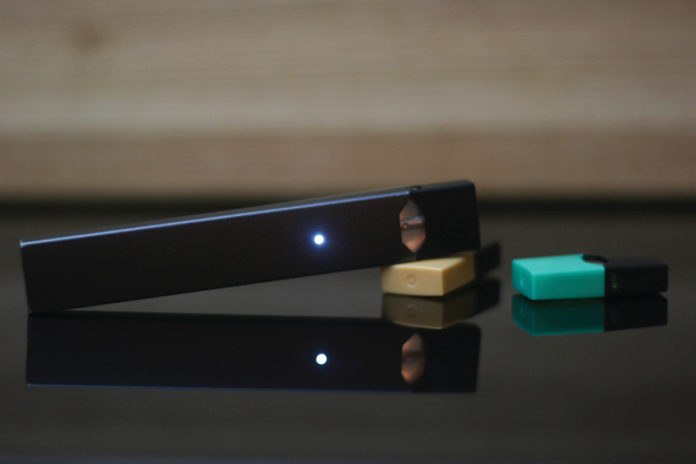 JUUL Labs has announced new measures aimed at reducing underage use of its products in the U.S. market. This comes after the company has advocated for Tobacco 21 laws across the U.S. and restricting access to some of its flavored pods to make vaping less appealing youth.
JUUL has announced that it is working with retailers throughout the U.S. to introduce what it is calling the "strictest age-verification point-of-sale standards ever imposed for an age-restricted product at retail." In what it's calling its Retail Access Control Standards (RACS) program, every retail point-of-sales system will immediately lock when a JUUL product is scanned. It will remain locked until a retailer electronically scans a valid, of-age government-issued I.D. that verifies both the age and the I.D. validity. RACS also imposes automatic limits on the amount of product a legal-age customer is able to purchase. Scanned personal data will be eliminated immediately after the transaction is complete, according to the company.
The company says that RACS will take on two of the biggest drivers of underage access to vapor products at the retail level: failure to check and verify I.D. and legal-age individuals buying bulk quantities of age-restricted products that are later resold to minors.
JUUL reports that over 50 retail chains, totaling more than 40,000 outlets, have already committed to becoming RACS-compliant. By mid-2020, the company expects more than half of its sales volume will be through retailers who are RACS-complaint. It also announced that those retailers who do not become RACS compliant will no longer be able to sell JUUL, a move that could prove to negatively impact the bottom lines of many retailers who've brought JUUL into their stores over the past few years, helping to make it the most popular e-cigarette brand in the U.S.
Another big change from the company includes the national rollout of the company's Track and Trace program for JUUL devices. This program aims to trace confiscated JUUL devices through the distribution chain and helps identify the retail location where the product was sold. Once identified, JUUL works with the retailer to take appropriate action.
"We have piloted our Track & Trace program in the Houston area over the past 20 weeks, including a digital advertising awareness campaign to inform educators, school administrators, law enforcement, and parents on how they can help us locate the source of JUUL device sales to minors by entering the device serial number into our online portal. For devices that have been reported, we have already seen significant improvement in traceability," the company stated in a press release.
These new measures are in step with JUUL's previous moves to change the perception that it is contributing to the growing situation in the U.S. of underage vaping and e-cigarette use [read more here]. Earlier in the year, JUUL shut down its social media accounts and began limiting access to its flavored products while increasing age verification practices on its website. The company has come under scrutiny due to Altria's investment in the company, which gave the big tobacco company a 35 percent stake in the e-cigarette manufacturer. With the FDA's continued threat to impose more regulations and restrictions on the e-cigarette and vaping category, JUUL's efforts to be compliant has also increased, with the company changing its marketing and sales practices while also supporting Congress' Tobacco 21 proposals and the FDA's efforts to clamp down on e-cigarette use among minors.
You can read JUUL's full press release on its latest actions to combat underage e-cigarette use by clicking here. For all the latest news from JUUL Labs, visit juul.com.