In 2014, JR Cigar acquired two Cigar Inn locations in New York. During 2014-2015, JR Cigar went through another transformation as all of its stores, including those it acquired from Cigar Inn, became known as Casa de Montecristo. These stores shifted from the broad focus that some of the JR Cigar stores had in the past and focused on serving those customers seeking premium cigars and other tobacco accessories. Today, there are a total of 16 Casa de Montecristo-branded retail locations that have a focus on lifestyle and experience with lounges and some with cocktail bars. Two other locations are still branded as JR Cigar Outlets and have a focus on transient consumers who are looking for a huge selection of cigars.
"We are always evaluating the possibility of expansion," comments Casa de Montecristo CEO Brad Winstead. "We look for markets that fit our model: a place where you can enjoy a premium cigar and have a drink. The future of brick-and-mortar needs to be able to appeal to the lifestyle of our consumers and the lifestyle of cigars. Brick-and-mortar retail will remain a key part of the overall strategy moving forward."
As part of Altadis USA and Tabacalera's overall retail strategy, many of the lessons learned early on by Rothman about retail still apply today. One of those is adaptability. JR Cigar and Casa de Montecristo were faced with many logistical issues during the course of the COVID-19 pandemic. Early on, the company had to implement a work-from-home strategy for all of its employees, including those that worked in the office and call center. For its warehouse employees, the company had to develop a rotating schedule that worked with COVID-19 protocols. There was a notable increase in sales as the demand for cigars increased, but while the sales boost helped the bottom line, it also created a challenge for the company because of its reduced warehouse capabilities. It took a lot of work, but eventually plans and strategies were in place that kept workers safe while allowing the business to keep up with increased demand.
The pandemic presented JR Cigar the opportunity to show its customers just how much it values customer service. Despite the pandemic, orders went out in a timely manner. There were some supply chain issues that impacted inventory, but JR Cigar made sure to step up its communications during this time, letting customers know about the status of certain products and going so far as to recommend substitutions if a certain product wasn't available.
"Casa de Montecristo's retail operations during the pandemic did [the same thing] as most: we learned to be adaptable to the environment," says Winstead. "Our utmost concern was our staff; we wanted to make sure they felt comfortable and took all measures to safely operate the businesses within local and state guidelines. We also took this time to refresh, remodel and expand several of our locations across the country for the anticipated return of our consumers."
The biggest lesson learned by JR Cigar from the pandemic was the importance of good communication. "As long as you are communicating with your customers and working hard to provide them with the best experience, they will remain loyal," Libretti shares. "We instituted some great social content with various manufacturers to keep our customers up to date on the industry and how each company was handling it. We made sure to let them know of any delays in their purchase and increased our call center operators to make sure every complaint was heard and taken care of immediately. Now that the world seems to be reopening, we are keeping many of our strategies the same because of how effective they were at keeping our customers happy."
Consumers serve as the centerpiece for everything JR Cigar does, as they have since the company's inception back in the 1970s. Today, Altadis USA, JR Cigar and Casa de Montecristo all work together to come up with new ideas to engage with consumers. Each division shares its own knowledge and ways of arming their employees with the tools, methods and products to keep its customers happy.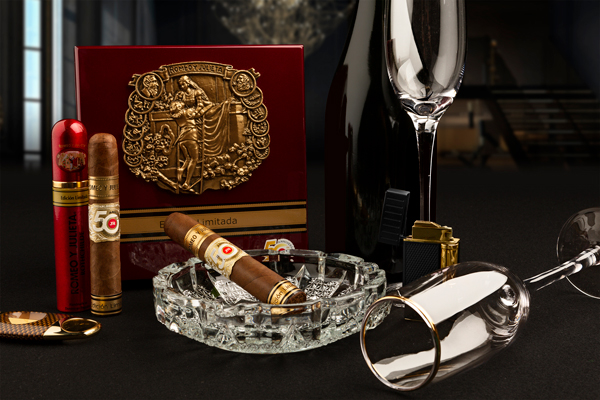 Branching Out
Since consumers have long been the focus of JR Cigar, it should come as no surprise that they are also at the center of JR Cigar's 50th anniversary celebrations. If it weren't for the consumers and their loyalty and support, JR Cigar would not be here today and would not have lasted for 50 years in what is arguably a tough and competitive marketplace. Year after year, those working to build JR Cigar up to what it is today have done so by listening to the consumers as well as the industry. They've observed and taken note of how consumers' preferences and behaviors have changed over the years and also understand that, as a retailer, remaining stagnant is not an option—and that in retail, a business must evolve to remain competitive.
To celebrate its 50 years of business, JR Cigar felt it was fitting to thank its customers with several exclusive releases that were done in collaboration with some well-known brands. These special releases include the Crowned Heads Mother Church, Aganorsa JR 50th, Davidoff JR 50th and Alec & Bradley Wagyu A5+, among others. The company also released a limited edition vitola from the Aging Room Quattro Nicaragua line and the JR Cigar Ultimate 50th Anniversary. There are numerous giveaways and specials in the works for both the company's customers and its employees, including a special event that is in the works.
"It was important to us that we celebrate this occasion at every level with all the people who have helped us along this journey," states Libretti.
These special anniversary releases are also part of JR Cigar's long-term strategy—to continue to make an impact through innovation. "It is no longer just about having the best prices but more about offering the consumer something unique, something they can't find anywhere else," says Libretti. "With such stiff competition, the main objective today is to stay ahead of the game in terms of productive development and customer experience. As with our 50th anniversary, we are upping our game, so to speak, in terms of exclusives and private labels with a wide variety of manufacturers. We also want to offer our customers an amazing overall experience, so we have instituted a brand-new loyalty program that rewards our customers for shopping with us."
As the cigar industry continues to evolve, so does JR Cigar. Its evolution from a small, single-store tobacconist in New York City to the powerhouse retailer that it is today is evidence of the payoff that comes from being willing to change and adapt when the market and situation calls for it. For those retailers looking for ways to grow their businesses, Libretti offers the following advice: plan accordingly. Branching out into a new retail channel is possible, but to have ultimate success, you will need to do the proper research and discover what the best practices are for that channel. It's best to figure out what your potential competitors are doing and how you can bring something new to the market that consumers will love.
This story first appeared in the September/October 2021 issue of Tobacco Business magazine. Members of the tobacco industry are eligible for a complimentary subscription to our magazine. Click here for details.
– Story by Antoine Reid, senior editor and digital director for Tobacco Business Magazine. You can follow him on Instagram @editor.reid.