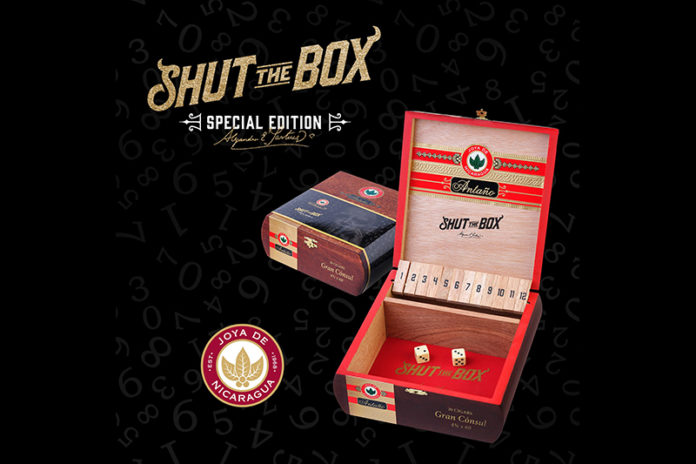 A new limited, playful edition of Joya de Nicaragua's popular Antaño is slated to hit store shelves in June 2020. The Antaño Shut the Box Limited Edition is inspired by one of Dr. Alejandro Martínez Cuenca, Joya's chairman, favorite games. Back in 2012, he visited Havana Mix Shop in Memphis, Tennessee, where he was introduced to an American game called Shut the Box.
"I never thought that day I would discover one of my now favorite pastimes, and moreover, that 8 years after, my team would come up with the idea of making a cigar box that transforms into it," Dr. Cuenca comments. "The best of all is that now I'll find it in cigar lounges across America when I visit."
Shut the Box will be built around Antaño, one of Joya de Nicaragua's oldest and most successful blends of all time. It was first launched in 2001 and is considered by many as the first real full-bodied cigar on the market, according to the company. Antaño features a Nicaraguan Habano wrapper and Nicaraguan binder and filler tobaccos and is an ultra robust, spicy smoke with an earthy finish, unbridled body and aroma, making it an authentic Nicaraguan Puro. Antaño Shut the Box Limited Edition is designed to thank Joya's loyal customers who have supported the brand for almost two decades. It is manufactured at Fábrica de Tabacos Joya de Nicaragua and is limited to just 500 collector's edition boxes of each of the two most popular vitolas of the blend being released–Gran Cónsul (4 3/4 x 60) and Robusto Grande (5 1/2 x 52). Gran Cónsul will have an MSRP of $9.10 per stick or $182 per box; Robusto Grande's MSRP is $8.45 per cigar or $169 per box. After the cigars have been enjoyed, the box can be used to play Shut the Box.