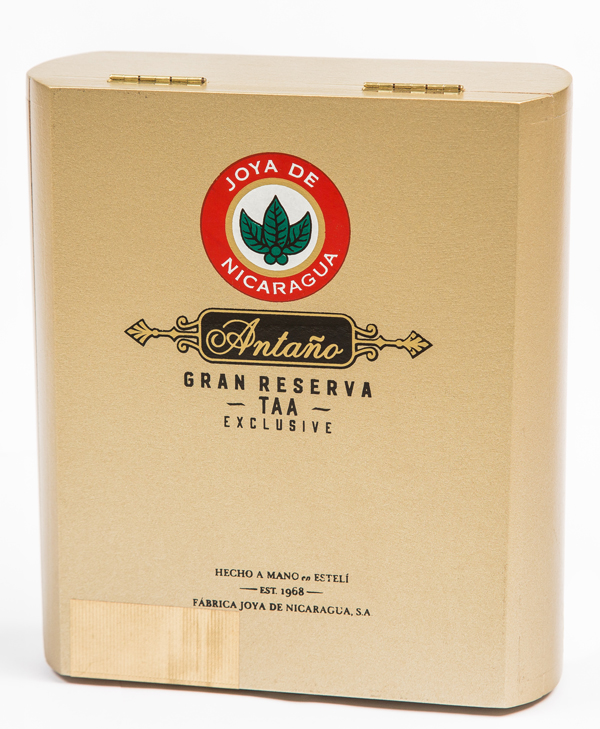 In celebration of 10 years of distribution partnership with Drew Estate and to mark the 50th anniversary of the Tobacconists' Association of America (TAA), Joya de Nicaragua is releasing the Antaño Gran Reserva Presidente exclusively to TAA members. It is also part of Joya's 50th anniversary celebration.
The Antaño Gran Reserva Presidente is Joya Chairman and CEO Dr. Alejandro Martínez Cuenca's favorite vitola. It's presented in a box-pressed 6 3/4 x 50 vitola and uses 100 percent Nicaraguan tobacco that's been matured to perfection for 5 years. It's a full-bodied cigar that's a much smoother smoke than the rest of the Antaño line due to its proprietary filler leaves.
"When I requested the Gran Reserva blend in the Presidente size, it immediately became my private smoke. This is by far my personal vitola and the one that I request the factory for my daily smokes," commented Dr. Martínez Cuenca. "I decided to share it only for special occasions. I can't think of a better opportunity than this shared celebration of five decades of perseverance and companionship between TAA, its members, and Joya de Nicaragua."
The Antaño Gran Reserva Presidente will make its debut at the 50th TAA Convention in Casa de Campo in the Dominican Republic, from April 29-May 3. One stick with have an MSRP $12.50. It will be available in three sizes: Robusto Grande Box-Pressed (5 1/2 x 52), Belicoso (6 x 54), and Gran Consul (4 3/4 x60). It will begin shipping in May 2018.
You can find out more about this and other Drew Estate cigars by downloading the Drew Diplomat app at drewdiplomat.com. For all the latest news from Drew Estate, visit drewestate.com.