He also explored the importance of segment stacking. Segment stacking is creating a new segment rather than a new brand that will negatively impact the sales of your other brands.
"Let's say you have this incredible brand of cigars–you want to come out with your next brand. What happens to that first brand? You just diluted it. You're moving people from one to another. But if you're creating a segment where you own that space, now you create a separate segment, what happens to your dilution factor? You don't lose it. You stack it. And that's a beautiful thing because ACID created its own segment with the infused cigar. We followed it up with the coffee infused segment. I'm talking 10s of millions of dollars per segment."
Another important piece in Drew Estate's growth plan was the focus on experience. The company's Cigar Safari program, where it flies out several hundred people a year to its factory in Nicaragua, built the foundation it needed to go from its popular infused ACID cigar product to a more traditional premium one, Liga Privada. Drew Estate later expanded on its experience building with the introduction of the Drew Estate Barn Smoker events in the U.S., bringing followers and fans of Drew Estate together in Kentucky, Connecticut, Florida, Louisiana, Pennsylvania and using that opportunity to educate them on the product.
On the subject of Liga Privada, which is one of the most popular cigar products the company has to offer, Drew admitted that though the brand found early success, how the company rolled it out to retailers could have been handled better.
"There was no fairness in the brand, no program to the brand, it was haphazard and it caused tremendous damage," Drew revealed. "We had retailers saying 'I've been behind you for 10 years. How come I don't have Liga Privada? My money's not green?' So people started to close accounts on us. So in the middle of all this crazy success, it was a dream come true for us, and having this pushback from all of your core accounts that we cared about was really detrimental to us. That's when we move into creating what I consider the finest program in the industry–Drew Diplomat Retail Program. It allowed us to spend a half million dollars building an app that's not just incredibly revolutionary for cigars but for any product, any loyalty business. We were able to take Drew Diplomat program and bring that over into the consumer side and pull it all up together."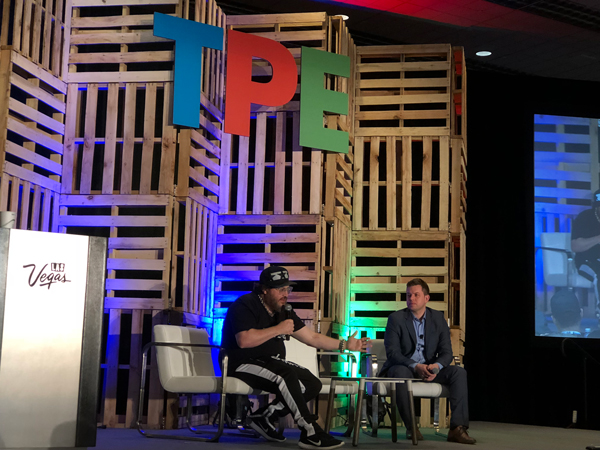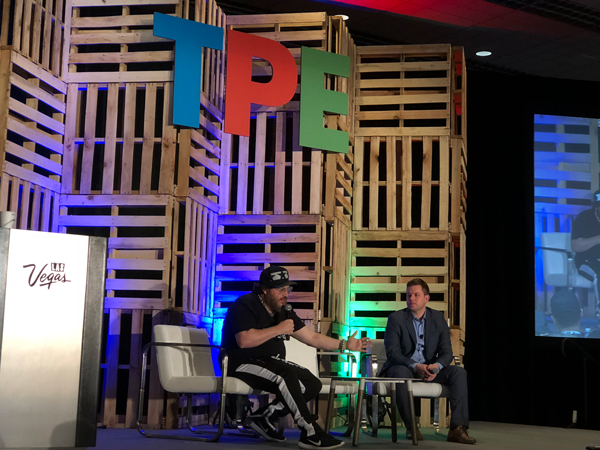 A LOOK INTO THE FUTURE
Drew ended his keynote with his eyes on the future. "The thing about Drew Estate that's so freaking weird is our ability to see the future. We've always been about creating–creating art, creativity, blowing people's minds. We've always pushed that to such an extreme limit that's part of our culture, and I think there's a lot of pride within our office, within Nicaragua, and how we share that."
Drew noted that he found inspiration in Jeff and Tanya Borysiewicz and their Corona Cigar Co. with his latest entrepreneurial move–the spirits company John Drew Brands. Seeing how Borysiewicz created a retail space where sales were segmented between cigar sales and spirits, Drew saw opportunity in bringing that same model into his own business–continuing to sell premium cigars through Drew Estate but also expanding into the spirits category with his own liquor products that could stand on their own as strong brands.
"Are we going to be a branded house or house of brands," Drew asked as he continued to emphasize Drew Estate's focus on pull rather than push (pull, Drew said, was having people walk into a store and ask for a product where as push was forcing products onto customers). At the end of the day, the consumer pull is what Drew Estate has focused on since its early days and continues to feel is very important to its overall growth.
For more on this year's Tobacco Plus Expo (TPE), click here.