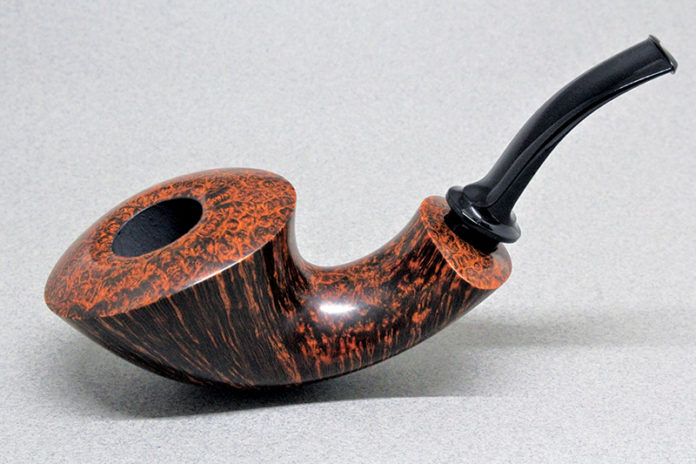 The Chicagoland Pipe Collectors Club has hosted the Chicagoland Pipe & Tobacciana Show on the first weekend of May since 1996. One of the largest such events in the world, the show attracts collectors and pipemakers from all corners of the globe for several days of pipe seminars, educational sessions, pipe and tobacco sales and swaps, and camaraderie that allows hobbyists to meet some of the world's best-known pipemakers.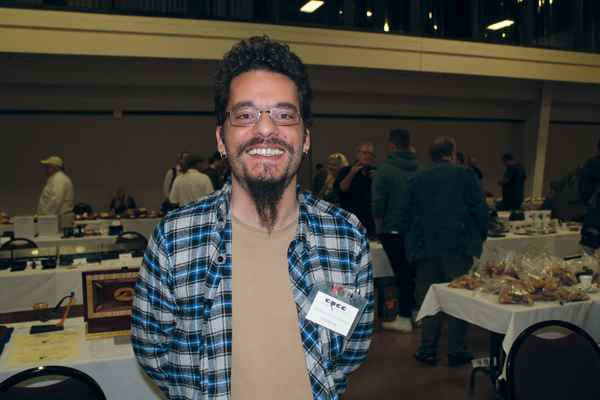 One such pipemaker in attendance at the 2018 show was Joao Reis, who turned 40 in June and is celebrating his 20th year as a pipemaker this year. While many pipemakers spend months crafting dozens of pipes to sell during the show, worldwide acknowledgement of his skills has enabled Reis to slow down his annual production to approximately 60 pipes per year. He spends almost a week working on each pipe now, meticulously figuring out how to collaborate with the briar he's carving to bring out the most interesting shape it can offer. Refusing to be rushed in his process, Reis will continue his work on each pipe until it's as close to perfect as he can attain.
Through an amazing eye for detail and creative use of the briar on which he works his craft, Reis is more than just a pipemaker—he's an artisan in briar who can now fetch prices surpassing $1,000 apiece for most of the pipes he makes. Indeed, he brought just two pipes with him to Chicago this year and easily sold each one for more than $3,000, making this year's Chicagoland Pipe & Tobacciana Show a fun and profitable experience. Yet, while Reis now enjoys a worldwide reputation for excellence and can command high prices for his work, he spent roughly half of his career as pipemaker wondering if he could make a living at it.
"I had no idea that I would be able to do this for 20 years," he says. "I wanted it, but it took a long time for everything to come together to a point that I could do it full time. I feel really lucky because I'm crazy about pipes, but a lot of that luck has come through years of hard work and tough experiences. It's also been the result of help I've received from good friends along the way."
Birth of a Pipemaker
Reis remembers the exact moment he became fascinated with pipes. He was seven years old and watching a "Popeye" cartoon at his home in Lisbon, Portugal. Perhaps a spinach aversion typical of many young children led Reis to focus on the stubby pipe shoved into the cartoon character's mouth, but for whatever reason, Reis wanted to be like Popeye.
With a secure job, Reis now earned enough money to splurge on a pipe purchase every so often. Reis' pipe collection steadily grew, but for some reason, he never thought about making a pipe himself until his brother introduced him to a friend, Jose Manuel Pingalho, who was a leading member of the Portuguese Pipe Club based in Lisbon.
Talking together about their shared love of pipes, Pingalho soon challenged Reis to make a pipe for him. Reis agreed but warned the older man that he did not know how to make a mouthpiece. That was no problem for Pingalho. He took a mouthpiece from one of the pipes already in his collection and told Reis to carve the wood to fit it. If he liked the pipe Reis made for him, Pingalho promised to introduce Reis to other members of the club who would likely ask him to make pipes for them as well.
Using cherry wood and hand tools, Reis spent more than a month on that first pipe, which he copied from pipes in his own collection. He eventually found out that the shape that he carved was known as a Billiard—one of the most difficult pipes to make because of its simplicity. Pingalho was impressed and invited Reis to join the pipe club, where other members commissioned him to make pipes, securing for him a supply of briar. After several trips, Reis decided to move to Denmark and pursue pipemaking full time, accepting a job offer from Jorgen. A year later, Jorgen retired and sold all his equipment to Reis.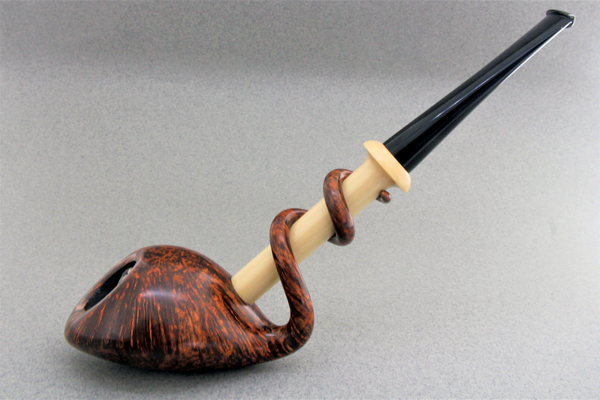 Honing His Craft
Reis attended his first Chicagoland Pipe & Tobacciana Show in 2004 and made a big impression on the collectors who saw his work. He sold every pipe he brought and also obtained a distribution agreement for the U.S. with Monjure International. While his U.S. debut was a huge success, Reis was unable to sustain the momentum. Sales were hard to come by for a few years, and he began thinking he had made a mistake. He couldn't support himself as a pipemaker alone, so he took a job at a nearby furniture factory, which only enabled him to make pipes for a few spare hours each week. He had reached his bottom, but the ever-enthusiastic Reis believed that he would eventually be able to make it as a professional pipemaker.
"That was a difficult time, but I think it made me a better pipemaker," he says. "That showed me how much I wanted it and that I wouldn't let anything stand in my way. Yes, there was an obstacle to overcome, but it made me stronger, and I'm grateful for it."
Reis has recently become interested in jewelry making, and he has ordered a machine to cut gems. As he perfects his jewelry-crafting skills, Reis anticipates incorporating silver, gold and gemstones into some of his future pipes. He also believes that crafting jewelry will inspire him into developing new designs for his pipes. Reis' best years as an artisan are clearly still ahead of him.
"Pipes have created an amazing world for me, and I'm just as crazy about them today as I was in 1998," he concludes. "I can still be better, and I'm looking forward to gaining more experience as I continue. I'll always reach for the stars—maybe that's what has driven my development all along."
This story first appeared in the July/August 2018 issue of Tobacco Business magazine. Members of the tobacco industry are eligible for a complimentary subscription to our magazine. Click here for details.
– By Stephen A. Ross, senior editor of Tobacco Business Magazine.