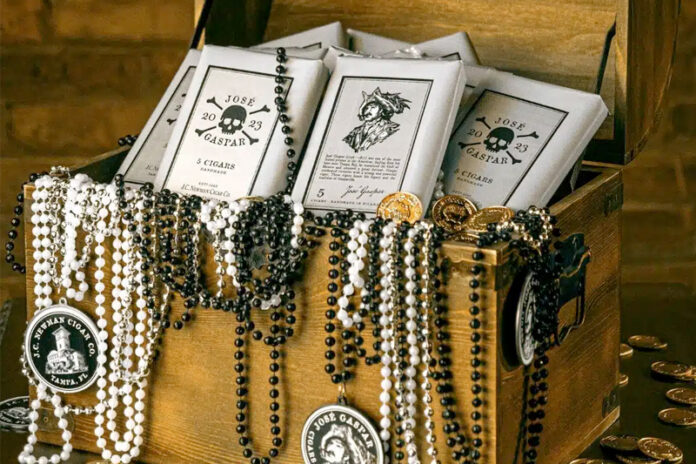 J.C. Newman Cigar Co. is bringing together two Tampa traditions with the release of José Gaspar cigars. These cigars are inspired by Tampa's history of being "Cigar City" and the city's longstanding tradition of throwing a large pirate-themed festival called Gasparilla.
"José Gaspar was one of most feared pirates in the Americas," says Drew Newman, fourth-generation owner. "Sailing from his base near Tampa Bay in the late 1700s, he terrorized the Gulf of Mexico and amassed a great fortune. Gaspar celebrated victories with a bold and flavorful cigar. This cigar honors his legacy and the tradition of Gasparilla."
Newman added, "When pirates invade Tampa and parade down Bayshore Boulevard on January 28, they will be enjoying José Gaspar cigars," said Newman. "Just like the pirates of Gasparilla, however, José Gaspar cigars will sail out of Tampa Bay at the end of January and will not be available again until next year."
Shortly after J.C. Newman Cigar Co. relocated to Tampa in 1954, leading cigar makers invited the late Stanford J. Newman to become a pirate and join the Ye Mystic Krewe of Gasparilla, the organization that hosts the annual Gasparilla celebration. This invitation was a symbol that J.C. Newman had been welcomed and accepted into the cigar community in Tampa, which was then widely recognized as the fine cigar capital of the world.