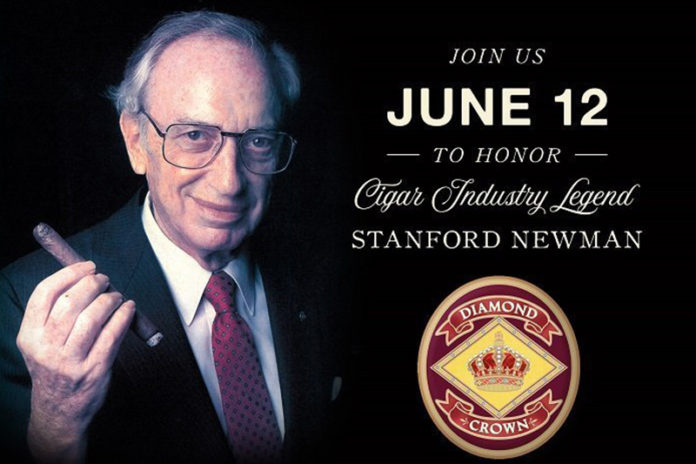 On June 12, 2019, J.C. Newman Cigar Co. will be honoring Stanford J. Newman on what would have been his 103rd birthday with a special Facebook Live event.
For a second year, Stanford's son, Eric Newman, and his grandson, Drew Newman, will be going live on Facebook from J.C. Newman's historic Tampa, Florida cigar factory. During this event, the Newmans will be smoking a Diamond Crown cigar, which represents Stanford's incredible legacy.
"We are encouraging cigar smokers, cigar lovers, and history buffs alike to join us in lighting up their favorite Diamond Crown cigar and tuning into our show at 6:00 p.m. Eastern, where Eric, Bobby, and Drew will be discussing some of their favorite memories about Stanford's incredible life," said the company via a press release.
During this special Facebook Live event, viewers will be able to ask questions of Eric and Drew Newman. There will also be live watch parties hosted at different cigar lounges, giving cigar enthusiasts the chance to network and meet other cigar smokers. Those attending one of these watch parties who purchase any Diamond Crown Cigar will receive a limited edition Diamond Crown 1895 cigar, a cigar that's not in regular production.
For a list of lounges hosting live watch parties, click here. Details of the Facebook Live event can be found here.
For all the latest news from J.C. Newman Cigar Company, visit jcnewman.com.