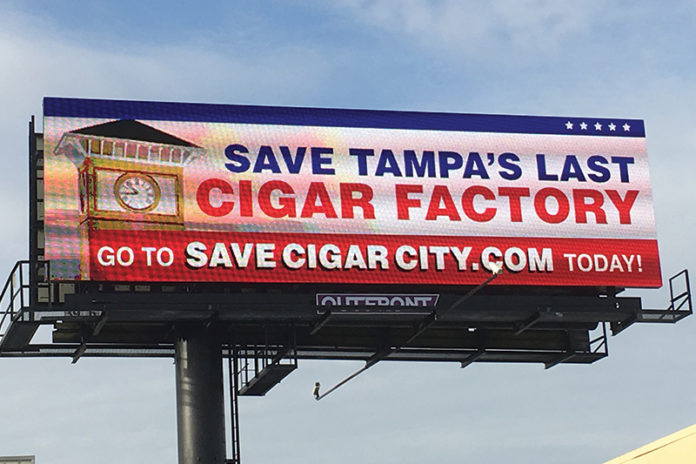 Last month, J.C. Newman Cigar Company launched its grassroots campaign "Save Cigar City" by distributing 100,000 postcards to retailers across the U.S. These pre-addressed postcards would make it easier for retailers to submit comments to the FDA ahead of the June 25, 2018 deadline for the U.S. Food and Drug Administration's (FDA) recently released advanced notice of proposed rule making (ANPRM). Now, J.C. Newman is expanding the campaign's scope and messaging in hopes of generating more awareness and support among premium cigar enthusiasts in Tampa and beyond.
On May 29, 2018, Eric Newman, J.C. Newman Cigar Company's president, wrote an editorial that appeared in the Tampa Bay Times that urged the public to support the preservation of premium cigars and help save the company's Tampa-based factory from over-regulation. In the editorial piece, Newman recounted Tampa's history with premium cigars and how the city was once home to over 150 cigar factories. Before the start of the Great Depression, Tampa was viewed by many as the "Cigar Capital of the World" and it wasn't until the Cuban embargo, the rise of Latin American companies and introduction of massive federal excise taxes that Tampa's vibrant cigar business environment was reduced to just one factory–the one belonging to J.C. Newman Cigar Company.
"Today we face our greatest threat: excessive government regulation," Newman wrote in the editorial, referring to the FDA's decision to expand its regulatory authority to include premium cigars in much the same way it regulates the cigarette industry. "This one-size-fits-all policy does not make sense for our small, boutique industry. The FDA has subjected us to the same warning label, health testing, product standards and other requirements created for the $100 billion cigarette industry. Recent estimates predict that it will cost $30 million just for our Tampa factory.
"By its own admission, the FDA concluded that up to half of all cigar companies would be forced to close because of the enormous cost of compliance. If FDA regulations are fully implemented, our Ybor City factory would be one of the casualties — meaning Tampa would no longer be the Cigar City."
To help spread awareness of its efforts to save its cigar factory and fight against over-regulation, J.C. Newman Cigar Company has covered its iconic neon sign on its Ybor City factory with the message "Save Cigar City." The sign is easy to spot for those commuting along Interstate 4. The company has also bought two billboards in different parts of Florida that encourage the public to act to save Tampa from completely losing its ties to cigars. Through the end of June, these electronic billboards will help spread the word about the company's "Save Cigar City" campaign. Based on daily traffic levels, these billboards are expected to garner two million views by June 25.
"Premium cigars are an integral part of the fabric of Tampa and the state of Florida," Bobby Newman, executive vice president of J.C. Newman added. "These billboards will help us tell the story of the importance of the cigar industry to our community and will explain the effect that excessive government regulations is having on Tampa's historic premium cigar industry."
You can take part in the "Save Cigar City" campaign by visiting SaveCigarCity.com and you can read Eric Newman's editorial here.
For all the latest news from J.C. Newman Cigar Company, visit jcnewmanonline.com.