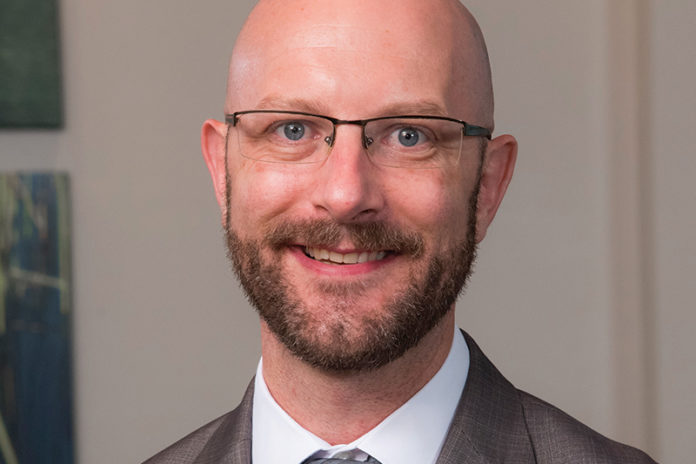 When a search firm approached Scott C. Pearce about a possible opportunity, he was mildly intrigued—then the recruiter told him the position was in the cigar industry. "I said, 'That's great; I love cigars. I've been an avid cigar smoker for 12 years,'" he recounts.
Pearce joined the International Premium Cigar & Pipe Retailers Association (IPCPR) in April, and just a scant few weeks later he found himself mingling with industry icons at the Tobacconists' Association of America's conference in the Dominican Republic. "I was like a kid at Comic-Con because I was with cigarmakers I had known of for all these years," says Pearce, who was previously the director of marketing for the American College of Radiology. "I'd smoked their cigars when each of my kids was born, so it was great to meet them all and tell them how much I enjoyed their cigars."
While not a cigar insider, Pearce brings 18 years of association experience and a track record of increasing revenue and boosting engagement among members to the role—skills and experience that should be useful at the IPCPR, which has persevered over many challenges over recent years, ranging from declining trade show attendance and higher exhibitor and attendee costs to the need to pour resources into fighting tax hikes and U.S. Food and Drug Administration (FDA) regulation. "They had great staff with experience in trade show management and legislation, but we needed someone who understands organization management and has a strong marketing background in business communication and business development strategy, and my background has been in that," Pearce says.
While Pearce is committed to continuing the IPCPR's efforts to challenge FDA regulation through lawsuits, he also sees a need to work toward helping policymakers gain a better understanding of the industry and people who work within it. "There is a great story that is understood inside the industry, but I don't know that it's understood outside the industry—and that's how family-centric and familial it is," he says. "That is something that needs to be a consistent narrative as we educate those seeking to lump us in with mass-market cigars. This industry is primarily made up of family businesses, small mom-and-pop tobacconist shops, businesses that are artisan in nature and in their approach to creating products. I've spent my career telling the story of the industries in which I have worked, and I'm looking forward to doing that for the cigar industry."
As Pearce sees it, the industry needs to hammer home a message that will change existing perceptions. "A rule I learned in marketing is the rule of seven: You have to reach a customer seven times in seven ways for the message to sink in," he says. "We are in phase one of that in terms of telling our audience about who we really are. We have a lot of great allies on Capitol Hill, but I think we are in phase one in terms of telling our audience that there are a lot of minority-owned family businesses and helping them understand how the product is made and who it is enjoyed by. We have not done a great job telling that story outside of the industry, and I think that is why I'm optimistic in that regard."
Pearce also hopes to leverage data to help the IPCPR take a more strategic approach to legislative battles, particularly at the local level. Having a greater understanding of local markets will help the organization rally support to combat state and local regulatory and taxation proposals. "If we understand the numbers in certain districts, those who are employed [by the industry], consumer data on those who are smoking, we can use that data to tell our story to the policymakers," explains Pearce. "It enables us to mobilize in a different way."
Harnessing data on where members are based, as well as the size and type of their business will also enable the IPCPR to communicate more effectively and serve its constituents more effectively. For example, understanding the industry makeup in each state or locale will help the IPCPR represent the cigar industry community on regional issues, as well as provide benchmarking data and appropriate services to that community.
"It will help us ensure that emails are sent at the right time of day, that we offer the right data and analysis, and that we hit the audiences who will benefit most," says Pearce. "That will be the target right now. After the [IPCPR] show, we will have a better idea of what the marketing plan will look like for the next year. You will definitely see some differences and changes in terms of how our marketing operations and our outreach will work."
Helping Members Thrive
In addition to representing the industry to policymakers and reinvigorating the association's annual trade show, Pearce plans to identify other ways the IPCPR can add value for its members by helping them improve and grow their businesses. "Providing the services that help retailers and manufacturers succeed in their businesses is why this organization exists," he says. "That includes the legislative front but also finding areas where we can provide value and aligning resources internally, from adding educational sessions at the show to addressing any gaps in our resources and operations. My goal is to identify innovative solutions that the IPCPR can present in the coming year for all its members so they continue to get value on a consistent basis, not just with the trade show and on the legislative side, but so that the IPCPR is the resource to help you grow your business."
Pearce is quick to acknowledge that the association's longstanding team members collectively have a great deal of expertise in running the show and handling the IPCPR's legislative and regulatory efforts. That work will continue and only be enhanced by being supplemented with a renewed focus on marketing to and communicating with members. "I am looking forward to working with all the members to learn about the areas that [the] IPCPR can address," he says. "My goal is to be an innovation machine here, and I am very happy and lucky that the staff here is already on that track. The sky is the limit right now."
This story first appeared in the July/August 2018 issue of Tobacco Business magazine. Members of the tobacco industry are eligible for a complimentary subscription to our magazine. Click here for details.
– Story by Jennifer Gelfand, editor-in-chief of Tobacco Business Magazine