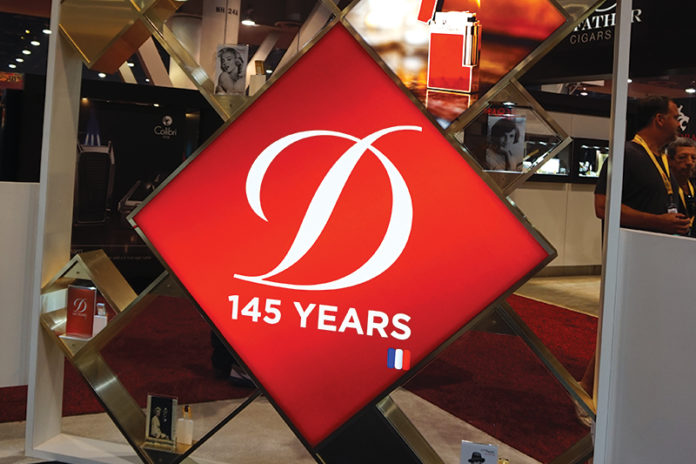 Would you believe us if we said the busiest area of Davidoff's booth this year seemed to be the area devoted to S.T. Dupont? The premium and luxury accessory company that's based in France felt like the center of attention this year with glittery and gleaming pens, lighters and more.
It's worth noting that this year, S.T. Dupont is celebrating its 145th anniversary. Alain Crevet, CEO of S.T. Dupont, proudly spoke of the history of the company and the celebrities–from Marrilyn Monroe to Jackie Kennedy–who helped make this a truly luxury brand.
At the center of the S.T. Dupont booth this year was its 145th Anniversary Travel Case Humidor, a 3.5 foot-tall trunk designed with crocodile leather that retails for $145,000. It contains $36,000 worth of cigars–72 Davidoff Oro Blancos to be exact–and comes with a cigar cutter, ashtray, travel humidor, and an Ligne 2 Le Grand S.T. Dupont Haute Creation. While the price may seem wild, one was actually sold while we were in the booth!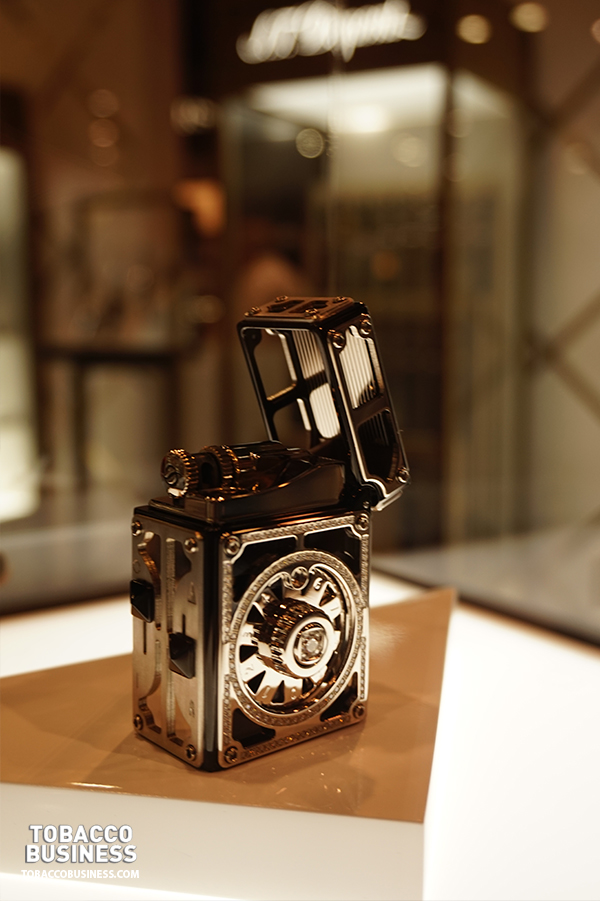 Lighters are a big part of S.T. Dupont's portfolio of products and this is one area the company spares no expense on. Extravagant, beautiful, pieces of art–these are not your typical cheap lighters but ones you'd buy and pass down from generation to generation. There were a variety of lighters on display this year, from the Complication model which was designed to mimic watch movement to the Le Grand, which easily switches between a blue flame to a double flame. For those wanting something a bit more budget friendly, there S.T. Dupont relaunched the miniJet line with improved design to make it easier to grasp and to stand up to various needs.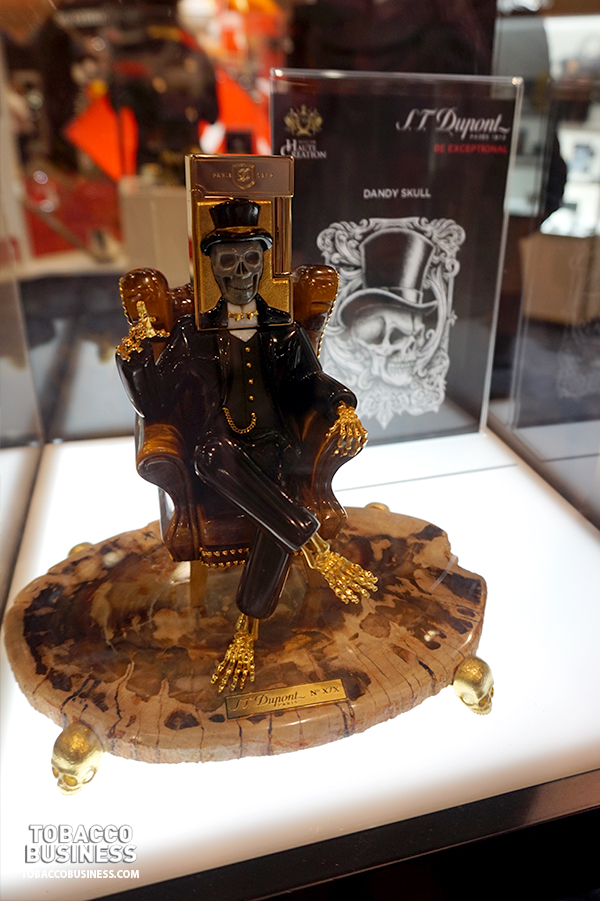 For those wanting something with a bit more character, there was the Dandy Skull lighter, made in collaboration with Luis Alberto Aparicio. Only eight of these lighters were made and features a sculpture with a lighter "head". The design is 360, meaning at the front you'll see the face of the Skull and if you look from the back, there's the back of the skull.
The new collection announced just before the show was the Conquest of the West collection that included a variety of accessories–pens, cigar cutters, lighters and smoking kits–inspired by the Wild West. This theme even carried over to another project that caught our eye in the booth, the Cowboy, made in collaboration with 2SaintS. A bronze and yellow gold gun, this two-piece series included a lighter and a pen. Save up for this one–not only is this a limited release but it's priced at $28,995.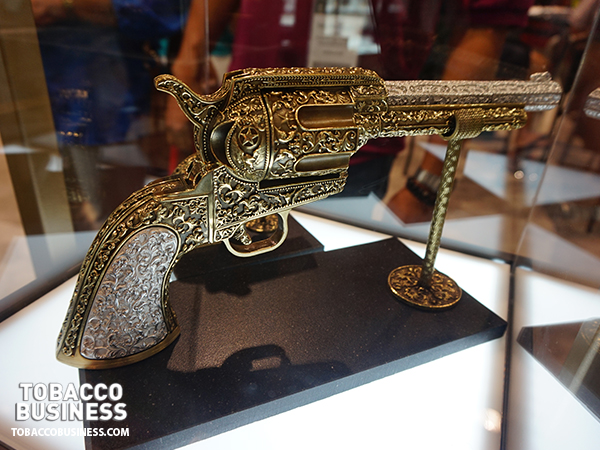 If cowboys aren't your thing, no fear, because S.T. Dupont also teamed up with 2SaintS for a Pirates collection, inspired by Disney's Pirates of the Caribbean franchise. This collection includes pens, lighters, and ashtrays designed to look like treasure chests, swords and other pirate memorabilia.
For all the latest news from S.T. Dupont, visit st-dupont.com.