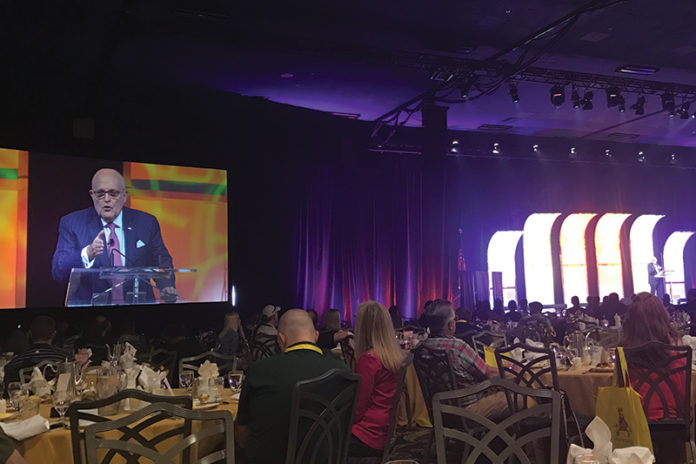 Trump, economic policy, cigars–that's what former Mayor Rudolph Giuliani spoke about during his keynote speech at the 2017 International Premium Cigar & Pipe Retailers (IPCPR) convention and international trade show in Las Vegas on July 11, 2017.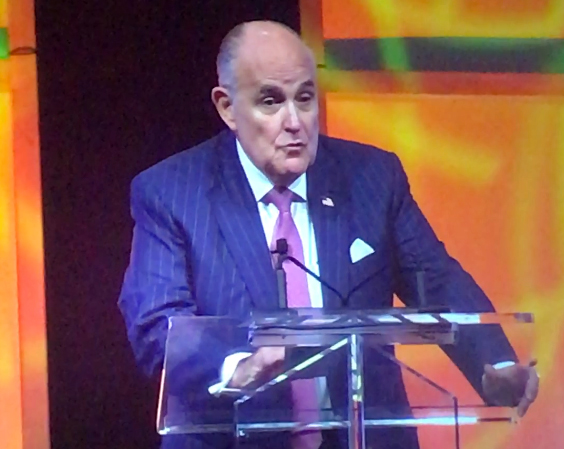 In a session titled "Principled Leadership: In the Face of Change and Crisis," the "Mayor of the World" didn't hold back when tackling the current political climate of the U.S. or in his opinion on foreign affairs. If one were to enter into the keynote without prior knowledge of the speech they would probably have left feeling as if they were sitting in on an election campaign rally. Giuliani knew his audience and spoke on topics that many have been discussing since the start of the year–what's it going to take to see a positive change in the FDA's attack on the premium cigar and pipe tobacco industry? What is President Donald Trump going to do? Is there any relief in sight?
Giuliani put the audience at ease when he told them, "The regulatory environment has never been better for the argument you need to make. Just give it a little time so that the President can get his people in place."
That segue allowed Giuliani to get onto the subject of President Trump, who many are looking to for change and relief. Giuliani was and remains a fierce supporter of President Trump and attributes the recent rally of the stock market to President Trump's 'America First' mantra as well as his firm understanding of the economy. In Giuliani's opinion, President Trump must do the following four things in order to maintain the health of the economy and make America better for businesses:
Reduce Regulations. Trump is legally trying to reduce the number of regulations by instructing his agencies to get rid of as many regulations as they can because he realizes regulations are a big issues impacting many industries including energy, transportation and pharmaceutical. "Reduce the regulations, let businesses operate like businesses instead of regulated government environments," said Giuliani.
Reduce Taxes. Giuliani spoke on the need for President Trump to reduce both the corporate and individual tax levels. In his view, reducing taxes will boost the economy, something seen during the Kennedy, Reagan and Bush (43) administrations when they did moves. This will allow businesses to expand and create more jobs and give consumers additional money to not only save but to spend on products like cigars.
Health Care. Giuliani spoke at great length on the subject of health care and how it needs to be "worked out." Taking this as an opportunity to critique the Obama Administration and what he viewed as unrealistic reality of the Affordable Care Act, he took issue with the high premium, additional costs and complicated roll out of the policy.
Energy Independence. With fracking and off shore drilling, Giuliani sees it only a matter of time before the U.S. has a surplus of oil and other resources, making it less dependent on other countries.
Giuliani touched on what he feels is the "ridiculous over-regulation of cigars" and stated that he really admires the cigar industry as a whole. He's an avid cigar smoker himself and described how he buys the cigars he likes but is willing to try and experiment with new ones to see if there's something different to add to his usual lineup. It was clear that Giuliani knew and understood the mentality of the typical cigar smoker, enabling him to connect to the audience in a way a non-smoker would have had difficulty doing.
To close out his speech, he returned to the topic of leadership in today's political climate, touching on President Trump's foreign policy and international issues threatening America and its citizens. As you would expect from any speech from Giuliani, yes, there was discussion and talk of 9-11, with Giuliani offering his opinion that he was glad America had President Bush at the time because a President Al Gore may not have been as tough on the terrorists and there could have been additional attacks as a result.
Politics, cigars, Trump, foreign policy–regardless of your opinion of Giuliani and his own personal politics, he delivered a lively and memorable keynote address that definitely got the audience and IPCPR attendees riled up and ready for a week of smoking, great cigars, good pipes and serious networking.