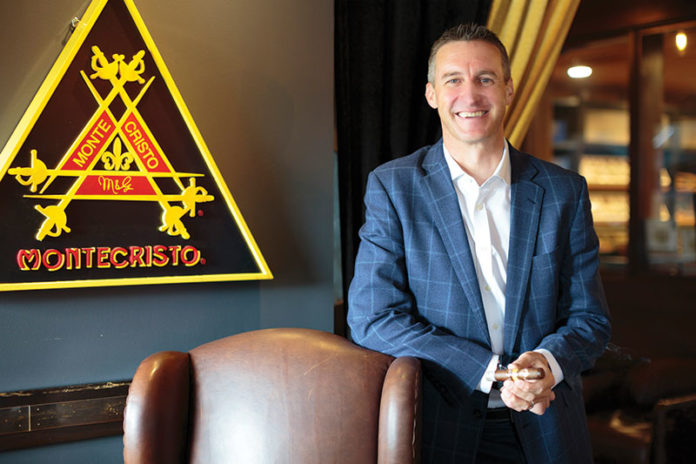 For part 1 of this exclusive interview with Altadis U.S.A.'s Rob Norris, click here.
After coming to the U.S. and spending the first months gaining a better understanding of the market and Altadis U.S.A.'s place in it, Estades and Norris worked to reinvent the sales team while at the same time reinvigorating Altadis' brands, some of which have histories that extend back to the middle of the 19th century. Driven by detailed sales reports and Altadis U.S.A.'s long-standing retail advisory board that influenced the revitalization efforts, both Estades and Norris saw results.
"We have brands that have been around for a long time, and they were conservative," Norris says. "We had to refresh them. Some people think it's very easy when you have a well-recognized brand and [that] it's going to sell. But that's not the case. You have to work hard and put in a lot of energy and effort to make a brand work, no matter how long it's been around. With brands like Montecristo and Romeo y Julieta, it's about respecting the tradition and heritage of those brands. They have a fantastic and loyal following, but you need to evolve brands and keep them up-to-date. That was something that we began seven years ago to make sure they'll be around for another 100 years. We spend a lot of time on brand DNA and segmentation to understand them. Each one has a purpose in our portfolio, and we must have a clear vision for them and then execute those plans."
In 2014, Norris was promoted to CEO of JR Cigars, Altadis U.S.A.'s sister company that specializes in wholesale, retail, online and mail-order sales. It was Norris' first experience working on the retail and wholesale side of the tobacco business, and the three years he spent as CEO of JR Cigars gave him new insight into the concerns facing most retailers and distributors.
Before Norris came to JR Cigar in 2014, the company's sales had been trending down and company morale was at a low point. The company needed direction and perhaps a fresh start. Norris expanded JR Cigars' product selection, revamped the catalog and website, and made a few changes in the company's management structure, sparking a remarkable turnaround.
"The three years at JR were some of the best three years of my work career. I'm very proud of going into a business at a time when it was having difficulties and building a fantastic management team that effectively turned the business around," says Norris. "That was the second time in my career that I built a very strong management team, and it really brings home the power of the team to me. That's what I'm bringing now to Altadis."
Homecoming
In 2017, Norris returned to Altadis as general manager, allowing Estades to focus solely on his role as president of Tabacalera U.S.A., the Imperial-owned company that oversees the operations of Altadis U.S.A., JR Cigars and Casa de Montecristo, a chain of approximately 20 company-owned cigar stores and lounges that also has licensed the Casa de Montecristo concept to eight privately owned cigar stores. As general manager, Norris is tasked with leveraging his vast experience in all facets of the tobacco trade and in team-building to improve Altadis U.S.A.'s ability to better serve its retailers and consumers. The job entails working closely with Altadis' two premium cigar factories, Tabacalera de Garcia in La Romana, Dominican Republic, and Flor de Copan in Santa Rosa de Copan, Honduras, as well as directing sales and marketing efforts in the U.S.
Despite working for one of the world's largest tobacco companies, Norris prefers to use a management style that's more typical of smaller, family-run organizations. He talks openly with his employees about values such as honesty and integrity. He stresses the importance of simplicity when resolving problems. He insists that a company is only as good as its ability to listen to its customers and adapt to fit their needs. He also encourages a fun atmosphere, believing that it sparks creativity.
"Making sure you've got the right people, having clear goals and objectives, and driving engagement across the team are key elements of our success, but creating a culture that's also driven by fun is just as important," Norris says. "Once you do that, ideas start popping up from everyone. You get a more relaxed team, and the ideas really start to flow. We're very honest with each other, too, because if you're not honest, you'll start to make wrong decisions. We have a very open and transparent culture, and we talk openly about our successes and our failures."
That open and transparent culture extends to Altadis U.S.A.'s customers as well. Norris regularly consults the company's advisory board, which consists of eight retailers and distributors, to solicit feedback on upcoming sales and marketing plans and to discuss ways that Altadis U.S.A. can provide better products and resources.
"We spend a lot of time ensuring that our market strategy is as good for retailers and distributors as it can be," Norris explains. "We achieve this by giving the best profit margin that we can, and deals with rebates and promotions where we can, to make sure we're rewarding our partners. If you put our package together, I think it's one of the most competitive I've seen in all the years I've been with Imperial. It's a powerful program that we provide our partners. We ask a lot of them, and it's only right to give back to them as much as we can. We have a duty to the market to provide as good quality cigars as we can with great trade programs for our retailers. That's really our mission, and we don't take it lightly."
This story first appeared in the November/December 2018 issue of Tobacco Business magazine. Members of the tobacco industry are eligible for a complimentary subscription to our magazine. Click here for details.
– By Stephen A. Ross, senior editor of Tobacco Business Magazine. Photography by Tom Clark.