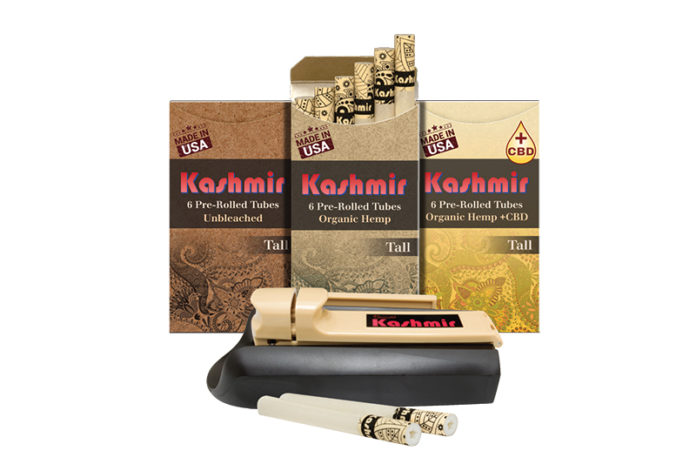 Inter-Continental Trading USA is introducing Kashmir TALL pre-rolled tubes in +CBD, organic hemp and unbleached styles. This release follows Kashmir's previous release of Classic size pre-rolled tubes marketed for the alternative market.
Kashmir Pre-rolled Tubes start with the highest quality, 100 percent organic hemp and unbleached papers, for a clean, satisfying smoke. Kashmir +CBD tubes offer the added benefit of CBD. Kashmir Tubes are designed to be easily filled and its comfortable, easy-flow tip eliminates the cardboard taste soggy ends that many other tubes suffer from. According to Inter-Continental, with Kashmir Tubes the consumer will get a natural, clean-tasting smoke. These products are also made in the U.S.A.
"While cones are a popular alternative to papers, they still leave a lot to be desired by dedicated smokers. We originally addressed those concerns with Kashmir Pre-rolled Tubes. Now we're pleased to introduce Kashmir TALL Pre-rolled Tubes for the enthusiast looking for a larger, longer lasting smoke. Kashmir TALL tubes are available in three varieties–+CBD, organic hemp, and unbleached–and are perfect for everyone from the casual smoker to dispensaries," explains Tom Burns, project lead at Inter-Continental Trading USA.
To find a participating distributor or retailer of Inter-Continental Trading Company, visit ictusainc.com/dealer.php.