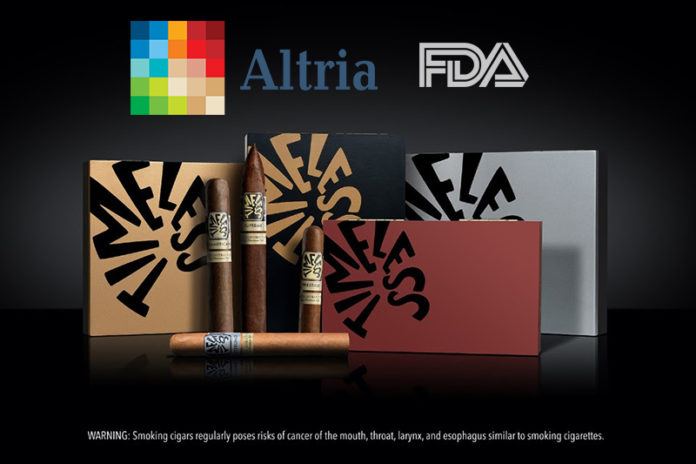 It was the headline that sparked some debate and a bit of controversy–Altria, America's largest cigarette company, comes out against FDA exemption for handmade cigars. With the posting of a story on various media outlets including Cigar Aficionado, the leading lifestyle and cigar publication in the premium cigar category, cigar manufacturers, retailers and consumers were all in arms and asking the simple question, "What were they thinking?"
INSIDE THE COMMENT
Altria was responding to the U.S. Food and Drug Administration's (FDA) advance notice of proposed rulemaking (APRM) on the regulation of premium cigars. The letter begins with "Altria, on behalf of its tobacco operating companies, supported the passage of the Family Prevention and Tobacco Control Act (the "Act" or "TCA") because it believes that a comprehensive regulatory framework can contribute to resolving many of the complex issues surrounding tobacco products. We support FDA regulation of all tobacco products, including 'premium' cigars, because all cigars pose health risks," wrote Jose Luis Murillo, Altria's Vice President of Regulatory Affairs. "Accordingly, FDA may regulate 'premium' cigars differently from other cigars, so long as they differences are science- and evidence-based and FDA applies objective criteria to allow for predictable and fair application of its authority."
This statement garnered strong reactions from many whose businesses or life include premium cigars, many of it being negative. Regulation and having products that fall under the FDA's watch is nothing new for Altria, a $25 billion company that not only sells cigarettes but also premium cigars with its acquisition of Sherman Group Holdings, LLC (Nat Sherman). Why would Altria support regulation? In its comment, it states that there is "no appropriate public health justification to exclude premium cigars from regulation" and that excluding cigars from regulation "could suggest to consumers that FDA has determined that some cigars are safer than other cigars, are safer than other types of tobacco products, or do not have the potential to cause disease. It could also motivate some manufacturers to evade regulation by changing the classification of their cigars."
Altria goes on to caution that though it agrees that premium cigars should be regulated by the FDA, there isn't a one-size-fit-all approach to said regulation. "If supported by science and evidence, FDA may take into account particular attributes of a tobacco product category or particular products within a category in determining the appropriate level of regulation that should apply." Altria urges that the FDA consider science and evidence to justify its regulation of premium cigars, that it adopt an objective definition of "premium" cigars and that if the FDA pursued a differential approach to regulation that 'premium' cigars should be subject to certain fundamental elements of FDA oversight.
Digging deeper into Altria's comments provides more insights, including the company's definition of what makes a cigar 'premium', which comes down to the construction and composition of the product itself. A premium cigar, in Altria's opinion, should be wrapped in 100 percent whole leaf, contain 100 percent tobacco filler, 100 percent tobacco binder, be made by hand, contain no additives other than cigar glue and water, contain no additives or a filter, tip or non-tobacco mouthpiece and should weigh at least six pounds per 1,000 count. "Any definition of 'premium' cigars should not be based on price," the letter states before going deeper into why price has little to do with what makes a cigar premium or not.
Altria does support some of the requirements that other cigar manufacturers have expressed issue with including facility registration and product listings, which Altria says "these submissions would pose a minimal burden on 'premium' cigar manufacturers'", ingredient reporting which Altria sates should also not be difficult if the products adhere to its definition of a premium cigar, and warning labels. Other requirements such as marketing restrictions to prevent anyone younger than 18 from buying the product, premarket review requirements for cigars marketed as safer alternatives to traditional combustible tobacco products and the requirement that manufacturers provide data and research on the impact of their products on a user's physical and mental health were discussed by Altria at great length in its comment.
An important part of Altria's comment lies in a section titled "IV. FDA Regulation of Cigars Must Be Predictable and Fair", a section that much of the reporting on Altria's comments has often left un-reported. Altria, similar to other tobacco manufacturers, states that the FDA "will need to consider and address regulatory challenges facing the cigar category generally." Altria, known for its history with cigarettes, states that there are few standardized testing methods for cigars–unlike with cigarettes. The testing of 'premium' cigar products will be an issue when it comes to regulating this product category. It also acknowledges some of the unique circumstances surrounding 'premium' cigar products, such as using a single year crop blend that makes them subject to natural agricultural variability. The FDA will need to address these issues to ensure cigars are regulated predictably and fairly, Altria ends.
IMPACT ON NAT SHERMAN
Altria's comment, coming out in support of regulation, has generated strong reactions from the cigar industry that viewed it as an attack on the industry as a whole, but especially on small manufacturers. The issue was mostly with Altria–seen as 'Big Tobacco' and the manufacturer of cigarettes, attempting to protect its position in the tobacco industry by pushing for regulation that will kill competition. The Altria ANPRM comment has been called many things, including "shameful" and damaging, but the most harm could come to Nat Sherman, a company Altria acquired in early 2017.
Nat Sherman found itself caught in the crosshairs with many calling for a boycott of the company's products since it is part of Altria. Michael Herklots, Vice President of Retail and Brand Development at Nat Sherman International, commented on the controversial Altria ANRPM via his blog, stating:
"This is an industry like none other, with manufacturers, retailers, and consumers who are truly passionate about premium cigars. In 2017, the family business I worked for since 2011, Nat Sherman, was purchased by Altria. This was personally quite a transition, as with any change. And during this time, I've been grateful for the unwavering support of our retailers and consumers who've continued to enjoy the products I've been honored to help develop and sell. I've also appreciated Altria's thoughtfulness about the premium cigar business and their desire to learn more about and positively contribute to this industry, which extends to our approach to comments on FDA's ANPRM on premium cigars. It is important to understand that simultaneous to providing comments to FDA, Altria supports, alongside all of the leading cigar industry trade associations, the current Cole-Bishop amendment in Congress, which among other things provides for a premium cigar exemption. In doing both, we uphold the idea that premium cigars are different from other cigars. I encourage you to read Altria's comments in their entirety and come to your own informed opinion about the company's commitment to the premium cigar industry." [read Michael Herklots' full statement here].
You can read Altria's full ANPRM comment by clicking here. You will find that while Altria does encourage regulation of premium cigars, it does so with several caveats including the need for the FDA to settle on a definition of 'premium' cigar that comes down to it being a handmade product containing all natural ingredients. It also, like many big and small manufacturers within the cigar category, advocates for a simplified process for product modifications, a less expensive testing process, and expansion of substantial equivalence exemption pathway and that price has little to do with what makes a cigar 'premium' or not.