The use of synthetic nicotine was just part of how NIIN chose to be innovative with its product. On a molecular level, synthetic nicotine shares the same structure as nicotine that comes from an tobacco plant, but it has less of the residual and constituent impurities. These impurities have been linked to higher levels of risk, which was something that Mulcahy and the team at NIIN wanted to avoid within their products. NIIN was designed to offer consumers a high level of nicotine satisfaction with less risk. Mulcahy was also concerned about the tobacco-growing process and its impact on the environment.
"It takes a lot of work and is a cumbersome process to grow, then to be processed and refined into liquid or dry nicotine," he says. "This process now seems redundant and wasteful. TFN provides a purer solution."
NIIN uses a different manufacturing process than its competitors in the domestic market. Since other nicotine pouch products are dry portion pouches, consumers experience little in terms of flavor and nicotine release when they initially place the pouch in their mouth. These pouches require saliva activation to moisten the pouch and for consumers to get the full effect of the product. NIIN pouches, however, are pre-moistened and primed for the user to get immediate flavor and nicotine uptake as soon as the pouch is inserted inside their lip. NIIN's primed pouches also feature a soft, resilient, micro-perforated paper overwrap, resulting in a comfortable usability experience for the consumer and a relatively even release and absorption of nicotine and flavor.
"I believe the innovations NIIN is bringing to the market will help to make us competitive in the nicotine pouch space," says Mulcahy. "And while the product is important, we fully understand it's not the only thing that matters. To that end, we have put together a very professional package of point-of-purchase collateral for our retailers, including an acrylic display tower, window clings, tent cards and shelf talkers."
Navigating Regulations
Having dealt with the onslaught of regulations and scrutiny in the vapor category, Mulcahy and his team have spent some time pondering the legislative and regulatory future of the nicotine pouch category. In terms of regulations, any product derived from tobacco must go through the same premarket tobacco product application (PMTA) process before it can legally be sold and marketed in the U.S. While e-cigarettes and vapor products have both been subject to increased scrutiny and regulations over the past few years, nicotine pouches have been somewhat spared from regulations and legal roadblocks. Even though NIIN is being billed as being completely tobacco-free, the company is not seeking a modified-risk order from the FDA for a few key reasons.
"This is something we spent a good deal of time discussing with our legal counsel," says Mulcahy. "First, NIIN is not a tobacco product; it is a nicotine product. While that might sound like a semantics argument, it's actually very significant when it comes to the regulatory requirements. A lawyer made a great analogy for us. He asked us, 'Would you go to the DMV to get license plates for your horse?' It's funny but also applicable. The nicotine in other nicotine pouch brands is all derived from the tobacco plant, so they are subject to FDA regulations. NIIN's nicotine is entirely synthetic, so it's outside of the scope of the FDA's regulatory purview. While we believe NIIN pouches would be eligible for a modified-risk order, we have been advised that seeking said designation could possibly open us up to being classified as a tobacco product, which we obviously aren't. Until regulation on tobacco becomes clearer, we intend on waiting for a path and understanding of how TFN plays into the market and FDA."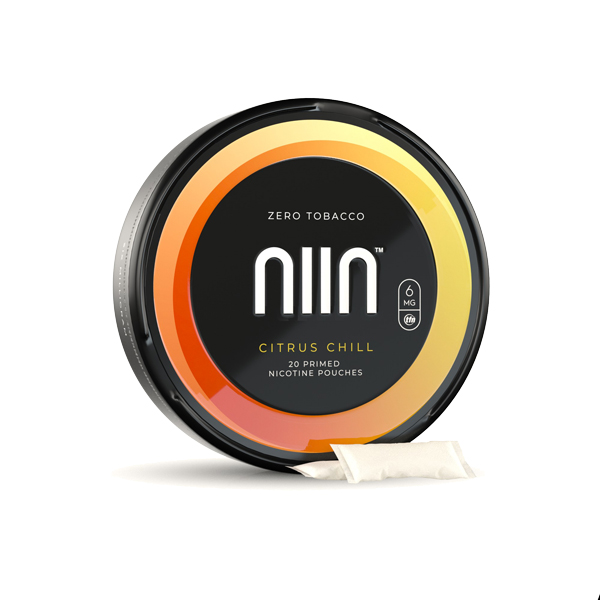 NIIN being tobacco-free and unhindered by the regulatory requirements that other tobacco products face is a big opportunity in the eyes of Mulcahy and his team. As a company, NIIN continues to watch the regulatory guidelines closely and is learning how those new developments can benefit the company and consumers. For now, the focus is getting NIIN into national and regional gas stations and convenience stores across the U.S. NIIN is also targeting independent retailers, including premium tobacconists.
"There are some compelling reasons for folks that stock premium cigars and pipe tobacco to carry NIIN. Let's start with the astounding growth rate in the nicotine pouch category. Chances are they currently have customers that are using pouches, and if they aren't stocking them, those customers are making their purchases from other retailers," says Mulcahy. "Now let's talk about convenience. When are you going to light up an Opus X? If you are like me, it's going to be when you are in the right place and have some time to relax and enjoy it. But if you are also like me, I don't often find the right place and the right time to enjoy it as often as I'd like. NIIN bridges that gap. It allows the busy cigar aficionado to get a quick dose of a pleasant flavor and some nicotine any time or place whenever they want."
NIIN offers its distributors and retail partners different merchandising options to support and encourage sales. Every order of NIIN ships with a new retailer kit that includes 12" by 12" and 3" by 5" window clings, 3" by 3" counter and door stickers, as well as tent cards and shelf talkers. NIIN also offers some eye-catching product displays that come preloaded with 50 cans of NIIN. Knowing the importance of a deal, NIIN is offering a buy-down a launch offer so that its products will be available to consumers at a competitive price while also offering an attractive margin to both retailers and distributors.
Endless Possibilities
Mulcahy is certain of one thing: The future of the tobacco industry is tied closely to innovation. Companies seeking and hoping for success will have to continually innovate and do business differently than they have in the past, much like Mulcahy and his company have. For Mulcahy, the future is harm reduction as tobacco products like combustible cigarettes continue to fall out of favor with many adult consumers.
"Cigarettes may never be gone, as the culture of smoking has stood the test of time, but with options like e-cigarettes, nicotine pouches and TFN, the opportunities to provide more in value and longevity to our customers will be drivers in redefining the tobacco industry," he explains. "We do not need tobacco to get the effect provided by nicotine. Giving consumers their desired dose of nicotine with far less risk is a wonderful thing. I think most people would agree with that."
Innovation remains top of mind at NIIN. Currently, NIIN is nearing the completion of the development of a TFN disposable vape pen that will be launched under the NIIN brand. NIIN will manufacture the e-liquid within the U.S., and the filing and final assembly of the device will also take place in America. With many vapor products and e-liquids coming out of China, having the production of its own products take place here in America was important to Mulcahy and NIIN's team because it adds both product integrity and traceability to their products. NIIN is also looking at bringing additional TFN products to the market. For NIIN, innovation will continue to drive all of its efforts to introduce safer nicotine alternative products to the market—and the possibilities of what's to come is endless.
This story first appeared in the May/June 2021 issue of Tobacco Business magazine. Members of the tobacco industry are eligible for a complimentary subscription to our magazine. Click here for details.
– Story by Antoine Reid, senior editor and digital director for Tobacco Business Magazine. You can follow him on Instagram @editor.reid.