Being present and accessible to those visiting the lounge, even on days when he's not physically working in the store, has been another valuable lesson Tinnell has learned is important to building a community around his business.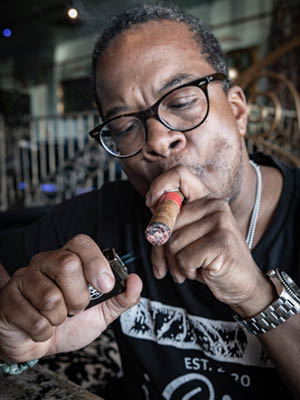 "I've learned that not only do your customers come to enjoy cigars and conversations; they also do so to decompress and spend time with you," he says. "Another thing I pride myself on is learning something about everyone that comes in the lounge. I make it a point to ask about their spouse, kids, dog, job or overall well-being every time I see them. It's therapeutic for me. In these episodic times, I feel it's good just to check in and check up on others. I do it because I genuinely care."
Another relationship that Tinnell has to work on is his relationship with different cigar manufacturers and companies. He tries to be transparent with these key business partners about feedback he's received from customers and communicates regularly with them on what's selling and what isn't. Because i Cigar Lounge is a small operation and still growing, Tinnell is working to expand his lounge's offerings and strives to become more consistent with what he's ordering. Space is a challenge to him in terms of how much product he can bring in and also in making sure customers have a place to comfortably enjoy their cigars.
"My biggest challenge is not having enough space to accommodate everyone inside the lounge," says Tinnell. "This forces them to sit at a booth or a table inside of the dining area. Most cigar smokers prefer the lounge experience, and I completely understand that."
Tinnell is hoping to expand i Cigar Lounge's square footage in the future, which would allow him to bring in more cigar representatives and brand ambassadors for pairing events. It would also allow i Cigar Lounge to carry and in turn order more products, a move he believes would further strengthen his business relationships with manufacturers. While space is limited, Tinnell has learned how important it is to have backup inventory. Since his business is located in busy Las Vegas, Tinnell has observed how quickly his lounge can go through inventory due to customers constantly looking to re-up their supply as they head out to dinners, shows and other events in the city. Being able to give customers what they want when they want it is key to remaining competitive and building a loyal customer base at i Cigar Lounge.
Lessons Learned
Tinnell is devoted to creating a welcoming cigar experience for cigar enthusiasts of all kinds, from the beginning novice to the more experienced aficionado. His lounge at BG Bistro is competitively priced and he strives to be extremely accommodating, but most importantly, every customer is treated equally and with the utmost respect.
"At the i Cigar Lounge, you will never feel unwelcome or out or place. We are one big cigar family, and it shows," he proclaims.
Although Tinnell is still learning what it means to be a good tobacconist, he quotes his friend and mentor, Arthur Keith, who once gave him the advice: "Think big, act small, fail fast and teach." Tinnell has continually reflected on this advice as he's worked on becoming a better tobacconist. He's never stopped learning and educating himself. The book "The Ultimate Cigar Book" by Richard Carleton Hacker has been extremely helpful in providing him with a good foundation to work with. He also advises others to find a mentor, especially one that is as passionate about one's chosen profession as they are.
"That is something I did, and I learned so much about the culture and information that I wouldn't necessarily have had access to otherwise," says Tinnell.
The third and final part of being a good tobacconist is to practice being kind and understanding. Just as he personally experienced, not every cigar smoker starts out knowing everything about cigars. Behind every novice is someone that either wants to try a cigar for the first time or someone whose first time smoking a cigar was less than ideal. Being a tobacconist is all about being dedicated and loyal not only to the products you sell but to the customers you serve.
"I have learned that you have to roll with the punches, expect to have bad days, and know if it can happen, it will happen," he says. "I have also learned that I have to be 100 percent dedicated. It's OK to make mistakes. Be prepared, make sacrifices, take uncalculated risks, be humble and persevere."
Looking back at his experience so far with building i Cigar Lounge, Tinnell says while he wouldn't change anything he's done so far, he does know now how he'd go about creating a bigger, more independent lounge for dedicated cigar smokers. That being said, he appreciates the opportunity he's been given by partnering with BG Bistro to help him bring his dream of creating a community of cigar smokers to life.
"I entered the cigar industry two years ago without any knowledge or experience whatsoever," he says. "Although BG Bistro had an existing reputation as a smoke-friendly establishment, they allowed me to curate and integrate my cigar lounge and make it an extension of their business."
For Tinnell, being a tobacconist is as much about hospitality as it is about selling cigars. While he's worked on offering his customers a good selection of cigars, he's also focused his energy on giving each customer that walks through the doors of BG Bistro an experience worth repeating. He does this by offering customers something special and unique in terms of an experience that includes food, spirits and cigars. He also does this by trying to convert every customer into a friend and making them a part of his expanding network. That's his biggest secret and advice to tobacconists: work on building a strong network. Since the cigar culture is based on relationships, having a strong network is key to long-term success.
This story first appeared in the May/June 2022 issue of Tobacco Business magazine. Members of the tobacco industry are eligible for a complimentary subscription to our magazine. Click here for details.
– Photography courtesy of Marcus Tinnell. Story by Antoine Reid, senior editor and digital director for Tobacco Business Magazine. You can follow him on Instagram @editor.reid.