NFTs, networking, strategic partnerships—these are all buzzwords you're likely to encounter on any given day while scrolling through social media. They are also the words and phrases you'll hear from tobacconist Marcus Tinnell, operations manager at i Cigar Lounge, located within BG Bistro in Las Vegas, Nevada.
Tinnell's experience with tobacco retail is different from most. His very first experience with cigars was memorable for several reasons. Tinnell, who originally worked in the entertainment industry, once worked with a singer that performed the national anthem at a Charlotte Bobcats game. When the game was over, Tinnell was invited to a private event at a local cigar lounge where Michael Jordan was also in attendance. At the lounge, Jordan spent time behind the bar, serving drinks to the guests. During the night, Jordan offered Tinnell a cigar from the lounge's humidor, and of course Tinnell accepted it and proceeded to cut and light it. There was just one little problem: This was the first time Tinnell had ever smoked a cigar, and he had not yet learned what not to do when smoking one.
"He handed me a stick, and I commenced to cut and light it," said Tinnell. "That's when things took a turn for the worse. Not knowing the proper cigar etiquette, I made the mistake of inhaling all while trying to blow rings because it looked so cool in the movies. Needless to say, I got sick real fast, to the point that they had to call for a car service to take me back to my hotel. I said to myself that was my first and my last attempt at cigar smoking."
That wasn't entirely true, however. Tinnell continued to smoke cigars and learned how to do so properly. He started to become more interested in the cigar lifestyle and made friends around the world who shared his love of and interest in cigars. As he explored building an online cigar community, opportunities began to present themselves to him. It was a fateful meeting with the owner of Las Vegas' BG Bistro that led to him opening i Cigar Lounge in 2021. Because of his partnership with BG Bistro, his lounge has a lot more to offer cigar smokers than a typical cigar lounge does.
"The fact you can sip, savor and smoke makes all the difference," he explains. "The i Cigar Lounge has an Eastern European vibe, and the aesthetics are really cool. It has comfy chairs and random decor, like a unicorn inside of a gold picture frame or a picture of Arnold Schwarzenegger smoking a Romeo Y Julieta 1875 Cuban cigar. The staff is friendly, and the food is incredible! Best of all, we are located 15 minutes from the airport and the Las Vegas Strip, with ample parking and easy access to the restaurant."
Tinnell's approach to tobacco retail is unique due to his background in the entertainment industry. Instead of thinking inside the box, he instead doesn't see a box and therefore sees few limitations to what he wants to build. Here's how he's leveraged networking, partnerships and new digital tools such as NFTs to set i Cigar Lounge apart from other cigar lounges.
The Opportunity
In March 2021, a couple of Tinnell's friends introduced him to BG Bistro, the Las Vegas establishment known for its European cuisine and also for allowing cigar smoking to take place within the same space.
"This was extremely rare being that there are laws that prohibit smoking in restaurants in Las Vegas, with the exception of sports bars with gaming, such as video poker at the bar," Tinnell explains. "In my personal opinion, the downside to that is that they do not allow cigar smoking in their establishments, only cigarettes. Once introduced to BG [Bistro], I made this my home. BG Bistro checked all of my boxes: I had a place to not only relax, but I could also eat, drink and smoke cigars. It was the perfect trifecta."
Tinnell turned a small V.I.P. area within BG Bistro that was rarely occupied into his regular hangout spot, hoping not to disturb other patrons with his cigar smoking. Tinnell learned that BG Bistro's owner was a fan of cigars and had been looking for a way to give cigars a more permanent place within his business. Suddenly, Tinnell saw an opportunity and began communicating his own passion for cigars to the owner to explore some type of partnership. The owner went on to offer Tinnell a space within the restaurant to bring in more cigar products. While Tinnnell didn't know much about tobacco retail at the time, he viewed this as a great opportunity to learn how to become a tobacconist. With the acceptance of this offer and challenge, Tinnell went on to open
i Cigar Lounge at BG Bistro in May 2021.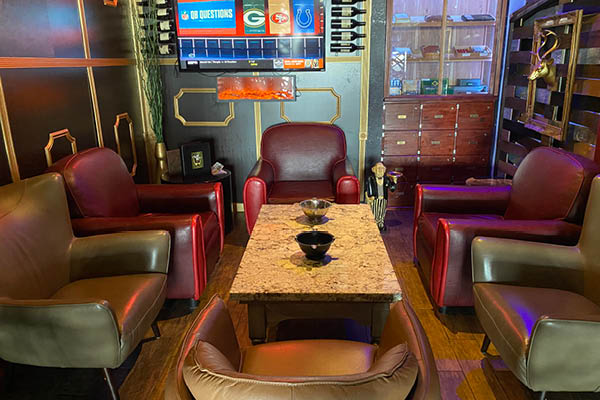 At the time of launch, Tinnell's network already included many cigar smokers from all over the world. When he first started working on the concept for i Cigar, it was going to be an online virtual cigar club and community that would allow him to connect and engage with other cigar enthusiasts regularly. Knowing he already had built a network of cigar enthusiasts, Tinnell fully committed himself to building up the lounge program within BG Bistro because he knew he would have the support of his friends and also that his large network would allow him to add value to BG Bistro, which was experiencing a drop in foot traffic due to the fallout from the COVID-19 pandemic. The addition of a cigar lounge within BG Bistro brought in a diverse clientele and in turn added an additional revenue stream for the business.
Since he started out as a customer at BG Bistro, Tinnell understood the establishment's business model and what made it appealing to customers. At BG Bistro, every customer was made to feel welcomed and at home. He liked that the restaurant's waitresses always greeted customers as they came in. BG Bistro offered delicious, traditional Eastern European cuisine and a wide variety of American cuisine. Seating and the overall atmosphere were big selling points for Tinnell. The bar offered comfortable seating options throughout as well as several different "experiences" for customers from the bar area to the outside patio. BG Bistro could accommodate large gatherings and rarely if ever ran out of seating. At BG Bistro, customers came first and management worked hard to achieve balance within the business. This was all key for Tinnell to not only understand but to replicate within BG Bistro's new cigar lounge space.
Building the Community
Being an entrepreneur and living in Las Vegas for over 20 years taught Tinnell the value of networking. When building awareness for i Cigar Lounge, Tinnell has focused on both strategic partnerships and his personal relationships. Tinnell regularly discusses ways he and other professionals can collaborate to grow each other's businesses and build awareness. He also likes to host cigar-focused talks where he invites cigar enthusiasts to discuss their cigar journey with a group of people. During these cigar smoking sessions, in addition to learning about a particular person, each session also focuses on a specific cigar where the group works to identify the cigar's tasting notes and give it an overall rating at the end.
"It's very informative, fun and relaxing, and people tend to share their experience via social media and with their fellow smoking comrades," Tinnell explains.
BG Bistro's i Cigar Lounge is open to everyone each day from 10 a.m. to midnight. While Las Vegas has many cigar lounges and other cigar-friendly establishments, i Cigar Lounge is one of the few places in the city where customers can order a full-course meal with a cocktail and enjoy a cigar for a reasonable price. The humidor that Tinnell has helped to build out includes cigars at different price points starting as low as $6.50 and increasing up to $17.50. Tinnell has worked hard to create a lounge where customers could experience good food, premium cocktails and premium cigars all for under $50, leaving people with plenty of money to spend in the casinos and on other Las Vegas experiences.
Tinnell isn't afraid of using technology to build his business. He's currently working on a website for i Cigar's club and lounge and is exploring how to incorporate some NFT (non-fungible token) components to offer customers some added perks within the lounge. He's used social media platforms such as Meta and Instagram to build a community and found even the simple move of listing his business with Google has paid off in a big way.
"I recently listed the i Cigar Lounge as a business on Google," he says. "I wasn't familiar with this platform at the time, and after a cigar buddy broke it down for me, I realized I go to Google for almost everything—and then it clicked. Since I registered, I have gotten lots of exposure and lots of tourists that visit in search of a chill environment to eat, drink and smoke."