In musical terms, an overture comes at the start of an opera, play or composition. It serves as a lead-up and introduction to something bigger and more complex—the main attraction, you could say. Speaking of operas and music may seem out of place in a tobacco trade publication, but it goes hand in hand with Rafael Nodal, head of product capability at Tabacalera USA. A musician who is skilled at the violin and piano, Nodal comes to life when speaking about music and the impact it's had on his life. Even when he talks about his other love and passion, cigars, Nodal can't help but to slip in references to music.
It's a mild fall day in New York City, where Nodal is visiting for an event. He's been on the go for weeks now, traveling to meet with retailers and making appearances at consumer events. That is in addition to spending time in the Dominican Republic, where Tabacalera's factory is located. New York City holds a special place in Nodal's life. It's a city he called home for several years after his family left Cuba in the 1980s. Nodal instantly fell in love with life in New York City—the people, the city's charm and character, its sunsets and the music.
"If you can make it here, you can make it anywhere," he says with a laugh.
As a teenager, Nodal learned a great deal about music while living in the Big Apple. He had every intention of pursuing music as a profession, but after moving to Miami, he realized how hard it would be and went in a different direction with his career. Music, however, remained a part of his life, even when cigars took center stage. Even after all of the cigars he's worked on, the positions he's held and the accomplishments he's achieved, one can only surmise that Nodal is just getting started in his career. From retail to one of the earliest successes in the boutique cigar category, Nodal is a man who's finding his rhythm, setting the tempo and bringing the world of boutique cigars to the masses.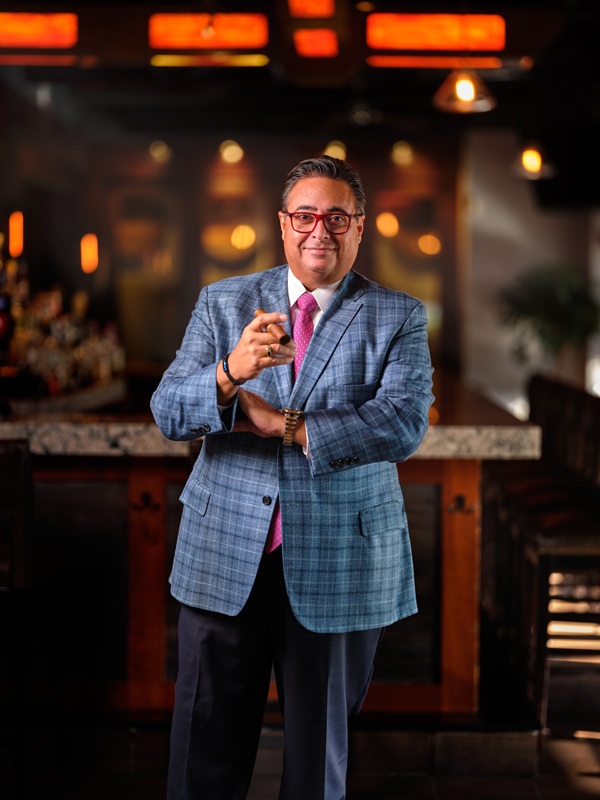 Cuban Overture
Nodal was born in the small Cuban town of Ciego de Avila in 1964. As many would imagine, growing up in a communist country was very challenging, especially for a young child. When Nodal was just 10 years old, he spent 45 days in a work camp, away from his family and everything that was familiar to him. This was a requirement, and it was the only way he'd gain access to a decent education while in Cuba. When he was 13 years old, Nodal attended a school in the countryside where he would work part of the day and then attend school for a few of the day's remaining hours. Nodal valued learning and education, though it was difficult having to work and be separated from his family in order to receive an education. Though these were difficult times, Nodal learned many things during these times that would guide his life for years to come.
In 1980, Nodal and his family took part in the Mariel boatlift, the mass emigration of Cubans who made the perilous journey from Cuba's Mariel Harbor to the United States. Nodal's father had come to realize that the oppressive conditions of Cuba and the promise of freedom and opportunity in America were worth the effort and the risks. The boat that carried the family away from Cuba was a 50-foot-long shrimping boat. Those on the boat, which Nodal places as being around 300 passengers, encountered many storms that prolonged the already dangerous journey. By the time the U.S. Coast Guard found their boat, its motor had broken and four days had passed since its passengers left Cuba, but the sun was rising on not just a new day but a new chapter in Nodal's life.
"I arrived [on] May 31, 1980," Nodal says. "That's basically another birthday I celebrate: my coming to America moment, looking for opportunities and freedom, which is exactly what we found in this amazing country."
The U.S. Coast Guard took Nodal and the other passengers on the boat to Key West, where he was given an apple and Coca-Cola, two items that were foreign and new to him. After spending nearly a week in Miami, Nodal's family boarded a plane and moved to New York City. In this new city, Nodal continued to play violin, an instrument he had been playing since he was 6 years old and living in Cuba. He also started to learn how to play piano.
Nodal had musical dreams. He wanted to be a musician, one who could compose music but also one who could conduct an orchestra. New York City was a great place to help nurture this dream. Between the Lincoln Center, the Metropolitan Opera House and the city's many museums, Nodal was constantly inspired, and his desire to learn more about music was constantly fed by his environment.
The Nodals spent three years in New York City before moving to Miami in 1983. The move was particularly jarring for Nodal, who quickly missed the art and culture that was at every turn and corner in New York City. At the time, Miami had very little art and culture, unlike it has today.
"I used to cry myself to sleep every single night in Miami," he reveals. "Coming from New York City was a big shock. I continued with my music. I tried to do my own opera group, but that didn't work out. We played violins for restaurants and taught little groups here and there, but it was evident that music was very difficult in Miami at the time."
Nodal's first job in Miami was at a hospital in 1984 where he cleaned floors. One thing led to another, and Nodal found another job within the hospital as its assistant chief financial officer. Nodal continued to work his way through the hospital, which put him in contact with some people who would have a profound impact on his life. One of those people was his now wife, Alina Cordoves Nodal, and the other was Hank Bischoff, who introduced Nodal to the world of cigars.
When Nodal first met Bischoff, he didn't smoke cigars. Many people, Nodal explains, expect Cubans to automatically like cigars. It went hand in hand with other cultural expectations, such as the ability to salsa dance or roast a pig. At this point in his life, however, Nodal wasn't a cigar smoker, and it took a trip to Miami's Little Havana neighborhood to change that.
"I went with Hank to where he bought his cigars. That was my first introduction to the cigar business, and thanks to that, I am now in the cigar business," says Nodal. "We went to a little place in Little Havana called Nick's Cigars. I met Nick Perdomo, I bought my first box of cigars, and I smoked my first cigar. And that day, I went home and I told my wife, 'I know what I'm gonna do for the rest of my life: I'm going to be in the cigar business.' Alina is a psychiatrist, and it is, obviously, very helpful to have a psychiatrist in the family, especially when you tell your wife you don't know anything about cigars but that's what you really want to do," he says with a broad smile.