At the 2019 International Premium Cigar & Pipe Retailers Association trade show and convention, Ventura Cigar Company introduced its latest brand, Cuban Cigar Factory. While the cigars might currently have only been on the market for a few short months, their heritage easily combines more than 100 years of knowledge and experience inside the tobacco and premium cigar worlds as Michael Giannini, Ventura Cigar Company's general manager, turned to two longtime industry friends—Manuel "Manolo" Quesada and Benjamin "Benji" Menendez—to create the cigars' blends.
In 2017, Ventura Cigar Company acquired Cuban Cigar Factory, a San Diego, California-based cigar retail store that produced its own lines for wholesale distribution. Since the acquisition, Ventura Cigar Company has added Cuban Cigar Factory's original brands to its nationwide distribution network. Both the Benji Menendez for Cuban Cigar Factory and the Manolo Quesada for Cuban Cigar Factory cigars mark the first releases for the Cuban Cigar Factory brand as part of Ventura Cigar Company.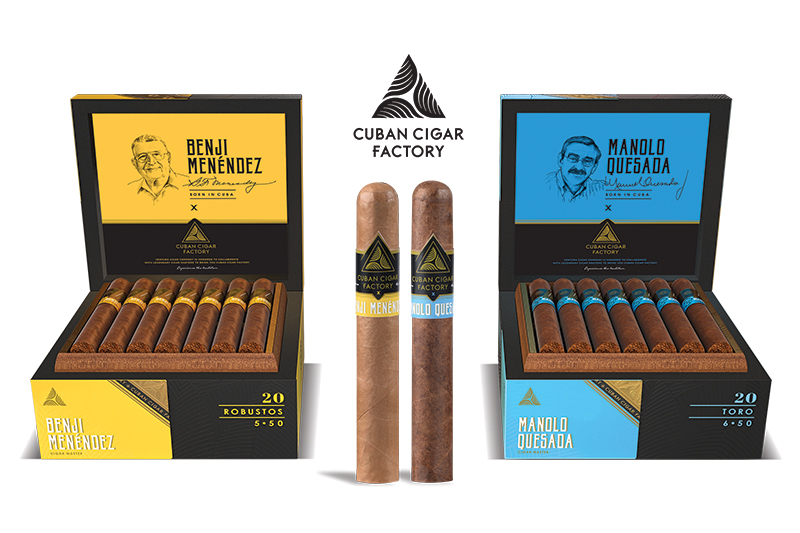 The Benji Menendez for Cuban Cigar Factory cigar is made using an Ecuadorean Connecticut wrapper, a Dominican binder, and Dominican and Nicaraguan filler tobaccos. The Manolo Quesada for Cuban Cigar Factory is made from an Ecuadorean Habano wrapper, Ecuadorean binder and Dominican filler tobaccos. Both cigars are available in three sizes: Robusto (5 x 50), Toro (6 x 50) and Belicoso (6 1/4 x 52). All cigars in the line are packaged in 20-count boxes, and they are all manufactured at the Quesada Cigars factory in Tamboril, Dominican Republic.
"I wanted to honor the stories and legacy of Benji Menendez and Manuel Quesada," says Giannini. "Benji is such an accomplished cigar master that I couldn't let him fade away in his retirement. I want the next generation of cigar consumers to remember this giant of a man. I wanted to tell the story of Manolo Quesada, who is Benji's great friend and an accomplished cigar master in his own right. I wanted to tell their stories, as they are a part of a cigarmaking generation we will not see again."
The Benji Story
It's difficult to imagine a career more diverse and impactful on the premium cigar industry than that of Benjamin "Benji" Menendez Torano. He's had a hand in the development of the tobacco and premium cigar industries in eight countries since the early 1960s, after the Fidel Castro regime nationalized the Cuban cigar industry and took his family's cigar factory away from them. Since then, Benji has been the mastermind or part of the teams behind many of the world's most famous and best-loved premium cigar brands that have been created in the last 50-plus years.
"Benji is the only one in our industry today who has been around in eight countries making cigars," Quesada comments. "He made cigars in Cuba, Nicaragua, the Dominican Republic, Honduras, the Canary Islands, Brazil and in the United States. That is one heck of a career behind him."
Born on March 11, 1936, Benji jokes that his career in tobacco, which lasted 62 years, began when he was still inside his mother's womb. His father, Alonso Menendez, was the majority owner of the Cuban cigar factory where the legendary H. Upmann and Montecristo cigars were made. His mother, Maria de la Soledad, belonged to one of the island nation's largest tobacco-growing families. Tobacco and cigars were the subjects of constant conversation in the Menendez household—both before and after Benji's birth—so it was almost impossible for him not to have absorbed by osmosis some of the knowledge that his family passed around throughout the day. Growing up, Benji enjoyed playing inside the factory and visiting his grandfather's tobacco farm. While no one ever directly told him that he must work in tobacco, Benji never considered any other career. After completing his education in the United States, he returned to Cuba and began formally working in September 1952 at the factory in which his father was majority owner.
On Jan. 1, 1959, the government of Cuba fell into the hands of Fidel Castro, and on Sept. 15, 1960, the Castro regime nationalized the Cuban cigar industry, wresting control of the factories and fields from the families who had owned them. Benji left Cuba and came to the U.S. and obtained a job with Philip Morris selling cigarettes in Miami. When his father established a new factory in the Canary Islands—Campania Insular Tabacalera—in 1962, Benji returned to the cigar industry and was instrumental in establishing the brands Don Diego, Flamenco and Montecruz while working at the factory.
In 1972, the Menendez family sold Camparia Insular Tabacalera to Gulf and Western Industries, and Benji stayed on with the company until 1977, when he left to establish a factory in Brazil. The Brazilian company failed, however, and in 1981 Benji met Edgar Cullman Sr., who offered him a job with General Cigar Company to manage its cigar operations in both the Dominican Republic and Jamaica, and where he worked alongside the legendary Ramon Cifuentes, who had created the brand Partagas in Cuba. Benji stayed with General Cigar Company for 15 years before accepting a position with Tabacalera, the Spanish tobacco monopoly. Benji remained at Tabacalera as it transitioned into Altadis after merging with the French tobacco monopoly, Seita, and then returned to General Cigar Company as senior vice president of premium cigars in 2003. In this capacity, Benji mentored younger cigarmakers inside the company and traveled to premium cigar retailers, serving as an ambassador for General Cigar Company and its brands and sharing his deep tobacco knowledge with consumers until his retirement on Jan. 1, 2014.