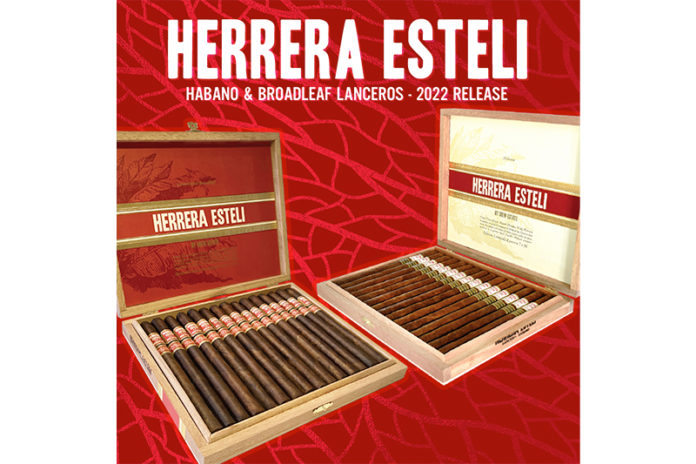 Drew Diplomat Program retailers will be getting a new exclusive soon. During its recent Freestyle Live virtual event, Drew Estate shared details of the 2022 limited edition Herrera Estelí Habano Lancero and Herrera Estelí Connecticut Broadleaf Lancero.
Only four bunchero-rollera teams at La Gran Fabrica Drew Estate are qualified to roll the 7 x 38 Lancero vitola. This size is known for being challenging to make because of its narrow ring gauge which can restrict the cigar's draw. Cigar smokers typically appreciate the Lancero's tendency to emphasize strength and flavor characteristics of the wrapper, due to the smaller ratio between wrapper to filler leaves in the Lancero's blend.
In a press release, Drew Estate master blender Willy Herrera commented: "The Lancero is generally my favorite size, but that's especially true for the Herrera Estelí Habano and Herrera Estelí Connecticut Broadleaf cigars. Both blends are made from wrapper leaves that are rich and bold. The Lancero size allows the smoking characteristics of those beautiful leaves—especially their nuances—to truly grab your attention."
The Herrera Estelí Habano Lancero is a medium-bodied smoke with spicy and cedar wood notes. Its blend consists of a savory Ecuadorian Habano wrapper, Honduran Habano binder and Nicaraguan filler tobaccos. The Herrera Estelí Connecticut Broadleaf Lancero is spicy, elegant and smooth and composed of a higher priming of Connecticut Broadleaf wrapper that Drew Estate saves just for this cigar. It is blended with a luscious Brazilian Mata Fina binder and opulent Nicaraguan filler tobaccos.