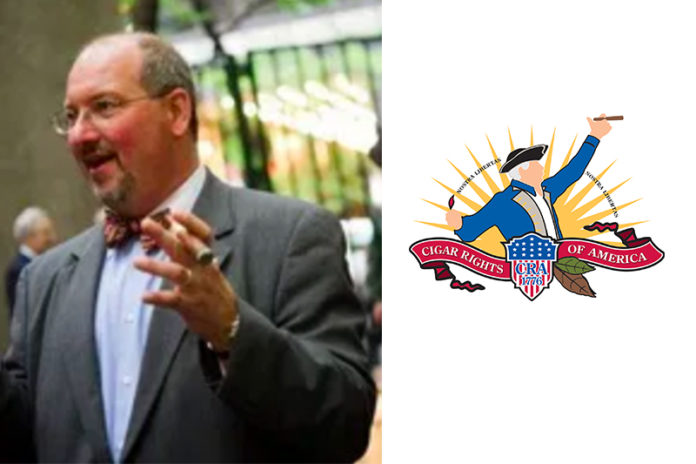 After Election Day 2020, Cigar Rights of America (CRA) will be without one of its most familiar faces and leaders. In a press release it was revealed that Glynn Loope, executive director of the CRA, would be stepping down from his position as of Nov. 4, 2020. Loope has served as executive director of the CRA since 2008, the same year the organization was founded.
"CRA is more than a job, it is a mission," Loope commented. "For almost a dozen years, we have built a national network together that can take this work into the next decade and beyond. This has been accomplished with a dedicated staff and hundreds of volunteers, for which I am thankful and express my sincere appreciation. I remain committed to supporting and advocating for the premium cigar industry, given that the threats confronting it are the new normal."
Loope has said that he will be working closely with CRA's board and staff to ensure the transition period runs smoothly to ensure the organization's continued success. Though he may not be the leader of the CRA come Nov. 4, he does plan to remain a lifetime member of the organization long after his departure.
"The important work of CRA will continue. As a long-time cigar enthusiast, I look forward to continue to support CRA as a consumer. I encourage everyone who enjoys a fine cigar to protect your right to do so by becoming a member of CRA," he commented.
Robert Levin, chairman of the CRA Board of Directors and president of Holt's Cigar and Ashton Distributors, added: "I am extraordinarily grateful to Glynn for his tireless leadership and dedication to CRA. No one is a more passionate advocate for the right to enjoy a premium cigar than Glynn. The entire CRA community thanks Glynn for his years of service and his many contributions to the organization and the premium cigar industry."
"It has been a privilege to champion the rights of adult consumers to enjoy a premium cigar," commented Loope. "I am very proud of the work that CRA has accomplished giving a voice to the premium cigar community at the federal, state, and local levels."
For all the latest news from Cigar Rights of America, visit cigarrights.org.