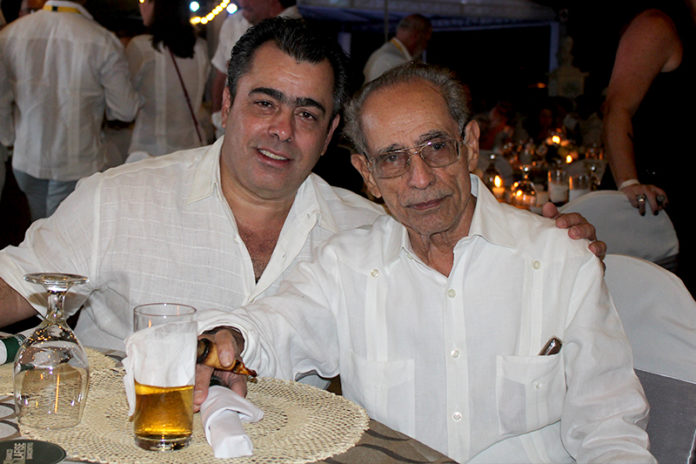 Earlier this evening, Halfwheel broke the news that Gliberto Oliva Sr. (right), founder of Oliva Cigar Co., has passed away at the age of 86.
The Oliva family has long and rich history rooted in tobacco, dating back to Melanio Oliva who grew tobacco in Pinar del Río, Cuba in 1886. In 1964, Melanio's grandson Gliberto moved to Spain with his family and later moved to Nicaragua where he returned to his family's tobacco roots. In 1995, Gilberto and his son, Gliberto Jr., launched their own cigar brand named Gilberto Oliva. This brand later evolved into what is known today as simply Oliva Cigar Co.
Gilberto Sr.'s early experience with the tobacco business began on his family's tobacco farm in Pinar del Río. Due to the 1959 Cuban Revolution, Gilberto Sr. stopped growing tobacco and began brokering it. As a tobacco broker, Gilberto Sr. traveled extensively, leading to his decision to move to Spain and later to Nicaragua.
It was his entrepreneurial spirit and desire to work for himself that lead Gilberto Sr. to begin growing tobacco on his own in 1969. He began growing Cuban-style tobacco in Nicaragua for a decade, leaving the country in 1979 due to the Sandinista revolution. Though forced to leave his tobacco farm behind in Nicaragua, he ended up growing tobacco in several other countries including Mexico, Panama, Honduras and the Philippines. After returning to Nicaragua in 1995, he decided to add another facet onto his tobacco business–premium cigar manufacturing.
As part of the cigar boom of the 1990s, it took several years for Oliva Cigar Co. to find its place in a crowded market. The company relied on Gilberto Sr.'s Nicaraguan tobacco for its early cigars, helping Oliva to define and supply cigar enthusiasts with great Nicaraguan cigar products lead by the Oliva Serie V and followed up by the NUB and Cain lines. In 2016, the Oliva Cigar Co. was acquired by J. Cortès, who has left the brands mostly unchanged. The family retained its tobacco growing operations in the deal with J. Cortès.
For all the latest news from Oliva Cigar Co., visit olivacigar.com.
Photo by Steve Ross