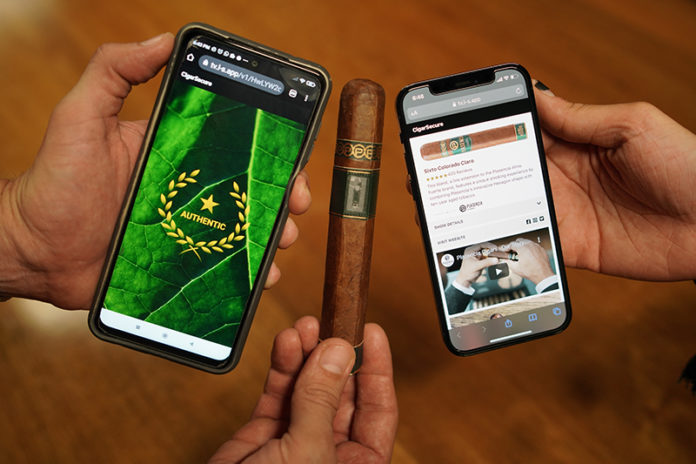 As consumers seek more education, Plasencia Cigars is answering the call with the help of an encrypted smart chip-enhanced cigar band.
Today's cigar consumer yearns for more information. They want to connect with the people behind the cigars they smoke, they want to learn more about the tobaccos incorporated in the blends and what each one brings to the smoking experience, and they are looking to tobacco companies and brands to take the time to educate them about the industry and the craft that is associated with the products. While this is typically accomplished through in-person events and on social media platforms, Plasencia Cigars is turning toward technology to help it give cigar consumers the information they're seeking with a simple scan of a Plasencia cigar band.
At this year's Tobacco Plus Expo trade show, Plasencia Cigars revealed a new collaboration unlike anything seen in the cigar industry to this date. Plasencia worked with tech company Legacy Secure to integrate technology into the bands of the Alma Fuerte Sixto l Hexagon Colorado Claro that will provide a wealth of information to both retailers and end consumers about the product that they are buying and smoking. With education at the forefront of this new initiative, this new technology will supply Plasencia's customers with details on the family and its brand's history with the simple tap on a phone.
"Our family's tobacco tradition is 156 years old this year because the previous Plasencia family generations combined hard work, constant thirst to improve and forward-minded thinking," says Nestor Andres Plasencia, CEO of Plasencia Cigars. "Our collaboration with Legacy Secure to bring forth this unique technology is another step in our constant evolution. We look forward to sharing our unique tobacco history with the public while giving them another platform to communicate with us."