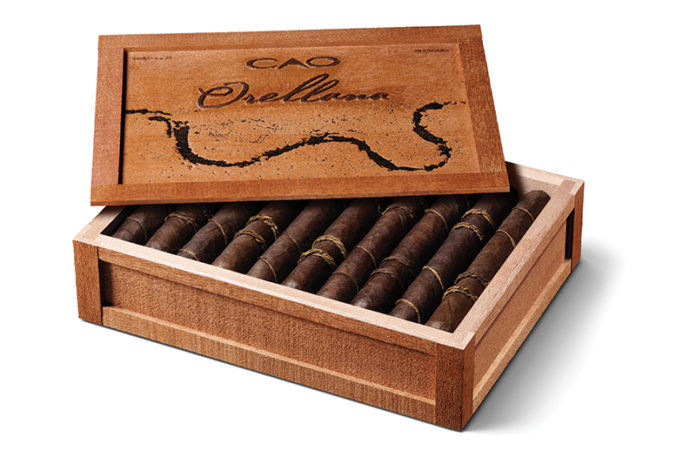 General Cigar Company has announced the limited edition release of CAO Orellana, the fourth release from CAO's Amazon series.
The CAO Amazon Series began with the release of Amazon Basin, a blend made with an exotic filler tobacco called Bragança, from the rainforest. The series continued with the Fuma em Gorda and Anaconda, both of which feature rare Amazonian tobaccos. The fourth and latest release, CAO Orellana, features a rich Brazilian sun-grown wrapper known as Cubra that was grown in a microclimate of Eastern Brazil's fertile Bahia region. It was there where a group of local farmers worked with CAO's agronomists to yield lustrous leaves that are inherently sweet, strong and versatile for blending. According to the company, only the highest primings of Cubra were selected for curing in climate-controlled curing brands in Calfriza, where the wrapper's deep red hue and natural sweetness further developed.
"When I found the bales of Cubra, I knew that I wanted to blend it with some of the tobaccos from the previous Amazon releases," commented Rick Rodriguez, CAO's master blender. "Hands down, Cubra wrapper was one of the best tobaccos I've ever used in blending. It has that Havano flavor with a little bit sweetness and it pairs really well with other tobaccos. I think Orellana is going to be a big hit with the fans of CAO."
Rodriguez and his team blended the Cubra wrapper with Amazonian Bragança, Colombian and Dominican filler and a Nicaraguan binder. The result is a full-bodied smoke with peppery spice, hints of molasses and dried fruit with notes of leather and toasted nuts. CAO Orellana will be available in one size, 6 x 52 Toro, in 20-count wooden boxes. MSRP per cigar is $10.99.
For all the latest news from CAO Cigars, visit caocigars.com.