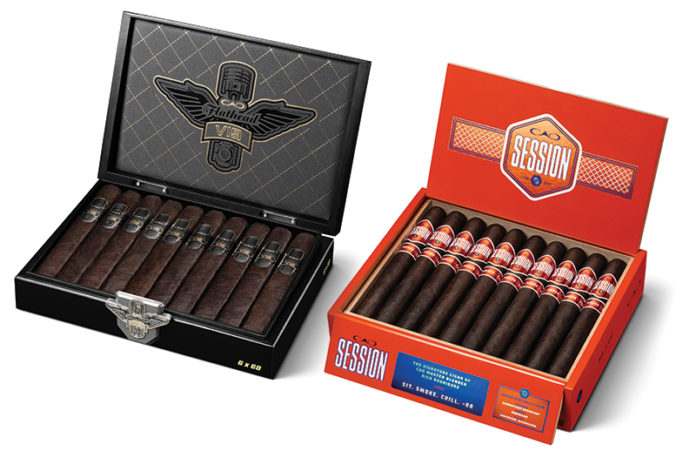 At the 2019 International Premium Cigar & Pipe Retailers Association (IPCPR), General Cigar Company unveiled two new releases from its CAO brand: CAO Flathead V19 and CAO Sessions.
CAO's limited edition Flathead V19 features a blend of Connecticut Broadleaf wrapper, Connecticut Habano binder and Nicaraguan and Dominican filler tobaccos to provide a bold and distinctive cigar. The CAO team gave each of the tobaccos in the Flathead V19 cigar a shortened fermentation time to lock in each of the tobaccos' native flavors. The team then gave all of the tobaccos a longer aging process to refine them. The result is a cigar that delivers distinctive molasses and leather notes with more depth and complexity.
"For V19, we wanted deep flavor and power, the kind of cigar that demands your attention, just like a classic car or motorcycle does," said Rick Rodriguez, CAO's brand manager. "This is the cigar for the CAO smoker who likes the boldest blends in our line."
CAO Flathead V19 comes in just two box-pressed sizes: Carb V19 (6 x 60) and Camshaft V19 (5 1/2 x 50). The cigars are packaged in 20-count black wooden boxes that feature the brand's logo. Flathead V19 will ship to retailers on Aug. 1, 2019.

For his latest creation, CAO Sessions, CAO brand ambassador Rick Rodriguez drew inspiration from every day smoking experiences that turn out to be extraordinary—those smoking sessions that allow relaxation and appreciation for life's simple pleasures.
"Some of the best times in my life happened over cigars in my garage in Tampa," says Rodriguez.
For CAO's Session cigar, Rodriguez blended a Connecticut Broadleaf wrapper, a select Dominican binder and rich Dominican and Nicaraguan filler tobaccos.
"I wasn't going for a full-bodied cigar," Rodriguez explains. "I wanted Session to be a medium-bodied smoke with a great taste and a lot of complexity and I feel like I've hit the mark with Session. I'm excited to hear what the CAO fans will think of it."
Session is a medium-bodied cigar that's complex without being complicated. With hints of nuts, cedar and the slightest hint of sweetness, CAO Session delivers just the right amount of body and complexity. The cigars are available in three expressions, named for places where they are most likely to be enjoyed: Shop (6 x 60), Bar (6 x 49) and Garage (5 1/4 x 55). Packed in bright orange 20-count boxes, CAO Session has been available since July 5.
For all the latest news from CAO Cigars, visit caocigars.com.