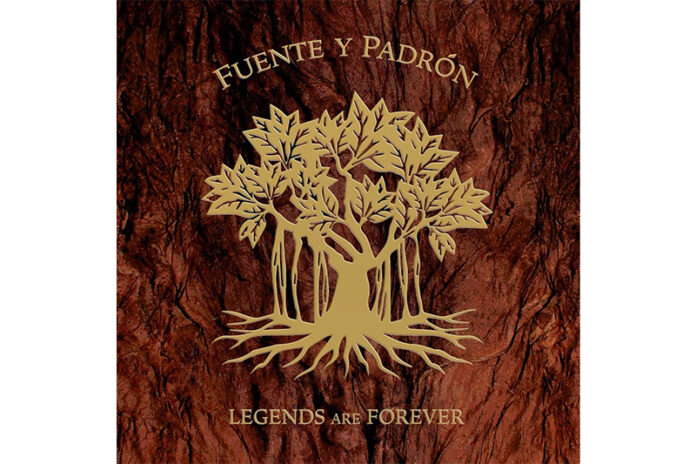 Legends, a cigar project and collaboration between Carlito Fuente and Jorge Padrón, will make its debut at this year's Premium Cigar Association (PCA) trade show.
This collaboration celebrates the patriarchs of the Fuente and Padrón families. Carlos A. Fuente, Sr. and José O. Padrón were friends and colleagues for over 50 years. They bonded over a shared passion for fine Cuban cigar-making traditions and both had a deep respect for their family names. Both men passed their values on to their children.
Their sons, Carlito Fuente and Jorge Padrón, together with their families, have partnered to honor and remember the Fuente and Padrón family patriarchs with a first of its kind collaboration–a 40-cigar box that honors their fathers and their legacies. The box is detailed with colors, symbols and photographs that illustrate the rich family histories and contributions to their cigar industry made by both families. Inside, there are two trays of 20 handcrafted cigars. One tray has cigars made by Padrón in honor of Carlos A. Fuente, Sr. The second tray features cigars made by Fuente to honor José O. Padrón.
The specially designed bands honor both patriarchs and the words the two men lived by: "Familia," "Perseverancia," and "Legado" (Family, Perseverance, and Legacy). Both families have selected rare and beautiful tobaccos to create what is being called legendary cigars worthy of the men they are blended to honor.
To honor the patriarch's tradition of giving, a percentage of the proceeds from the sales of this collaboration will be donated to the Cigar Family Charitable Foundation and the Padrón Family Foundation.
Additional information on Arturo Fuente and Padrón Cigars can be found at arturofeunte.com and padron.com.