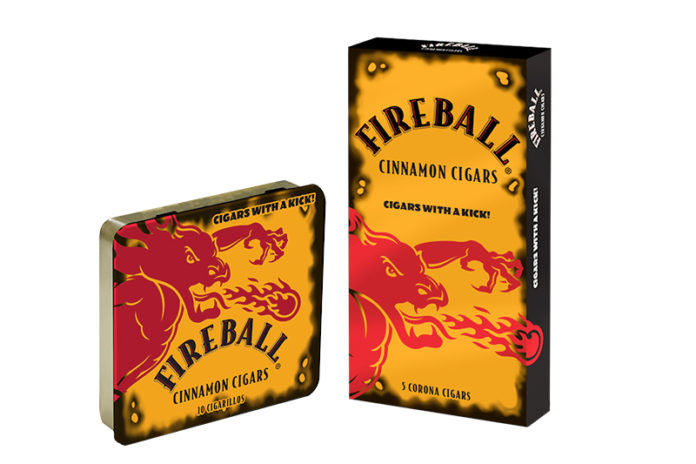 Fireball Whisky is about to make its debut in the premium cigar world thanks to a collaboration with Scandinavian Tobacco Group (STG). The new Fireball cigars will launch with two sizes that will bring Fireball's fiery hot cinnamon flavor to the world of cigars.
"Fireball is one of the most celebratory and sought-after spirits on the market and we're proud to bring that unmistakable experience to life for our customers. For us, Fireball speaks to disrupting the market with a cigar that's totally fun and unexpected and we're confident this new line will be an instant hit," says Kevin Irvine, product coordinator of Scandinavian Tobacco Group's (STG) Online and Retail.
Fireball flavored cigars were made in the Dominican Republic with a mellow blend of tobaccos. It's blend consists of an Indonesian wrapper, a Dominican binder and Dominican filler tobaccos. A proprietary flavoring process was used to help bring a sweet heat of spicy cinnamon flavor to each draw.
These cigars will be a full-time offering available in both a cigarillo and a corona size. Fireball Cinnamon Cigars will be presented in tins and in packs featuring Fireball's iconic fire-breathing dragon and red, gold and black branding elements of the globally-popular spirit. The Fireball Cigarillo will be presented as a 4 x 30 cigar packaged in a 10-count tin. Each cigarillo will retail for $2.70 while one tin will retail for $27. The Fireball Corona will measures 6 1/4 x 44, each cigar retailing for $6 and a 5-count pack retailing for $30.