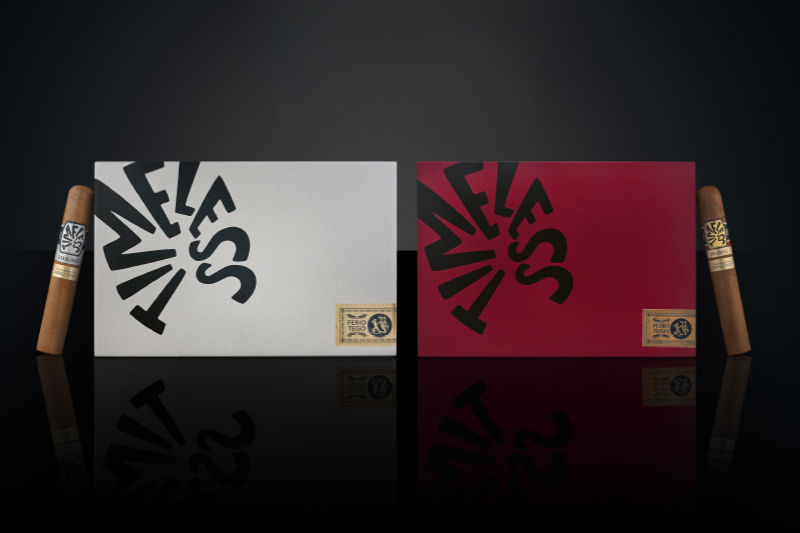 Ferio Tego, a company launched by Michael Herklots and Brendon Scott, is readying the re-release of the Timeless Collection. Timeless was a brand previously owned by Nat Sherman International. Timeless Prestige and Timeless Sterling will be manufactured in the Dominican Republic by Quesada Cigars.
Timeless Prestige was first released in 2012. This blend features six different tobaccos from three different countries. Timeless Prestige has a Honduran wrapper, Dominican binder and filler tobaccos from the Dominican Republic and Nicaragua. These cigars will come in 20-count boxes and will be available in the following sizes: Gordo (6 x 60), No. 2 Torpedo (6 1/4 x 52), Churchill (7 x 48), Hermoso (5 1/2 x 54), and Robusto (4 3/4 x 50). Each cigar will range in prices beginning at $9.50 and topping out at $12 per cigar.
Timeless Sterling was first released in 2013, blended with the goal of making a cigar that would serve as a "return to elegance." This cigar combines Dominican fillers and binder tobaccos with a gorgeous Ecuador-grown Connecticut wrapper. This cigar comes in 10-count boxes and is available in the following sizes: Churchill (7 x 48), Corona Gorda (5 3/4 x 46), Robusto (4 3/4 x 50), Dalias (6 1/2 x 43) and Marevas (5 1/2 x 42). It ranges in prices starting out at $11.50 and going up to $14.50.