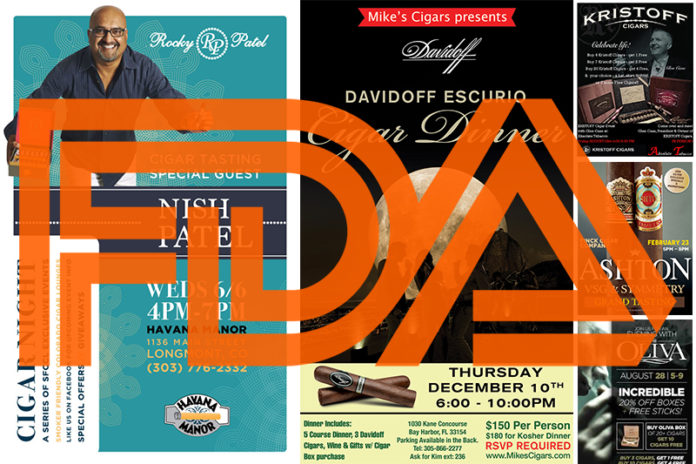 Information provided by IPCPR [source]. The materials available at this website are for informational purposes only and not for the purpose of providing legal advice. You should contact your attorney to obtain advice with respect to any particular issue or problem. 
There's been a big focus on the looming Aug. 10, 2018 U.S. Food and Drug Administration (FDA) compliance deadline for warning label requirements but did you know this deadline impacts retailers as much as it does manufacturers? Advertising is key to any retail operation, whether they are a big operation that's part of a franchise or a small mom and pop store. With the new requirements set in place by the 2016 Deeming Rules, however, how you promote your business and the tobacco products you sell just got a bit more complicated.
As a tobacco retailer, the FDA sees you as responsible for the advertisements you create. Like a manufacturer, you will be required to rotate through pre-approved FDA warning statements and must seek approval from the FDA for your particular store's warning statement plan. That means every poster, shelf talker, print ad, digital ad (yes, even social media postings) or radio spot must meet the FDA's warning statement requirements. These statements must adhere to a strict set of rules:
Must appear in the upper portion of the advertisement within the trim
Must occupy at least 20 percent of the area of the advertisement
Font-size must be 12-point in size, ensuring that the warning statement occupies the greatest possible proportion of the warning area set aside for the text required
Appear in a clear and legible Helvetica bold or Arial bold type (or similar sans serif font) in black on a white background or white text on a black background so that the text easily contrasts with the other material of the advertisement
Text must be capitalized and punctuated to be consistent with the relevant warning statement as it appears in the rule
Text must be centered in the warning statement area and positioned so that the text and the other textural information in the ad have the same orientation
Warning statement text must be surrounded by a rectangular border that's the same color as the text and is not less than 0.11811 inches or more than 0.15748 inches.
While complicated, retailers will only be responsible for advertisement they create for themselves, not those provided to them by manufacturers, importers, distributors and other parties. The caveat, however, is that after Aug. 10, 2018, retailers will not be allowed to display any advertisements provided to them by another party if they do not include a warning statement or health warning. This includes those created prior to the Aug. 10, 2018 date.