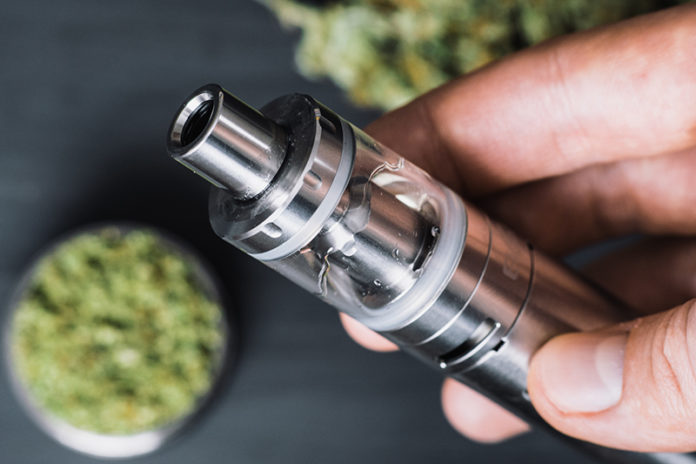 The U.S. Food and Drug Administration (FDA) issued a stern warning to those who vape: do not use vaping products that contain THC. This comes as there has been more than 1,000 reports of lung injuries associated with vaping. The FDA is working closely with the U.S. Centers for Disease Control and Prevention (CDC) to investigate the rises in vaping-related illnesses.
On Friday, Oct. 11, 2019, the CDC warned that the ongoing investigation into the cause of the illnesses could take "a few months" and could yield "multiple causes and potentially more than one root cause.
Acting FDA Commissioner Dr. Ned Sharlpless released a statement last week stating that no enforcement actions associated with personal use of any vaping products is being pursued but that the FDA's interest in the matter is in the suppliers. He went on to say that if it is determined that an individual is manufacturing or distributing illicit, adulterated vaping products that have caused illness and death for personal profit that the FDA would view this case as a criminal act.
"We are prepared to use our authorities to the fullest extent possible, and will work with other federal, state and local authorities to take appropriate action as the facts emerge in order to protect the public health," he said in a statement.
As of Oct. 8, 2019, there were 1,299 cases of the vaping-related lung injury that have resulted in 29 deaths.. Cases of these vaping-related illnesses span 49 states, the District of Columbia and the U.S. Virgin Islands. According to the CDC, Alaska is the only state that has yet to report a case of the vaping-related illness. The CDC has issued updated guidance for health workers who are handling cases of vaping-related illnesses [read more here]. In this document, the CDC is using the acronym "EVALI" to refer to e-cigarette, or vaping, produces use associated lung injury.
As the FDA and the CDC continue to investigate the vaping illnesses, the FDA has offered the following recommendations to the public:
Do not use vaping products that contain THC.
Do not use vaping products—particularly those containing THC—obtained off the street or from other illicit or social sources.
Do not modify or add any substances, such as THC or other oils, to vaping products, including those purchased through retail establishments.
No vaping product has been approved by the FDA for therapeutic uses or authorized for marketing by the FDA. The agency recommends contacting your health care provider for more information about the use of THC to treat medical conditions.
No youth or pregnant women should be using any vaping product, regardless of the substance. Adults who do not currently use tobacco products should not start using these products. If you are an adult who uses e-cigarettes instead of cigarette smoking, do not return to smoking cigarettes.
If you choose to use these products, monitor yourself for symptoms (e.g., cough, shortness of breath, chest pain) and promptly seek medical attention if you have concerns about your health. If you are concerned about your health after using a vaping product, contact your health care provider, or you can also call your local poison control center at (800) 222-1222. Health care providers also can contact their local poison control center.
The FDA echoes the CDC's warning that no one cause has been found though many of the samples that have been tested by the FDA and various states have been found to contain THC. Those patients that have been interviewed have also reported using THC-containing products, suggesting that THC vaping products have some role in the outbreak.